Chicken alfredo is a household favourite that's properly top tier comfort food.
In this easy-to-follow recipe, personal trainer and online fitness coach, Jess Layla, shares her healthy twist on the classic dish.
By substituting out the heavy cream that's usually a key part of chicken alfredo, you can instantly cut the calories and fat content of this dish, but keep the flavour with a simple sauce that uses chicken stock, skimmed milk, and a little flour to thicken.
Sticking to a diet doesn't have to mean you miss out on the dishes you love!
Serves 2
Ingredients
2 chicken breast (cubed)
1 Low-calorie cooking spray
1 Salt & pepper
1 tsp Garlic and herb seasoning
120 g Whole wheat penne pasta
1 Chicken stock cube (dissolved in a splash of water)
50 ml Skimmed milk
1 tbsp Plain flour
200 g Spinach
1 Parmesan cheese

Method
1) First, heat some low-calorie cooking spray in a pan and add the chicken breast pieces. Season with salt and pepper and cook until they've turned from pink to golden brown.
2) Meanwhile boil the kettle to start cooking your pasta. Add the boiling water to a sauce pan with the pasta and follow the pack instructions (usually cook for 12-15 minutes).
3) Once the chicken is cooked all the way through, set aside. In the same pan, begin making the sauce by adding the chicken stock along with a tablespoon of flour. Stir constantly to get rid of any lumps and then add the milk. Keep stirring the sauce over a medium heat to allow it to thicken.
4) Add in the garlic and herb seasoning and some big handfuls of spinach. Stir the sauce and allow the spinach to wilt.
5) Drain your cooked pasta and then add it to the pan with your sauce, along with the cooked chicken pieces. Mix everything well so that it's all combined.
6) Serve up into bowls and sprinkle with parmesan cheese.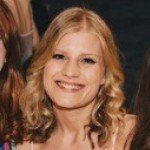 Lauren is an English Literature graduate originally from the South. She's always loved swimming, has discovered the power of weight training over the past few years, and has lots of room for improvement in her weekly hot yoga class.
On the weekends she's usually cooking or eating some kind of brunch, and she enjoys trying out new recipes with her housemates – especially since shaking off student habits, like mainly surviving off pasta. Above all, she's a firm believer in keeping a balance between the gym and gin.
Find out more about Lauren's experience here.