Drop whatever you had planned for dinner and make these instead.
---
Smothered with a rich passata sauce and plenty of grated cheese, these chicken enchiladas from our favourite chef, Niall Kirkland, are guaranteed to go down well. They're ideal for feeding the whole house — or if you live alone, they'll keep the fridge so you have meal prep sorted for a few days.
They're a super-tasty way to get a bit of veg into your diet, along with plenty of protein-packed chicken breast, plus you can make them as mild or spicy as you like by adjusting the amount of chilli powder you add to the sauce.
Delicious & satisfying, they're a great go-to for when you need something a little more comforting to look forward to at the end of the day.
Here's how to make them.
Makes 5
Ingredients
For the sauce:
1 tbsp. extra virgin olive oil
1 white onion (finely chopped)
2-3 garlic cloves (finely chopped)
1 tsp. cumin
1 tsp. hot paprika
1 tsp. oregano
½ tsp. chilli powder
400g passata
1 tbsp. honey
1 tbsp. red wine vinegar
Salt and pepper to taste
For the enchiladas:
1 tbsp. coconut oil
1 white onion (finely chopped)
2 peppers (chopped)
500g chicken breast (cubed)
Salt and pepper to taste
100g low-fat cheddar (grated)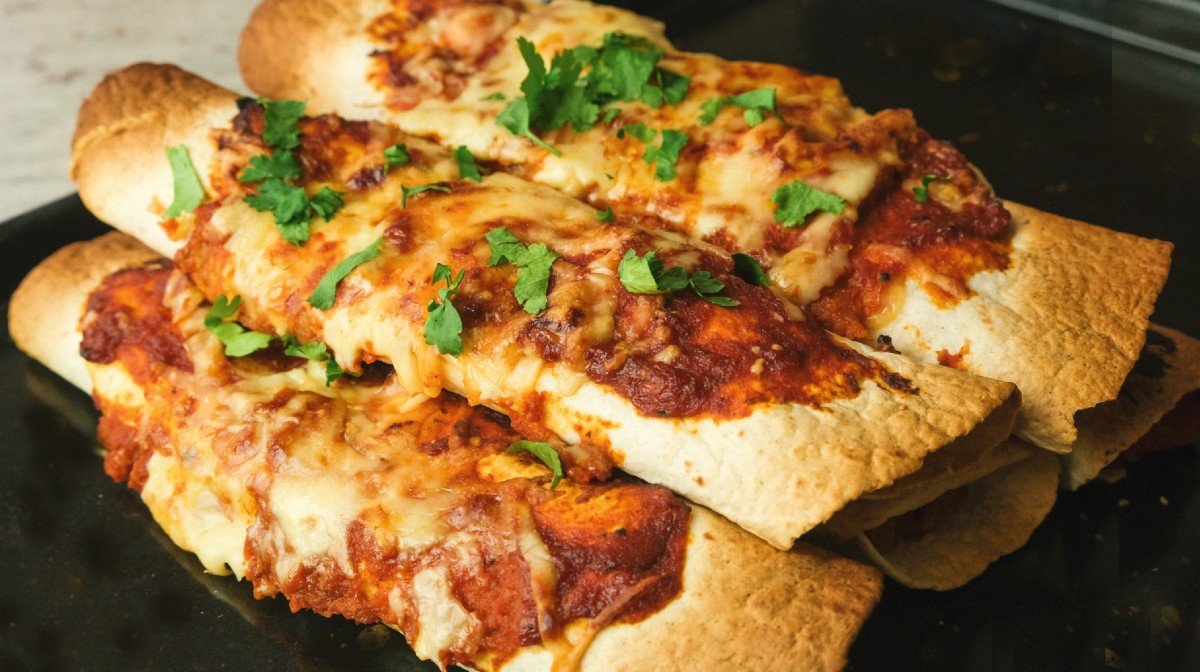 Method
Preheat oven to 180°C/ 350°F.
To make the sauce, heat the olive oil in a pan and add the onion. Fry for 5 minutes or so, until they soften.
Now, add the garlic, cumin, hot paprika, oregano, and chilli powder, stir it into the onions, and fry for a further 2 minutes.
Add the passata, honey, and red wine vinegar, stir well and leave to simmer for 15-20 minutes until the sauce thickens. Once ready, transfer to a blender and blitz up until smooth.
Meanwhile, heat coconut oil in a separate pan and add the remaining onions and pepper.
Fry for 5 minutes, remove and set aside.
Now add the chicken, season with salt and pepper, and fry until cooked through.
Add the cooked onions and pepper back to the pan, followed by ½ of your blended enchilada sauce. Stir the sauce into the rest of the pan and remove from heat.
To make your enchiladas, add two big spoons of chicken filling to the tortilla wraps and roll them into a cigar shape.
Transfer to a baking tray, top with remaining enchilada sauce and grated cheddar.
Bake your enchiladas for 15 minutes. Garnish with coriander.