Call us basic, but there's no denying that chicken katsu curry is the absolute bomb.
Our favourite kitchen king, Niall Kirkland, has blessed us with this easy-to-follow fakeaway version so that you can enjoy your favourite restaurant dish from the comfort of your own dining room.
It's the perfect combination of tender chicken breast, crispy panko breadcrumbs, and thick, curry sauce. Honestly, we think it might just be heaven on a plate.
Here's how to make it. 
Serves 2
Ingredients
1 large chicken breast
1 egg (beaten)
30g plain flour
50g panko breadcrumbs
1 tbsp. coconut oil
1 onion (finely chopped)
2 carrots (chopped)
2cm cube ginger (grated)
2 garlic cloves (grated)
1 tsp. chilli paste
2 tbsp. curry powder
1 tsp. turmeric
1 mug of chicken stock
200ml light coconut milk
1 tbsp. soy sauce
1 tbsp. honey
To serve:
75-100g of basmati rice (per serving)
Chopped spring onions
Sesame seeds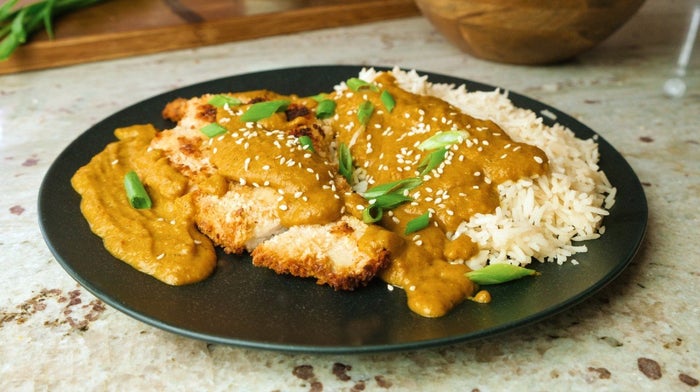 Method
First, preheat your oven to 200°C/400°F.
Butterfly your chicken breast and then dip it in flour, then the egg wash, then breadcrumbs. Transfer to a baking tray and bake for 20 minutes.
Meanwhile, heat a tablespoon of coconut oil in a large pan and add the onion and carrot, frying until soft. Then, add the ginger, garlic, and chilli paste, mix well and fry for 30 seconds.
Add the curry powder, turmeric, and a splash of water and stir into the veg. Simmer for 2 minutes.
Now, add the chicken stock and leave to simmer for another 10-15 minutes, until the sauce has reduced by half.
Carefully add the sauce to a blender and blend until smooth. Transfer back to your pan.
Gradually mix coconut milk into the sauce and then add the soy sauce and honey.
Leave to simmer until your sauce reaches your desired consistency — this should be pretty thick.
Slice up your chicken katsu into strips and serve with rice and plenty of the curry sauce. Garnish with spring onions and sesame seeds — then dig in!
Nutritional info per serving (with rice):
| | | | |
| --- | --- | --- | --- |
| Calories | Protein | Carbs | Fat |
| 552 | 33g | 73g | 16g |
Enjoyed this fakeaway? Try these next: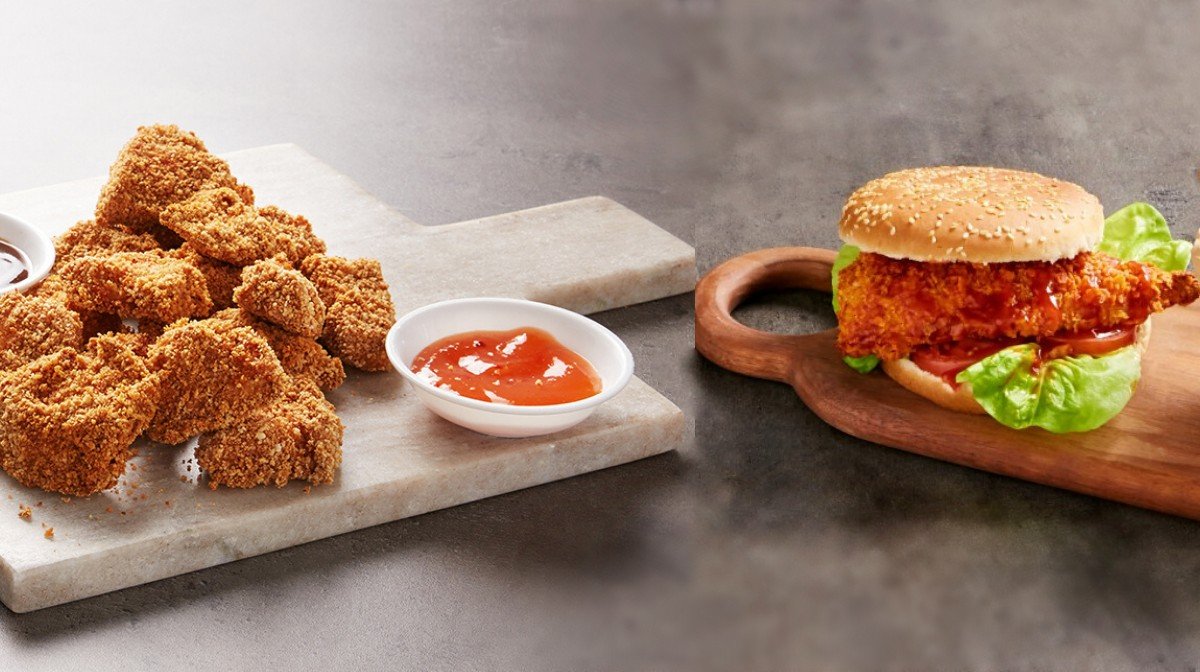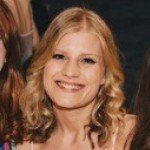 Lauren is an English Literature graduate originally from the South. She's always loved swimming, has discovered the power of weight training over the past few years, and has lots of room for improvement in her weekly hot yoga class.
On the weekends she's usually cooking or eating some kind of brunch, and she enjoys trying out new recipes with her housemates – especially since shaking off student habits, like mainly surviving off pasta. Above all, she's a firm believer in keeping a balance between the gym and gin.
Find out more about Lauren's experience here.