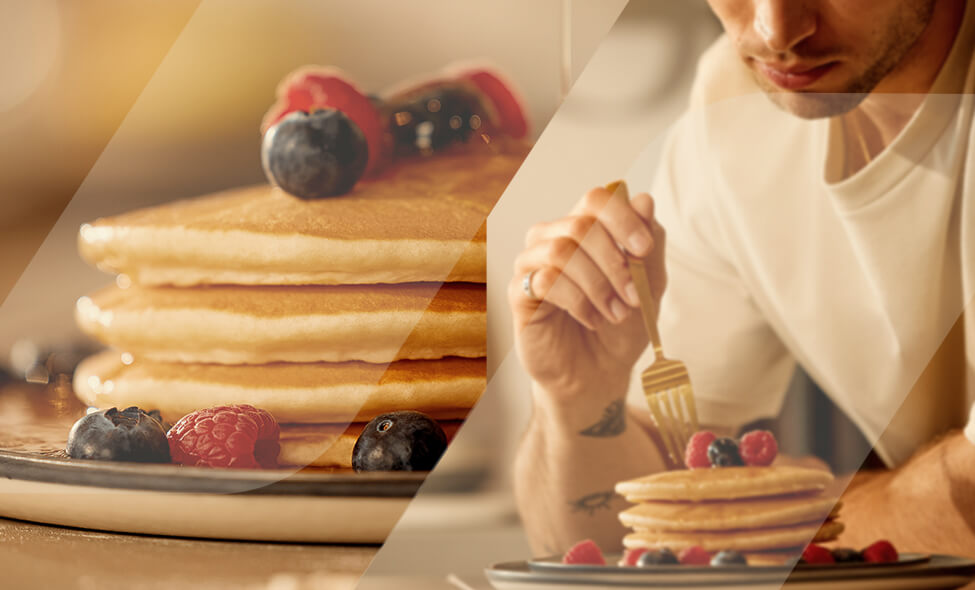 Hit your goals, your way
Bars, drinks and snacks to get you through your every day
Healthy Food, Drinks & Snacks
From pre-workout boosts,healthier treats to get you through the afternoon slump, or satisfying post-workout refuels,there's something here for you.
Level up your snack game with an assortment of healthier snacking options and high-protein foods, handpicked to help you crush your goals. From indulgent protein treats to mouthwatering chocolatey spreads and savoury snacks,we've got youcovered.On-the-gosnackingjust got a whole lot healthier and easier.
And if you're watching your calorie intake, try Low Calorie Protein Snacks to satisfy sweet-tooth cravings.
Don't forget to explore our Vegetarian Protein Snacks, too. It doesn't matter if you're a dedicated veggie, or just eager to add more plant-based goodness to your diet,we've got all your bases covered.
What are Healthy Foods and Snacks?
Healthy foods and snacks are products that provide your body with macronutrients it needs to perform daily functions. Plus, they won't slow down your progress in the gym as our snacks contain protein to support muscle growth and maintenance – perfect to maximise your muscle mass gains. Our protein treats and healthy snacks make a great alternative to shakes if you find them a hassle or just simply prefer something with bite.
What are the Benefits of Healthy Foods and Snacks?
Our convenient range of healthy foods and snacks are easier to take with you wherever you go – whether that's carrying a protein bar in your gym bag for post-workout munchies, or boosting your drinks with our sugar-free flavourings. They also make a perfect pre or post-work snack to fuel your muscles and make every rep count. Coming in a huge selection of flavours, taste doesn't have to be a compromise when switching from sugary snacks to healthier options.
Our Healthy Foods and Snacks
With over 100 foods, drinks, and snacks, we offer a huge selection, including protein bars, protein cookies, spreads, syrups and nuts. With products specially made for those with dietary requirements, there's something for everyone regardless of diet. Our products can be added into your balanced diet to satisfy your sweet-tooth without derailing your hard work
For an indulgent treat that still offers protein and carbs, try our Protein Filled Cookie:
• A tempting caramel filled centre
• Suitable for vegetarians
• Perfect as a quick protein top-up
• Features delicious chocolate chips
Have a look at our Protein Gel to boost your macronutrient intake in a super-simple way:
• Available in two delicious flavours
• Perfect to be taken anytime of the day to supply your muscles with protein
• Supports every fitness goal
Or for a lighter treat, view our Protein Wafer Bar:
• Comes in 6 mouth-watering flavour
• A great snack on your coffee break or anytime of the day
• Ideal to satisfy those sweet-tooth cravings
FAQs
Why is it important to eat healthy food?
Healthy foods help provide our body with all nutrients and minerals it needs to function at its best!

Are healthy snacks really healthy?
That depends entirely on the snack but also what you're comparing it to; we'd advise always reading the labels however and not buying into fancy logos that you may see on the packaging!

Are snacks healthy good for weight loss?
If those snacks help you achieve a calorie deficit then yes - either by contributing to improved hunger and eating less or replacing a higher calorie option in your diet.

What are the benefits of healthy snacks?
Healthy snacks can be a tasty, on the go option to help you get more of those health-promoting nutrients that'll help you not only from a physique standpoint, but overall improve your state of health.

Are healthy snacks vegetarian?
Not necessarily! Not all vegetarian or vegan food is "healthy" as well which is a common misconception. How healthy a food is all depends on the context in which it fits into your diet.

Are healthy snacks vegan?
Not necessarily! Not all vegan food is "healthy" as well which is a common misconception. How healthy a food is all depends on the context in which it fits into your diet.