This delicious oatmeal & berry bake will be something to look forward to on dark winter evenings, trust us.
---
It's a simple recipe that we guarantee will satisfy your sweet-tooth every time — it's just as warming as a bowl of crumble, only it takes a whole lot less time and effort, and has none of the butter or sugar. Win win.
Niall's gone with a classic combo of blueberries and raspberries for the perfect burst of tangy flavour — but there's nothing to stop you getting experimental with your toppings and fillings!
Serves  6
Ingredients  
225g 100% Rolled Oats
30g desiccated coconut
1 tbsp. cinnamon
1 tsp. nutmeg
Pinch of salt
600ml almond milk
80g maple syrup
2 tbsp. 100% Coconut Oil
1 egg
1 tsp. vanilla paste or extract
250g blueberries
250g raspberries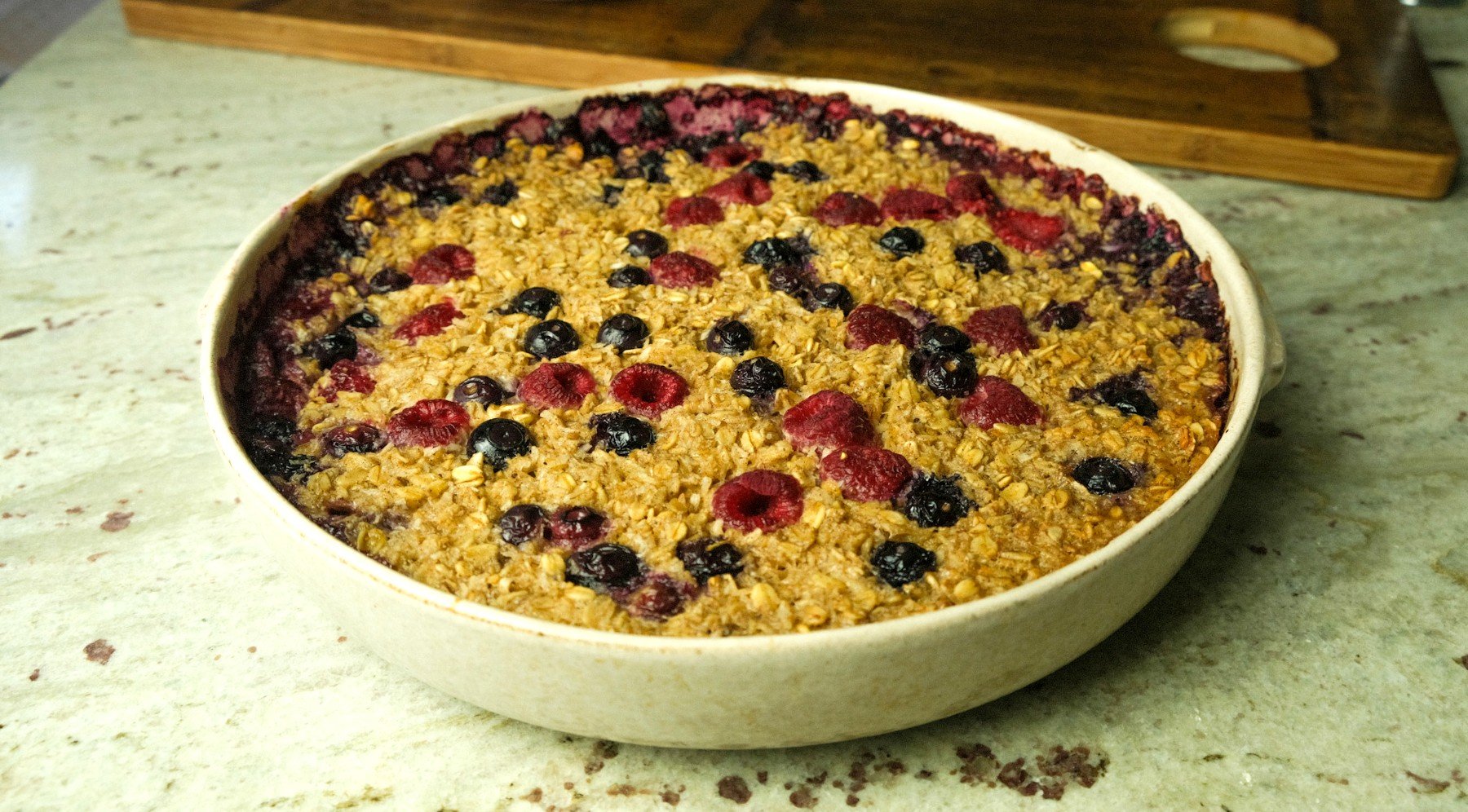 Method
First, preheat your oven to 180°C/350°F.
Then, in a large mixing bowl, add the oats, coconut, cinnamon, nutmeg, and salt, and mix well before setting aside.
Next, in another mixing bowl, add the almond milk, maple syrup, half of the coconut oil, egg, and vanilla and mix well.
Now, add your oat mixture to the wet mixture and stir thoroughly so all combined.
Then, lightly grease your baking dish with the rest of the coconut oil (melt it first) and add half of the blueberries and raspberries.
Mash your berries with a potato masher or fork — don't worry if they aren't all completely mashed — and then add your oats mixture on top.
Flatten your oats out to create an even surface and add the remaining berries to the dish.
Bake in the oven for 40 minutes before removing and allowing to cool before serving.
Serve with a drizzle of maple syrup or a squirt of whipped cream if you're feeling indulgent.