On the menu tonight: Niall Kirkland's beef ramen noodles.
---
This hearty, warming recipe is an ideal choice for cold winter evenings — packed with tender steak and a rich, beefy broth for plenty of protein. It's a delicious way to get a vitamin and mineral boost too, thanks to fresh ingredients like pak choi, spring onions and ginger.
Serves 3
Ingredients
2 tbsp. 100% Coconut Oil
3 garlic cloves (very finely chopped)
Cube of ginger (very finely chopped)
1 chilli (finely chopped)
3 spring onions (roughly chopped)
1 litre beef stock (use two stock cubes)
250ml boiling water
3 tbsp. soy sauce
1 tbsp. fish sauce
1 tsp. five spice
4 pak choi leaves
2 packs instant ramen noodles
1 tsp. 100% Coconut Oil
1 8oz sirloin steak
3 eggs (1 per serving)
To garnish
Chopped spring onion
Coriander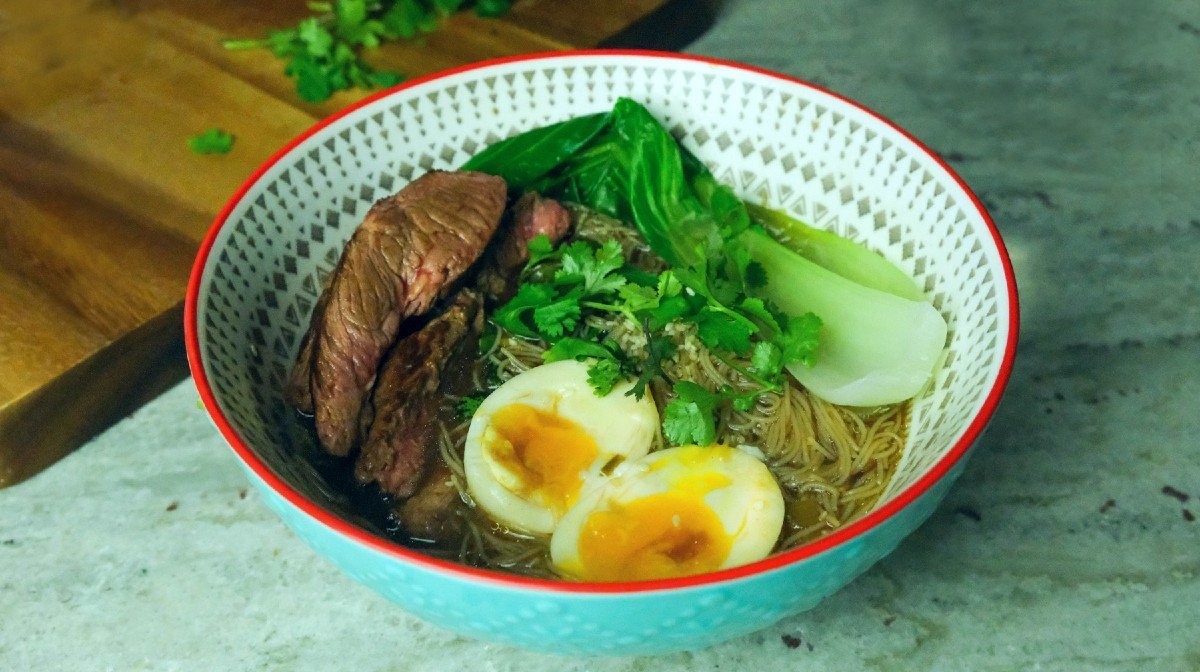 Method
Firstly, heat 2 tablespoons of coconut oil in a large saucepan and sauté the garlic and ginger for 2 minutes.
Then, add the chilli and spring onion and fry for another 3-4 minutes.
Now add the beef stock, soy sauce, fish sauce, five spice and 250ml of boiling water.
Give it a stir, bring to the boil and then leave to simmer.
Meanwhile, heat a teaspoon of coconut oil in a skillet or frying pan and sear your sirloin steak for 3 minutes on each side.
Remove from heat and leave to rest for 5 minutes before slicing.
Now, bring a saucepan of water to boil and add your eggs. Cook the egg for 5-6 minutes before removing and transferring to a bowl of ice cold water.
Once your eggs are cooled, remove the shell and set aside.
Back to your broth. Add the pak choi and some ginger slices and leave to simmer for 2 minutes.
Then, add your instant noodles and leave them to soak for 2-3 minutes.
Serve your noodles and broth with the steak and an egg. Garnish with spring onion and coriander, and enjoy!