Get ready to take on the New Year with this deliciously easy, take-to-work lunch.
---
If you're anything like us, you might be struggling to get back into the routine of normal waking hours and a diet that doesn't entirely consist of cheese. That's why this month we've got your back with a series of super-tasty macro-balanced meals that are perfect for getting you through the day.
This spicy chicken recipe is bursting with flavour and is a simple way to upgrade from plain old chicken and rice meal prep. It's ideal for making up on a Sunday night to have you sorted for the week ahead — you'll be looking forward to lunch, trust us.
Makes 4
Ingredients
1 tbsp. curry paste
1 tbsp. mango chutney
½ tsp. turmeric
Salt to taste
50ml olive oil
4 chicken breast
300g couscous
350ml vegetable stock
Optional extras:
Pomegranate seeds
Coriander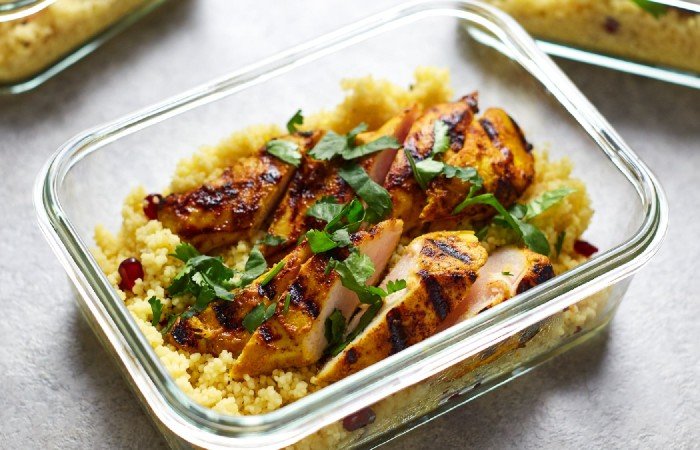 Method
1) Firstly, make a marinade for your chicken by adding the curry paste, chutney, turmeric, salt and olive oil to a bowl and mixing well.
2) Then, cut each chicken breast in half and add to the marinade, stirring until well covered, and then leave aside for at least 20 minutes — ideally in the fridge overnight.
3) Next, heat a grill pan over medium heat and lay out your chicken pieces. Grill for 5-6 minutes on each side, or until golden and slightly charred.
4) Meanwhile, place the couscous in a big bowl and carefully pour in the boiling vegetable stock. Cover the bowl with a lid and leave to soak for around 5 minutes, then fluff your couscous with a fork and add any extras you want — pomegranate seeds are great for a flash of colour and burst of flavour.
6) Finally, divide your couscous into 4 containers, top with two pieces of marinated chicken and finish with a sprinkle of coriander.