This has Friday night dinner written all over it.
Some burgers are just so damn good that you can't help but daydream about them. And with this super-easy fakeaway recipe, you can make that dream a reality — no matter what goal your working towards or training routine you're sticking to.
We created this series of takeaway alternatives to help you stay on track while still enjoying all the flavours and food that you can't kick the cravings for — these juicy chicken fillets paired with an irresistible zingy, crunchy coating are sure to hit the spot.
Make them now & thank us later!
Makes 4
Ingredients
For the zingy chicken fillets:
80g spicy tortilla chips
1 tsp. chilli powder
1 tsp. garlic granules
1 tsp. paprika
4 chicken breasts
1 egg (beaten)
50g cornflour
Low-calorie cooking spray
For the burgers:
4 sesame seed burger buns
Handful lettuce leaves
2 tomatoes (sliced)
Sauce of choice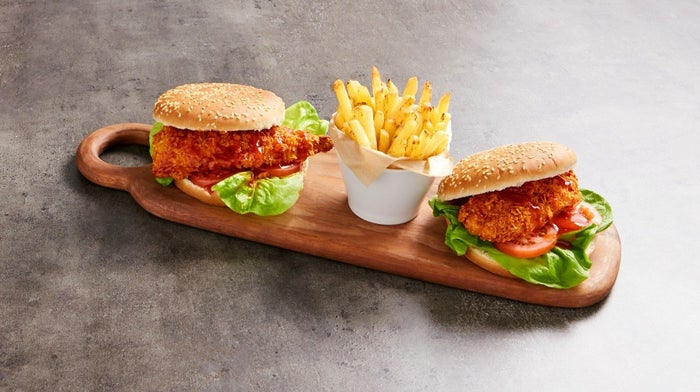 Method
1) First, preheat your oven to 180°C.
2) Then place the tortilla crisps, chilli powder, garlic granules, and paprika in a zip-lock food bag and use a rolling pin to smash the mixture into fine crumbs.
3) Next, set up a station to prepare your chicken breasts — you should line up three shallow bowls or slightly rounded plates. In the first, you should have cornflour, in the second you should have the beaten egg, and you should empty out the tortilla mix into the third.
4) Prepare your chicken breasts by patting them dry with a piece of kitchen towel. Then use tongs to place the first one in the cornflour mix – making sure to cover it fully. Then move on to dip the coated chicken breast into the egg wash, then finally the spicy tortilla mix. Repeat for the remaining chicken breasts.
5) Place each coated chicken breast on a baking tray and a spray with low-calorie cooking spray. Bake for 25 minutes, then carefully remove the tray from the oven and turn each chicken breast over. Spray the other side of each one with some more low-calorie spray and then bake for a further 20 minutes.
6) Meanwhile, prepare your burger buns by cutting them in half. Add a generous amount of peri peri sauce to the bottom bun, then place a few salad leaves and slices of tomato on top.
7) Once the zingy chicken fillets are completely cooked through and golden, place them on top of the tomatoes and lettuce. Then add another squirt of peri peri sauce or low-sugar ketchup and complete the burger with the top of the bun.
7) Enjoy!
Nutritional info per serving:
| | | |
| --- | --- | --- |
| Nutritional Info | Zingy Chicken Fillet | With Burger Bun |
| Calories | 318 | 468 |
| Protein | 53.5g | 59.4g |
| Carbs | 17g | 48.6g |
| Fat | 9.1g | 11.9g |
Try more from our fakeaway series: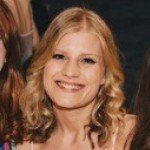 Lauren is an English Literature graduate originally from the South. She's always loved swimming, has discovered the power of weight training over the past few years, and has lots of room for improvement in her weekly hot yoga class.
On the weekends she's usually cooking or eating some kind of brunch, and she enjoys trying out new recipes with her housemates – especially since shaking off student habits, like mainly surviving off pasta. Above all, she's a firm believer in keeping a balance between the gym and gin.
Find out more about Lauren's experience here.