Vegan Jacket Potato | 15-Minute Loaded Jacket Burrito
This loaded vegan jacket potato and burrito hybrid combines two of your favourite dinners into one awesome 15-minute meal.
Check out the macros at the bottom.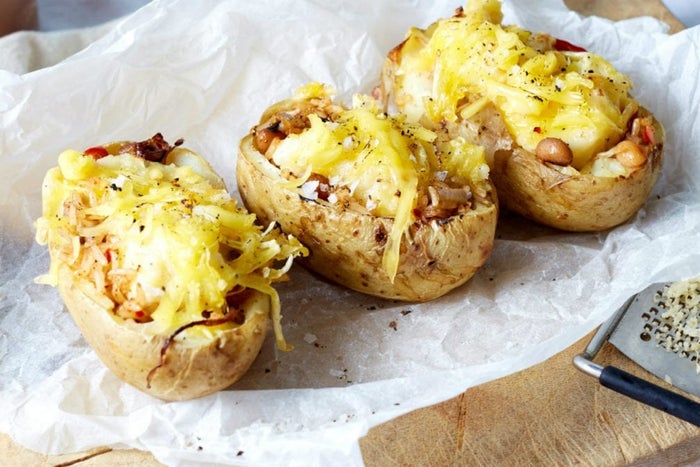 Makes: 4
Ingredients
4 Maris Piper or King Edward potatoes
1 tbsp. Coconut Oil
1 large red onion or 2 small (sliced into strips)
2 red chillis (diced)
1 red pepper (sliced into strips)
2 tbsp. fajita seasoning
500g cooked wholemeal rice
100g tinned black beans
Handful coriander
100g vegan cheese (grated)
Pinch salt
Pinch pepper
Toppings:
8 tbsp. guacamole
8 tbsp. salsa
Method
1. Pour oil into a large frying pan on a medium heat. Add red onion and pan fry for 5-7 minutes. While waiting, scrub clean jacket potatoes and prick with a fork. Place onto a plate and microwave on full power for 5 minutes, then turn, and cook for a further 5 minutes.
2. Add garlic, chillis, red pepper and seasoning and fry for a further 2 minutes. Add red pepper and fry for 2 more minutes.
3. Add cooked rice, coriander and black beans and stir until heated through. Remove from the heat and set aside.
4. Slice down the tops of the potatoes, scoop out the flesh and add to a mixing bowl. Stir through cheese, salt and pepper.
5. Spoon rice mixture into potato shells and cover with cheesy potato mixture. Grill on high for 5 minutes.
6. Serve with guacamole and salsa.
MACROS PER JACKET BURRITO
Nutritional info per serving:
| | |
| --- | --- |
| Calories | 555 |
| Total Fat | 16g |
| Total Carbohydrates | 79g |
| Protein | 22g |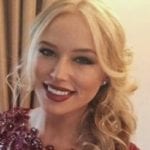 Jennifer Blow has a Bachelor's of Science in Nutritional Science and a Master's of Science by Research in Nutrition, and now specialises in the use of sports supplements for health and fitness, underpinned by evidence-based research.
Jennifer has been quoted or mentioned as a nutritionist in major online publications including Vogue, Elle, and Grazia, for her expertise in nutritional science for exercise and healthy living.
Her experience spans from working with the NHS on dietary intervention trials, to specific scientific research into omega-3 fatty acid supplementation and also the effect of fast foods on health, which she has presented at the annual Nutrition Society Conference. Jennifer is involved in many continuing professional development events to ensure her practise remains at the highest level. Find out more about Jennifer's experience here.
In her spare time, Jennifer loves hill walking and cycling, and in her posts you'll see that she loves proving healthy eating doesn't mean a lifetime of hunger.