If you're serious about brunch, step right this way.
This savoury waffle stack is a winner for a lazy weekend morning. Yes, it's a little more decadent and lengthy than your average eggs & bacon set up, but it's absolutely worth it, trust us.
Piled with juicy, shredded chicken and a perfectly poached egg, Niall Kirkland has absolutely nailed it when it comes to creating a filling breakfast that's absolutely packed with protein. Topped off with crunchy red onion, creamy avocado slices, and a kick of hot sauce — this sure does hit the spot.
Serves 4
Ingredients
For the waffles:
80g almond flour
3 tbsp. Greek yoghurt
1 tbsp. honey
1 tsp. vanilla
1/4 tsp. fine salt
1 tsp. baking powder
1 tbsp. coconut oil (melted)
4 eggs
For the chicken:
3 tbsp. extra virgin olive oil.
1 tsp. ground cumin
1 tsp. smoked paprika
1 tsp. garlic granules
1 tsp. ground coriander
1 tbsp. honey
1 tsp. apple cider vinegar
Salt & pepper to taste
2 chicken breasts
To serve: 
4 eggs
Avocado (sliced
Red onion (sliced)
Chopped coriander
Hot sauce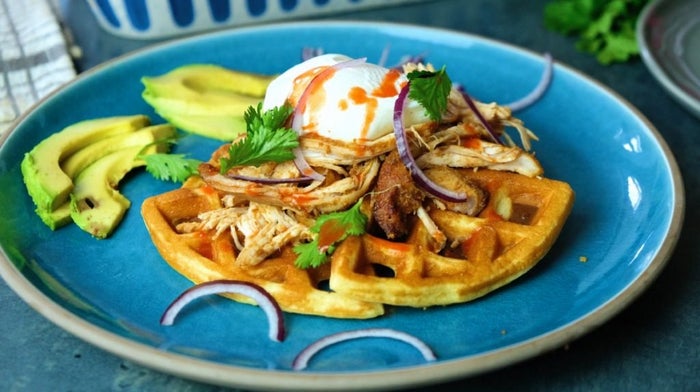 Method
Firstly, mix together the olive oil, cumin, smoked paprika, garlic granules, coriander, honey, apple cider vinegar, salt, and black pepper in a large bowl until fully combined.
Next, cover your chicken breasts with cling film and bash using a mallet or rolling pin until chicken has roughly halved in thickness. Then add the chicken to marinade, mix until coated, and leave to marinate for at least 30 minutes. While waiting, preheat oven to 190°C/ 375°F.
Once marinated, transfer chicken to a baking tray or dish and cook for 20-25 minutes, until cooked through. Once cooked, leave to cool before shredding into fine pieces using two forks.
For the waffles, add all waffle ingredients to a blender or food processor and blitz until smooth. Preheat your waffle maker and spray with a few sprays of non-stick cooking spray.
Add roughly 1/4 of waffle mixture to waffle griddle, close lid and cook for 4-5 minutes until golden brown and crispy. Repeat this 3 more times until all waffle mixture is used.
To poach your eggs, bring a medium saucepan of water to boil, add a tablespoon of any type of malt vinegar. Once water is lightly simmering, use a spatula to create a whirlpool in the boiling water, then carefully crack your eggs into the centre of the saucepan. The eggs will immediately begin to cook and should form into a solid shape.
Cook for 90 seconds for a runny yolk, then remove using a slotted spoon to drain off excess water before serving. Repeat this process for remaining eggs.
To serve, place your waffle on a plate, followed by your shredded chicken, then add a poached egg on top and avocado on the side. Garnish with red onion slices, coriander and hot sauce. Now that's what we call breakfast.
Check out these brunch ideas next: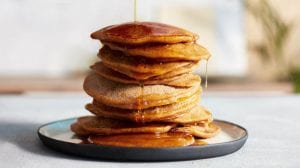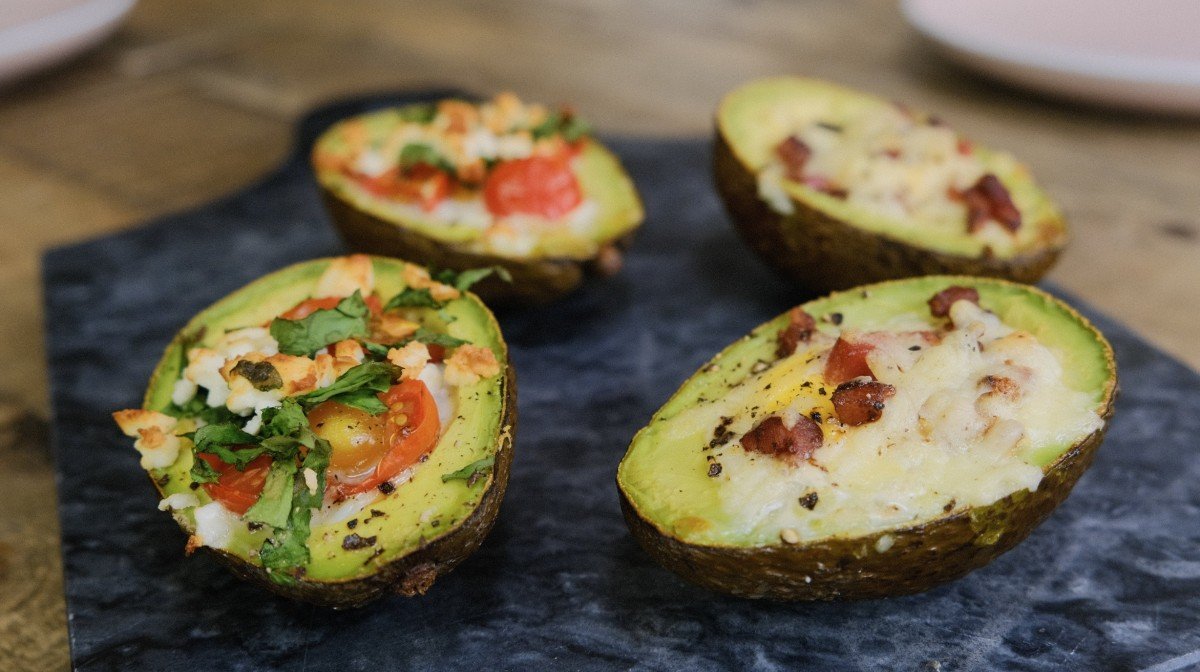 Nutritional info per serving:
| | |
| --- | --- |
| Calories | 484 |
| Total Fat | 35g |
| Total Carbohydrates | 11g |
| Protein | 30g |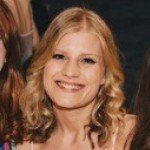 Lauren is an English Literature graduate originally from the South. She's always loved swimming, has discovered the power of weight training over the past few years, and has lots of room for improvement in her weekly hot yoga class.
On the weekends she's usually cooking or eating some kind of brunch, and she enjoys trying out new recipes with her housemates – especially since shaking off student habits, like mainly surviving off pasta. Above all, she's a firm believer in keeping a balance between the gym and gin.
Find out more about Lauren's experience here.