We'll never be sick of teriyaki salmon.
Can you ever get enough of teriyaki salmon? Personally, I don't think so. There's just something about that sticky and sweet glaze that pops off with a succulent salmon fillet. They're meant to be.
This easy air fryer recipe takes the cooking time way down to under 10 minutes too, ideal for those weeknights when you need something to hit the spot quickly. Build a deliciously nutritious Asian-inspired bowl with a bed of sushi rice and crunchy fresh veg to top it all off. The edamame beans are a winner.
Why not double or triple up this recipe and get a few lunches for the week boxed off? You'll be the envy of the break room.
Serves 1
Ingredients
1/2 cup sushi rice
1/4 tsp. ginger (grated)
1/4 tsp. garlic (minced)
1 tbsp. soy sauce
1 tsp. sugar
1 tsp. neutral oil
1 salmon fillet
1/4 avocado
1/2 cucumber
1/3 cup edamame beans
1 carrot
Instructions
1.
First, cook the sushi rice according to pack instructions.
2.
Meanwhile, mix together the ginger, garlic, soy sauce, sugar, and oil to create the teriyaki sauce.
3.
Next chop the salmon into chunks or small cubes and then coat these in the teriyaki sauce.
4.
Cook the marinated salmon cubes in your air fryer at 180°C for 8 minutes.
5.
Meanwhile, prep the veg by thinly slicing the avocado and cucumber, grating the carrot, and boiling or steaming the edamame beans for a few minutes.
6.
Once everything is ready and the salmon is cooked, arrange everything in a bowl to eat right away or in a meal container for lunch another day. Start with a bed of sticky sushi rice, then place the marinated salmon cubes on top along with the prepped veg and edamame beans. Nutritious and oh so delicious.
Nutritional info per serving:
| | |
| --- | --- |
| Calories | 600 |
| Total Fat | 35g |
| Total Carbohydrates | 75g |
| Protein | 40g |
Want more tasty inspo?
TRY THESE NEXT: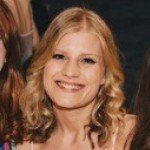 Lauren is an English Literature graduate originally from the South. She's always loved swimming, has discovered the power of weight training over the past few years, and has lots of room for improvement in her weekly hot yoga class.
On the weekends she's usually cooking or eating some kind of brunch, and she enjoys trying out new recipes with her housemates – especially since shaking off student habits, like mainly surviving off pasta. Above all, she's a firm believer in keeping a balance between the gym and gin.
Find out more about Lauren's experience here.