Who says you need weights to work out? Resistance bands are a great tool that you can use at home or at the gym as an alternative to weights. Not sure what they are, how to use them or what they're good for? Don't worry, here's everything you need to know.  
What are resistance bands?
Resistance bands are stretchy, lightweight bands that come in a variety of thicknesses and lengths, and are used as a tool for training and rehabilitation to work out different areas of the body. 
There are a number of different styles of band depending on what you plan to use them for, including small, rehabilitation bands, thicker figure-eight bands for upper-body workouts, and looped bands for lower-body workouts.  
Do resistance band workouts really work?
Yes — resistance bands are great for building strength and muscle. A 2019 study found that resistance band training can produce similar strength gains to conventional resistance training.1  
As with all equipment, it's important they are used effectively and correctly.  
What is resistance training?
Resistance training is the act of lifting (pulling or pushing) the body against some form of resistance. It can be done using resistance bands, conventional weights or even bodyweight movements, and is usually done to build muscle size, strength or endurance.  
Are resistance bands good for weight loss?
To lose weight, the body needs to burn more calories than it takes in. Bodies with greater muscle mass will typically burn more calories than those with less. Resistance bands can be a great way to build muscle, which would in turn lead to more calories burnt.  
Performing 3-4 resistance band workouts a week can be a great way to build muscle and burn fat. By hitting the right reps and sets, you can lose weight effectively.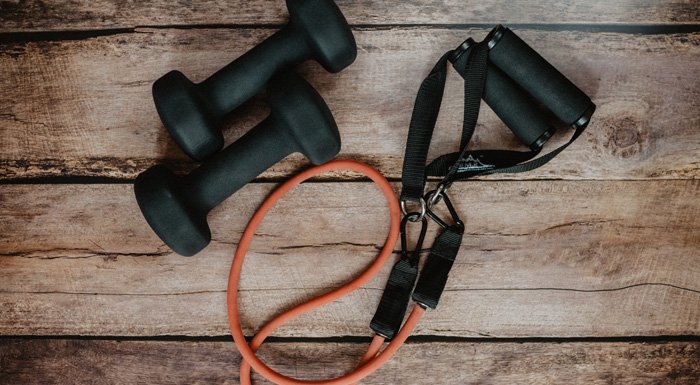 Are resistance bands good for building muscle?
Muscles are built by overloading through training to induce microtears, which causes them to grow in size. Resistance training is the most effective way of building muscle, and resistance bands can play a key role in it. 
Working in the same way as traditional weights like dumbbells, resistance bands cause the muscles to have to work hard against resistance, leading to increased strength, size, or endurance over a period of time.  
Can resistance bands help tone your stomach?
Spot reduction of fat is impossible — you can't target fat loss. But resistance bands can be a great way to increase muscle mass and burn calories, which could lead to more-visible abs. 
How long does it take to see results from working out with a resistance band?
As with any training programme, you will need to progressively overload to see results. This can be done by increasing band thickness or size, or manipulating reps and sets. When this is done regularly, most people begin to see noticeable differences within 6-8 weeks. 
How many times a week should you do resistance band training?
When starting resistance band training, aim for around three 30-60-minute sessions a week. Make these 3 full-body workouts or create an equal upper and lower split with around 4 sessions per week. 
Which resistance band should you use as a beginner?
It can be challenging to decide what bands to use when you're a beginner. The first thing to consider is the area of the body you're training. For legs, bands will need to be thicker or higher resistance than bands for the upper body.  
Think about whether a loop band or a tube-based band is better for the movement. Once you know the style, picking the level of resistance is key. You want to complete the movement holding good form, but you also want to feel resistance. As with standard weight training, complete the reps with good form but start to feel a burn in the last 2 reps. 
Find the right resistance band for you: