These delicious homemade naan rolls are the ideal light bite for summer evenings.
Credit to Niall Kirkland for this incredible twist on a takeaway classic — packed with tasty chicken tikka, fresh Greek yoghurt and plenty of crunchy red onion, these tick the box for healthy, flavoursome food that fills you up.
Makes 6
Ingredients
For the naan:
1 sachet instant dried yeast
125ml warm water
1 tsp. honey
250g plain flour
3 tbsp. Greek yoghurt
A pinch of salt
For the chicken tikka:
30g ginger
3 garlic cloves
2 green chillies (deseeded)
1 tsp. turmeric
½ tsp. cumin
½ tsp. chilli powder
30ml rice vinegar
1 tsp. salt
1 tsp. pepper
1 tbsp. olive oil
1 tsp. coconut oil (for brushing)
3 chicken breasts (cubed)
To serve:
Greek yoghurt
Coriander
Red onion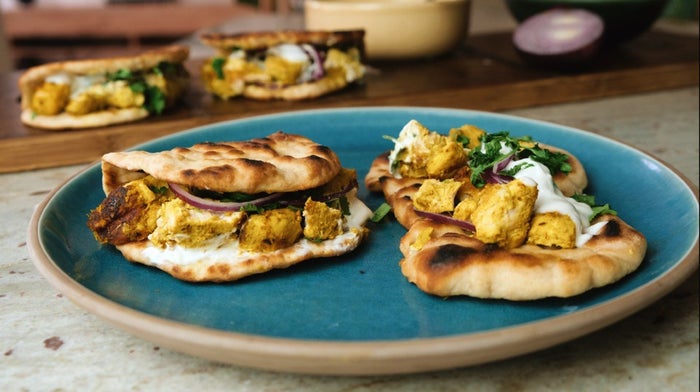 Method
For the naans, combine the warm water with yeast and honey in a mug or small bowl and leave for 5 minutes to activate.
Then, combine flour with a teaspoon of salt in a mixing bowl and create a well using the end of a wooden spoon or spatula.
Add Greek yoghurt and the yeast mixture to the well and gradually mix the flour in from the sides.
Once combined, knead on a lightly floured surface for 5 minutes then cover and set aside for 1 hour, until the dough has doubled in size.
Divide your dough into 6 balls and shape into naans using your hands on a lightly floured surface.
Heat a non-stick pan to a very high heat and place your naan on the pan. Cook on each side for 3-4 minutes, brushing with some coconut oil each side.
For the chicken tikka, place all tikka marinade ingredients in a blender or food processor and blitz until smooth.
Transfer the marinade to a bowl with the chicken breast cubes and mix in until chicken is completely coated. You can marinate your chicken at this point if you have time, if not go straight to the griddle.
Heat your griddle to a high heat and add your chicken — leave to grill for 5 minutes before you start flipping the pieces. Brush coconut oil over your chicken throughout this process.
To serve, add the chicken tikka to naans, top with Greek yoghurt, coriander and slices of red onion, then fold into a delicious chicken tikka naan roll. Enjoy!
Nutritional info per serving:
| | |
| --- | --- |
| Calories | 306 |
| Total Fat | 7g |
| Total Carbohydrates | 35g |
| Protein | 22g |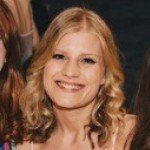 Lauren is an English Literature graduate originally from the South. She's always loved swimming, has discovered the power of weight training over the past few years, and has lots of room for improvement in her weekly hot yoga class.
On the weekends she's usually cooking or eating some kind of brunch, and she enjoys trying out new recipes with her housemates – especially since shaking off student habits, like mainly surviving off pasta. Above all, she's a firm believer in keeping a balance between the gym and gin.
Find out more about Lauren's experience here.