When it comes to comfort food, mac n cheese is an indisputable winner.
---
There's nothing quite like a steaming hot bowl of super-cheesy macaroni. It's the perfect antidote to a cold and stormy winter evening — instantly warming and undeniably comforting.
Just when you thought it couldn't get any better, Niall Kirkland's smashed it out the park with this incredible BBQ pulled chicken version of the classic — adding a twist of tangy flavour and a whole lot of protein.
The best part? This recipe makes enough for you to enjoy a delicious dinner and then portion up for a couple of killer lunches. We guarantee you'll be the envy of the canteen as soon as you dig into this.
Serves 4         
Ingredients
For the BBQ pulled chicken:
For the mac n cheese:
3 tbsp. butter
3 tbsp. plain flour
1 garlic clove (crushed)
1 tbsp. paprika
1-pint semi-skimmed milk
150g low-fat cheddar (grated)
250g macaroni pasta
Chilli flakes to season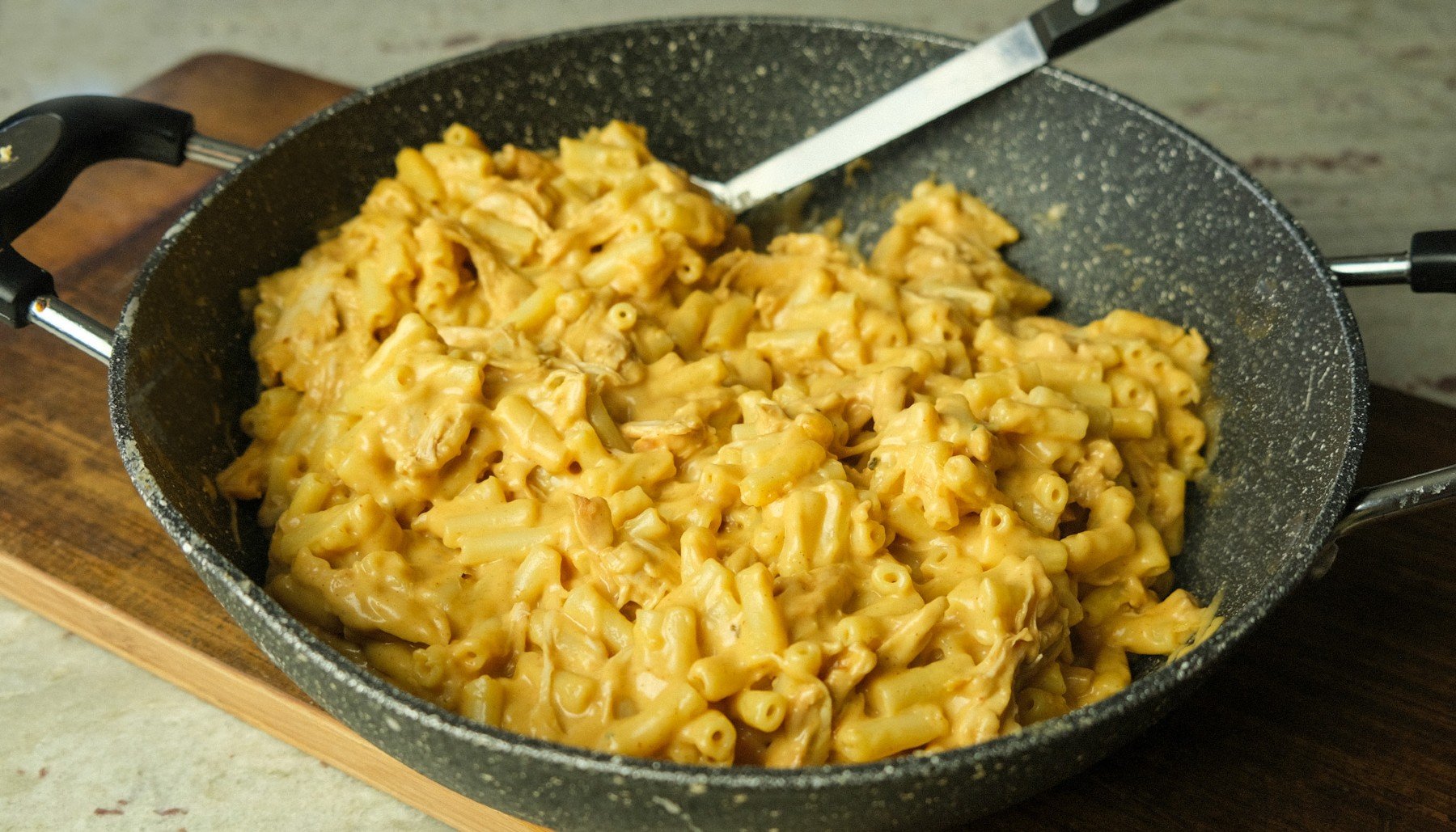 Method
Preheat the oven to 180°C/350°F and boil a large saucepan of water.
Then, mix together the BBQ Sugar-Free Sauce, paprika, garlic granules, salt, and pepper in a small bowl.
Slice deep cuts sideways into each chicken breast and transfer them to a baking tray lined with foil. Then pour the BBQ sauce mixture onto the chicken breasts.
Rub the sauce into the chicken breast so that they are completely covered, then seal the chicken breasts in the foil and bake for 25 minutes.
Once baked, remove the chicken from the foil – set the BBQ juices aside — and then shred the chicken using two forks.
Add the BBQ juices and shredded chicken to a pan fry over medium heat for 3-4 minutes, then set aside. Feel free to add some more BBQ Sugar-Free Sauce if you wish.
Put your macaroni pasta on to cook.
Meanwhile, melt the butter in a deep pan. Add the garlic and paprika and sauté for 2 minutes.
Add the flour, whisking well, and then gradually add the milk. You should constantly whisk until you have used the whole pint of milk and are left with a smooth white sauce.
Then, add the low-fat cheddar, stirring until it melts into the white sauce, and then finally add your shredded BBQ chicken and cooked macaroni pasta. Stir well to make sure everything is combined.
Serve with a sprinkle of chilli flakes or black pepper for a little kick, and enjoy!