We're pretty sure you're familiar with the feeling of getting to the gym and realising you've forgotten your headphones. Or the frustration in not being able to find that perfect song to match your mood and spur you on to get through whatever your workout is. 
Leg day needs something slightly different to push day, and push day needs something a little different to cardio. And sometimes, your go to gym playlist can just get a little bit repetitive. Listening to the same songs' session after session.
Having some playlists dedicated to all your different workouts will get you in the right headspace each session, and stop you from getting bored. 
Let us walk you through a few playlists we've compiled for different workouts. You might have to take a dance break between each set, but we count that as extra cardio.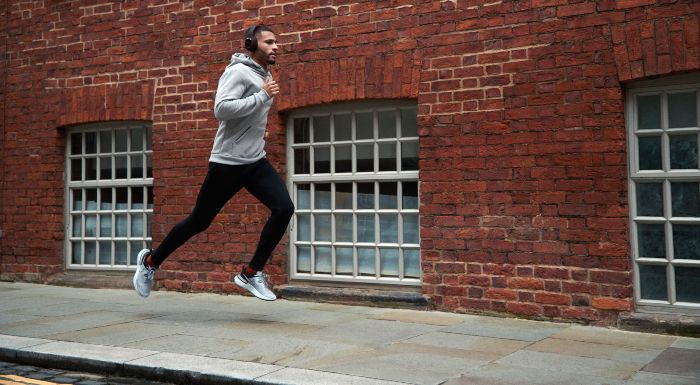 Running addicts will know the value of a good playlist. It can be the difference between a pretty average run, and a brilliant one. It can push you for that final kilometre, or land you a PB. 
Our running playlist is made with our Strava Run Club runners in mind. It combines classic hits, with house favourites, rap, and more. Oh, and whilst you're listening, join our run club to find your fellow running addicts.
https://open.spotify.com/playlist/32y4SJmIxcfPAU9a7DFgET
Our eclectic pull day playlist will have you enjoying your session so much, you won't even feel your triceps burning. This playlist has got hits from everywhere, simply hit shuffle and get to work. 
House, rock, rap – everything to get you in the mood for a brilliant pull day.
https://open.spotify.com/playlist/3idgaFZ4RLFz1iHlMEhFzF
Starting with classics like "Push It", we've got no doubt this playlist will get you in the mood for lifting some heavy weights. 1 hour and 16 mins long, it should take you right through to the end of your session, with ease. Try it out next push day and thank us after.
https://open.spotify.com/playlist/0d7urspu1P5necYz63tv0A
Because leg day targets so many big muscles in the body, it can often be one of the most challenging, and sweaty, workouts. So you're gonna need some real motivation to get you through. Our leg day playlist lends you the help of Kanye West, Kendrick Lamar, Eminem, and loads more.
https://open.spotify.com/playlist/5WPUW5tZIlfgGHVWZAhVPb
For these intense workouts, you need a playlist just as intense to match. Our cardio playlist is perfect for HIIT, with upbeat pop favourite and house hits coming in abundance. It's also perfect for any other cardio workouts, like a long session on the bike, or the stepper if you're feeling particularly ambitious. 
This one is also great for when you're feeling ambitious and tackling a gruelling full body day. 
https://open.spotify.com/playlist/4H0jwI5Sq8tuTNqrcDymCs
Maybe you're doing a chilled-out yoga session, or baking some protein brownies to help aide those DOMS, or maybe you're tackling a rest-day walk. Whatever it is, for days that require something to give you all the relaxed vibes, our rest day playlist is here to help.
https://open.spotify.com/playlist/0aXylbFhSm8UAiAfW0bAn8
Take Home Message 
Whatever the workout, we're pretty confident we've got a playlist to match. Never underestimate the power of a good playlist, this list should help you out in realising that. Get in the right mood and you'll be hitting PBs before your playlist's finished playing. 
So, get your gym kit on, and blast a few of these. What are you waiting for? Hit shuffle.
Enjoyed this article?
READ THESE NEXT: