Want to take your home workouts up a level? Investing in a kettlebell gives you room to get pretty creative with your exercises and have some fun throwing a weight around (be careful of TVs and windows!) 
If you want some kettlebell inspiration, then check out this tough workout from Bradley Simmonds, trainer to the stars and all-round exercise machine. The question is, can you keep up with him? 
To take you step-by-step through each exercise and their benefits, we spoke to Ben Walker, personal trainer and owner of Anywhere Fitness about these exercises. 
1) Front Rack Squats
Muscles Worked
Glutes, Hamstrings, Quads, Abdominals, Calves 
The Benefits Of This Exercise
By adding the load in front of your body, this move activates the quadriceps and core as more dominant muscle groups. This squat variation is better for strengthening the muscles on the front of your body and working the glutes, hamstrings, and calves as secondary muscle groups.  
The exercise acts as a great substitute for a barbell front squat. It also promotes flexibility and positioning of the torso when descending to the floor. 
Besides the barbell, the double kettlebell squat enables you to hold more weight in front of your body than a single kettlebell. If your lower body is a lot stronger than your upper body, this variation should be used for maximising the weight you can push with your legs.  
How To Perform
Stand with your feet a little bit wider than shoulder width apart, position two kettlebells of the same weight between your legs.  
Look forward, bend your knees, and extend your hips slightly as you grip the kettlebells in a pronated (overhand) position.  
Clean the kettlebells to your shoulders while rotating your wrists to a neutral grip (side grip). 
In standing position, engage your core and lower yourself to the floor by extending backwards with your hips and bending your knees. 
Descend until your thighs are parallel to the ground (90 degrees). 
Drive your body weight through your heels and hips to return to the starting position.
Things To Be Careful About
Always look straight ahead while you squat. Avoid looking at the floor to prevent hurting your neck or spine. 
Lift a weight that can be held securely at your shoulders. If you're lifting kettlebells that are too heavy, you can end up compensating with your spine and lose the engagement of your core. You could also run the risk of damaging your rotator cuff.  
When cleaning the kettlebells, avoid hyperextending your swing too far forward. This also protects your back from injury. 
How To Make The Exercise Easier/Harder
To make the exercise easier, you can reduce the weight of the kettlebells. You can also sit down/touch a box or bench as you attempt to lower yourself to 90 degrees. If you have tight muscles or need to improve your balance and coordination, having this support you can help achieve better range with your squat. 
To make the exercise harder, increase the weight of the kettlebells or change the tempo of the exercise. By increasing the time for the eccentric phase (lowering) and squat holding position (90 degrees), you increase the engagement of all the muscles before driving back to starting position. 
2) Deadlifts
Muscles Worked
Glutes, Quadriceps, Hamstrings, Calves, Latissimus Dorsi, Trapezius, Erector Spinae 
The Benefits Of This Exercise
Deadlifts are a great exercise for targeting the hips and glutes, as well as the quadriceps, hamstrings and calves. Keeping your core engaged and torso upright during the concentric phase, makes the exercise a total body workout.  
If looking to improve technique and build functional strength in the lower and upper body, this is a great stepping stone exercise before taking on the barbell. 
How To Perform
Stand with your feet hip-width apart.  
Hold the kettlebells in an overhand (pronated) position in line with your thighs. 
Lowering the kettlebells to the floor, your arms should be straight while bending your knees slightly and pushing back with your hips.  
Extend until your upper body is almost parallel to the floor (90 degrees), keeping your back straight the entire time. 
Push your chest out, bring your shoulders back, and engage your core. 
Before the kettlebells touch the floor, drive through your heels and hips and squeeze your glutes to return to the starting position. 
Things To Be Careful About
When hinging your upper body to 90 degrees, make sure to hinge at the hips and not the lower back. This can result in serious back injuries. To avoid this from happening, keep the core upright and lower back flat when bringing the hips back. Squeeze the buttocks when driving the hips forward. Make sure to also keep your chest out and shoulders slightly retracted at all times so you don't hunch with the spine and lose engagement of the core. 
How To Make The Exercise Easier/Harder
To make this variation of the deadlift easier, you can perform the exercise with a single kettlebell. When holding one kettlebell, the stabiliser muscles (abs, obliques, hip flexors) are less activated to control the movement of hip flexion and extension.  
To make the exercise harder, you can increase the weight and time of the eccentric phase of the exercise (lowering to the floor).  
3) Chest Press
Muscles Worked
Pectoralis Major, Triceps, Anterior Deltoids 
The Benefits Of This Exercise
Like push ups, the "chest press" primarily targets the pectoralis major. The triceps and anterior delts work as secondary muscles to complete the concentric phase of the exercise.  If you're looking to expand the size of your pecs, you'll want to be including this exercise weekly and in every chest workout.  
By adding a bridge position to the exercise (as seen by Bradley in this video), you can strengthen your core and lower back while performing the workout.  
How To Perform
Lie flat with your back and neck against a mat. 
Bring your feet back until planted close to your buttocks on the floor. Lift your lower back off the ground until in a straight pencil-like bridge position. 
Hold the kettlebells a little wider than shoulder width apart with a pronated grip. 
Your arms should be position at 90 degrees with your forearms facing vertical. 
Extend both arms upwards until directly above your chest.  
Slowly perform the movement in reverse to come back to the starting position.  
Things To Be Careful About
If you feel strain or weakness in the shoulder joint, switch to a neutral grip (side grip) so the shoulders and triceps can become more dominant in the lift. This is also an option if the pec muscles are generally weak. 
Make sure that the forearms are positioned vertically at all times to maintain shoulder stability. If starting to more inwards/outwards, then reduce the weight. Losing this position and cause injury to the rotator cuff.   
How To Make The Exercise Easier/Harder
To make the exercise easier, turn the kettlebells to a neutral grip and lift more medial (central) to the body. The closer to the body you perform the lift, the more activated the shoulders and triceps become.  
To make the exercise harder, take a wider stance than shoulder-width apart with your arms, while performing the workout with a pronated grip. This recruits more fibers in the pectoralis major and more effective for adding more bulk to your chest.  
4) Seated Shoulder Press
Muscles Worked
Deltoids, Trapezius, Triceps, Pectorals 
The Benefits Of This Exercise
The shoulder press is the king of exercises for gaining definition and bulk in your shoulders. It recruits all three heads of the deltoids (lateral, medial and posterior). It also targets your upper/mid trapezius, triceps, and pectorals when extending the kettlebells overhead.  
This variation of the seated shoulder press is an excellent workout for working multiple muscle groups from the waist upwards. A great routine for building muscle and promoting fat loss. 
How To Perform
Sit down on a mat with your legs fully extended. Keep your upper body upright and look straight ahead. 
Hold the kettlebells at each shoulder with an overhand grip (palms facing forward). Your arms should be positioned roughly below 90 degrees. 
Extend both kettlebells vertically overhead. Your arms should be extended directly above you and elbows should not be bent in the finish position.  
Slowly lower the kettlebells back to each shoulder.  
How To Make The Exercise Easier/Harder
If experiencing tightness or weakness when lifting the kettlebells overhead, change your position to a side grip. This will recruit the triceps and improve your ability to complete the exercise properly.  
If suffering from back pain, particularly in the lumbar section, then perform the exercise with more back support - such as using a bench or performing the exercise in a standing position. These variations also make the exercise a lot easier. By having bench support, this isolates and increases the ability to lift more weight with our shoulders. When standing, our pelvic muscles are able to assist our core/lower back with the lift.  
5) BENT OVER ROWS
Muscles Worked
Rhomboids, Rear Deltoids, Lats, Abdominals 
The Benefits Of This Exercise
The "Bent Over Row" is a very functional exercise for targeting the postural muscles of your upper back and shoulders. It isolates the rhomboid muscles (mid back) which are pretty tricky to target with free weight equipment.  
When in a bent over stance, your core, legs and lower back are all being strengthened while maintaining your balance. The workout also recruits the lats, biceps, and lower back when lifting the dumbbells upwards (concentric phase). Contracting all these muscles together contributes to burning a lot of calories when performing this exercise. A great move for weight loss and firming up.
How To Perform
Holding two kettlebells with a side grip and align them with your thighs. 
Bend your knees slightly, push back with your hips, and hinge forward until your torso is positioned between 45-90 degrees.  
Lower your arms until extended under your shoulders.  
Lift the kettlebells directly upwards until your elbows pass your body.  
Hold this position for a second before lowering the kettlebells back to the starting position. 
Repeat again. 
Things To Be Careful About
You should be completely in control of this exercise. Don't allow momentum to dictate the movement, forcing you to sway or round your shoulders. Keep a steady pace between the concentric/eccentric phase so that your body remains still during the exercise. If this is hard to maintain, then reduce the weight you are lifting and perform at a slower tempo. 
How To Make The Exercise Easier/Harder
If you feel your rear shoulders (deltoids) are weak or need attention, then switch the hand grip to a pronated position. This will activate these muscles more and make the triceps less dominant. 
Take home message
This workout from @bradleysimmonds is a full-body blaster. There's no need for a full gym if you've got yourself a kettlebell — you can get pretty creative considering it's just one weight. Want to take it up a notch? Try adding another kettlebell or move onto a barbell. 
Want some more kettlebell workouts?
TRY THIS NEXT: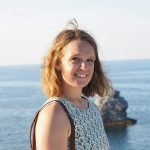 Evangeline has taken part in competitive sports since a young age. As a qualified RYA Dinghy Instructor, she understands the importance of proper nutrition for fuelling extreme and endurance sports, especially due to her experience in Team GBR Squads and captaining and coaching her University first team.
In her spare time, Evangeline loves running – especially marathons. On the weekends, you'll find her taking on water sports or hiking up a hill. Her favourite evenings are spent taking on a HIIT session or squats in the gym before digging into some spicy food and a ton of vegetables – yum!
Find out more about Evie's experience here.