If you've got a gluten allergy, then you probably realised pretty early on that it can be in quite a few unsuspecting foods. So, is it in whey protein?
The answer's no, whey protein doesn't contain gluten. Although gluten is a protein, it's quite different to the one found in your shake. Gluten is found in cereal grains, particularly wheat and is responsible for giving dough its shape during the baking process. Sources of gluten include wheat, barley, rye and oats.
However, you need to pay attention to the ingredients as a lot of different whey protein powders will contain additional ingredients, including flavourings that may contain gluten (e.g. wheat).
You also want to think about the risk of cross-contamination, as some products will be manufactured in a facility that handles other gluten-containing products.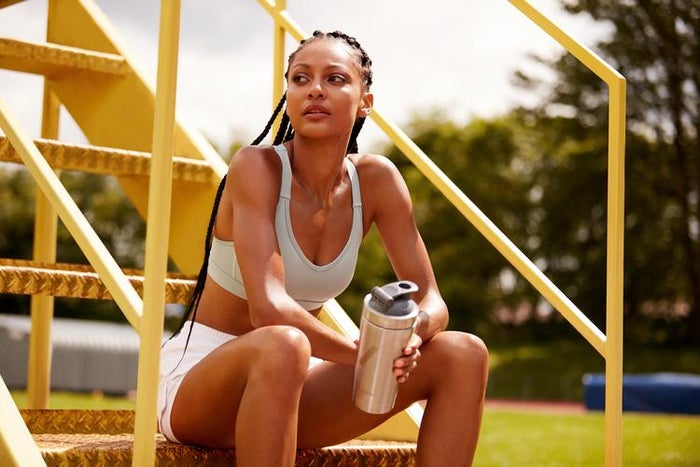 What is whey protein?
Whey protein is one of the by-products in the cheese making process.1 It's commonly used as a dietary supplement that can help with muscle growth and repair.2 It can be purchased in different forms including protein bars and shakes.
Gluten-free proteins
The majority of people who need to exclude gluten from their diet are individuals with an autoimmune condition called Coeliac disease. Gluten intolerance/sensitivity does exist but data suggests approximately 0.5-0.6% of the global population to have this.3
Gluten-free protein includes whey concentrate, whey isolate, or hydrolysed whey. All of these are gluten-free and safe for people avoiding gluten to consume. Nevertheless, not all whey protein powders are gluten-free. Some have additional ingredients including flavourings that can be derived from allergens including gluten.
Some products are also manufactured in a facility that also handles other gluten-containing products. For Myprotein products, a few of our products are put through supplier tests to make sure it's below the threshold to enable a 'gluten-free' claim (<20ppm).4
So, if a product is naturally gluten-free, it's still important to check if it has been tested to be below this threshold, so it's a certified gluten-free product as cross-contamination is still a major risk.
Here are some examples of Gluten free proteins:
1. Impact Whey Protein
This is our most popular shake and comes in plenty of flavours. It's whey concentrate and packs in 21g of protein per serving.
Some flavours that are gluten-free include: Apple Crumble & Custard Flavour, Banana, Blueberry, Blueberry Cheesecake, Chocolate Banana, Chocolate Brownie, Chocolate Cereal, Chocolate Coconut, Chocolate Nut, Chocolate Orange, Chocolate Peanut Butter, Chocolate Smooth, Cinnamon Danish, Cinnamon Roll.
2. Diet Protein Blend
If you're looking for a slightly lower-calorie shake, then this is a great option. It also contains CLA and choline, as well as vitamins to support your goals.
All flavours are gluten-free, this includes: Marshmallow, Strawberry Cream, Chocolate Fudge Brownie and Natural Vanilla.
3. Total Protein Blend
Made from seven different sources of high-quality protein, you can boost your intake with a hefty 24g of protein per serving.
All flavours are gluten-free, this includes: Vanilla, Unflavoured, Strawberry Cream, Chocolate Mint, Chocolate Smooth and Natural Banana.
4. Vegan Protein Blend
If you're looking for a tasty plant-based blend, then this is a great option. Made from faba bean and pea protein, packing 22g of protein per serving.
All flavours are gluten-free, this includes: Chocolate, Coffee & Walnut, Turmeric latte, Strawberry and Banana.
5. Pea-Nut Square
Need a tasty snack for on the go? This brand new nutty bar contains delicious cacao butter, roasted nuts, and chocolate chips, as well as pea and rice protein.
All flavours are gluten-free, this includes: Choc chip, Choc orange and Choc berry.
Protein powders containing gluten
Protein powders with gluten usually contain flavourings derived from barley and other gluten-containing proteins as described above. These are often labelled in bold in the ingredients list for a product.
It's usually the protein powders that are flavoured that in most cases will contain gluten.
A few examples include:
Impact Whey Protein — Banoffee, Chocolate Caramel, and Birthday cake.
THE Whey – Cookies and Cream
Take home message
For the majority of people excluding gluten from their diet, reading labels will be of second nature to you. Making sure that you are able to read ingredients lists to confirm any possible gluten-containing ingredients is essential.
If you do have a serious condition like Coeliac disease, do opt for products only containing 'gluten-free' stamp as these have been certified.
Our articles should be used for informational and educational purposes only and are not intended to be taken as medical advice. If you're concerned, consult a health professional before taking dietary supplements or introducing any major changes to your diet.
1. Dictionary by Merriam-Webster: America's most trusted online dictionary. Merriam-Webster. https://www.merriam-webster.com/. Accessed September 10, 2017
2. Naclerio F, Larumbe-Zabala E, Earnest C, et al. Effects of protein-carbohydrate supplementation on immunity and resistance training outcomes: a double-blind, randomized, controlled clinical trial. Euro J Applied Phys February 2017;117(2):267-277. Available from: MEDLINE with Full Text, Ipswich, MA. Accessed November 1, 2017.
3. Sapone, A., Bai, J., Ciacci, C., Dolinsek, J., Green, P., & Hadjivassiliou, M. et al. (2012). Spectrum of gluten-related disorders: consensus on new nomenclature and classification. BMC Medicine, 10(1). doi: 10.1186/1741-7015-10-13
4. Gluten and Food Labeling. (2020). Retrieved 25 February 2020, from https://www.fda.gov/food/nutrition-education-resources-materials/gluten-and-food-labeling