Step over from the dark side and give these vegan blondies a go.
With none of the sugar, butter, or eggs that are a key part of classic blondie and brownie recipes, these delicious squares of heaven taste every bit as indulgent — only they're perfect a plant-based lifestyle.
You may be a little surprised to see a tin of chickpeas on the ingredient list, but trust us, we know what we're doing here. Plus, they're a great source of plant-based protein, making these tasty treats ideal to boost your daily intake.
Forget complicated steps, and save arm day for the gym as there's no mixing in this recipe — the entire batter is made in a food processor and will be ready to go in just a few minutes. Yep, we like to keep things super simple.
Whether you make a batch to impress your guests at the weekend, or just need a personal stockpile of something tempting to satisfy your sweet-tooth in the evenings, these vegan blondies sure hit the spot.
Makes: 8 squares
Ingredients

Method
Preheat your oven to 180°C and line a baking dish with greaseproof paper, then set aside.
Place all of the ingredients, except for the vegan chocolate chips, into a food processor and blend until the mixture is smooth and lump-free.
Spoon out your mixture into the prepared baking dish and use the back of a spoon or spatula to level out.
Sprinkle the chocolate chips over the top.
Bake for about 45 minutes or until golden around the edges. Then cut your vegan blondies up into squares and enjoy!
Enjoy that plant-based bake? Give these vegan recipes a go next...
Nutritional info per serving:
| | |
| --- | --- |
| Calories | 252 |
| Total Fat | 17g |
| Total Carbohydrates | 7g |
| Protein | 12g |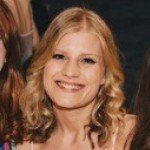 Lauren is an English Literature graduate originally from the South. She's always loved swimming, has discovered the power of weight training over the past few years, and has lots of room for improvement in her weekly hot yoga class.
On the weekends she's usually cooking or eating some kind of brunch, and she enjoys trying out new recipes with her housemates – especially since shaking off student habits, like mainly surviving off pasta. Above all, she's a firm believer in keeping a balance between the gym and gin.
Find out more about Lauren's experience here.