Simple and super-juicy, these smash burgers are our new Friday night favourite.
You know those days where you're just craving something indulgently bulky to satisfy your hunger? Maybe you've been trapped back to back meetings, smashed out a new PB at the gym, or a week of intense training has just caught up with you… whatever it is, you're in the mood to sink your teeth into something serious. This recipe from Niall Kirkland is exactly what you're looking for. Trust us.
Smash burgers are literally just that, meat that's been 'smashed' in the pan to make perfectly stackable patties. And boy, do we stack these up with all the trimmings and an oozing cheese centre. Cue mouth-watering.
This fakeaway is a delicious treat that you can actually keep pretty healthy in comparison to regular fast food options, too. All it takes is a few clever switches, like making sure to pick the leanest mince possible, going for low-fat cheese, and using light mayonnaise in the sauce if you're conscious about the calorie count.
Serves 2
Ingredients
For the patties:
300g 5% fat lean beef mince
Salt & pepper to taste
2 slices Monterey Jack Cheese (can be swapped for any type of cheese)
1 tsp. coconut oil
For the burger sauce:
1 tbsp. ketchup
1 tbsp. light mayonnaise
½ tsp. English mustard
2 tbsp. chopped gherkins
To serve:
2 brioche buns
Finely chopped lettuce
4-5 gherkin slices per burger
Thinly sliced red onions
2 slices of tomato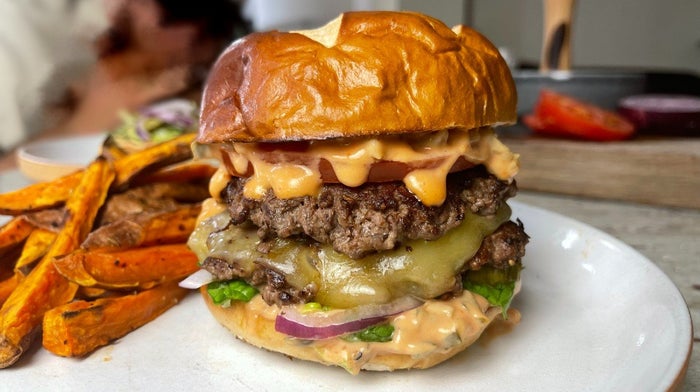 Method
First, mix together the burger sauce ingredients until fully combined. Then prepare your lettuce, red onion, and tomato slices.
You want to prepare your buns before cooking the patties, so you can serve patties immediately, whilst still hot. To do so, slice your brioche buns in half, then heat a small amount of coconut oil in a cast-iron pan or griddle, and toast your buns for 2-3 minutes. Spread burger sauce on both the top and bottom buns, then add lettuce, gherkins and red onion slices to the bottom bun.
To make your patties, split the beef mince into 4 and roll into balls with your hands. Season generously with salt and pepper, rolling the mince balls around in seasoning to ensure they are completely coated.
Make sure the cast-iron pan or griddle is very hot, add a little more coconut oil if necessary, and then cook the patties in two batches, placing two beef balls in the pan with enough room to smash.
Using a spatula or burger turner with parchment paper underneath, press down on each beef ball until it is completely flat. Cook for 60 seconds on one side, then flip the patty.
Add a Monterey Jack slice to one patty, then place the other patty on top. Once cheese has melted, remove from heat and add to your prepared burger bun. Repeat this process for the remaining beef patties.
Finish with tomato slices and then close the burger with the top bun. Serve immediately and enjoy!
Nutritional info per serving:
| | |
| --- | --- |
| Calories | 526 |
| Total Fat | 26g |
| Total Carbohydrates | 29g |
| Protein | 41g |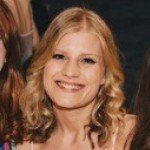 Lauren is an English Literature graduate originally from the South. She's always loved swimming, has discovered the power of weight training over the past few years, and has lots of room for improvement in her weekly hot yoga class.
On the weekends she's usually cooking or eating some kind of brunch, and she enjoys trying out new recipes with her housemates – especially since shaking off student habits, like mainly surviving off pasta. Above all, she's a firm believer in keeping a balance between the gym and gin.
Find out more about Lauren's experience here.