Sweeten up their Valentine's Day with these tasty treats.
---
We all know what Valentine's Day is really about… yes, of course we mean chocolate. These delicious healthy date night recipes are a guaranteed way to make your significant other smile.
Want to get the day off to the best start possible? Wake them up with one of these irresistible Valentine's breakfasts — the hardest part will be choosing between melty chocolate twists, or fruity pancakes dripping with syrup.
Then seal the deal later in the day with these high-protein Valentine's Day desserts — they're easy to prepare the night before, so you'll have a stress-free romantic evening. Plus, they'll keep for a few days too, so the good things can keep coming.
Whether your lover is crazy for peanut butter, or can't get enough of cookie dough — we've got just the thing. But hey, who's stopping you from making both?
Valentine's Breakfasts
1. Protein Spread Chocolate Twists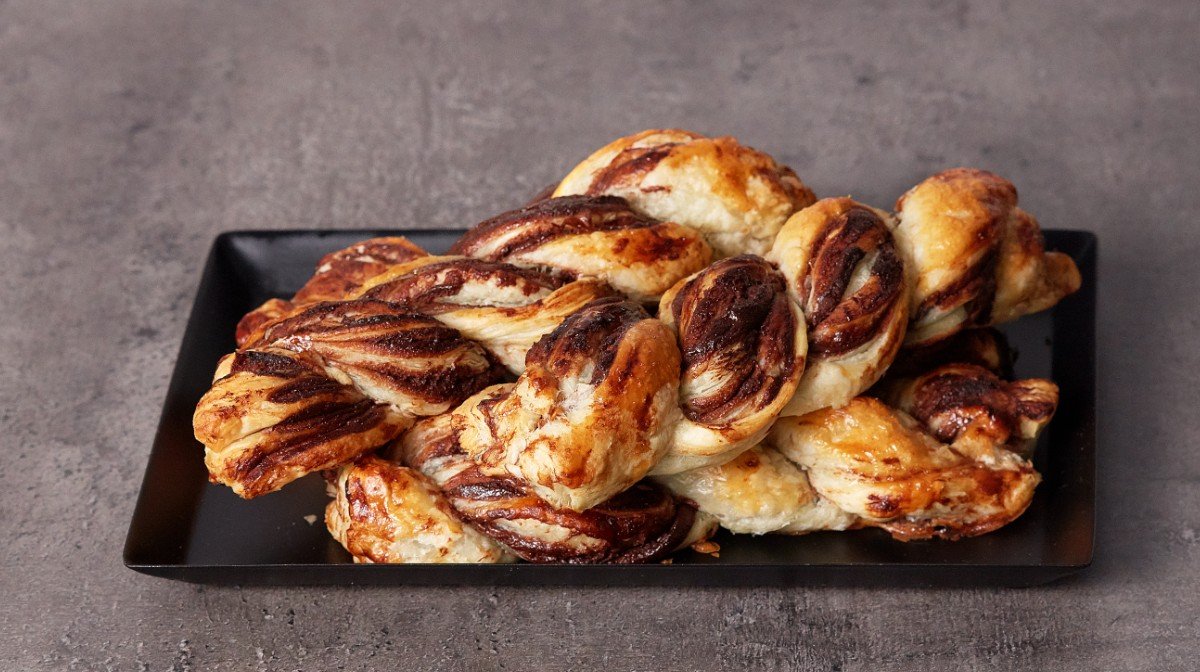 Ingredients
1 sheet puff pastry
1 egg (beaten)
Method
Preheat the oven to 175°C/350°F
Firstly, prepare a clean work surface or chopping board with a light sprinkling of plain flour (this is to make sure that the pastry doesn't stick).
Then, roll out a sheet of puff pastry, smoothing it out lightly with your fingertips. Use a knife to cut it into quarters. Keep 1 quarter on the chopping board and set aside the other 3 for now.
Get your Protein Spread and use a spatula to scoop out a generous amount from the jar. Spread it evenly across the pastry, making sure you cover from edge to edge.
Next, carefully roll up the square of pastry, then use a sharp knife to cut lengthways down the roll so that you have two long pieces.
Form a twist by wrapping each of the pieces around one another. Pinch the pastry together at top and bottom of the twist.
Repeat for the other 3 pieces of pastry, then place all of the twists onto a baking tray lined with baking paper.
Brush each chocolate twist with egg wash (beaten egg).
Bake for around 15 minutes, until the pastry has turned golden brown. Then serve up straight away for a deliciously melty chocolate twist.
 2. Sheet Pan Protein Pancakes
Ingredients
Optional toppings:
Method
Preheat the oven to 220°C/425°F.
Add the eggs to a large mixing bowl and beat well with a whisk. Then add the milk and whisk again to combine.
Next, add the flour, baking powder, and protein to the bowl. Whisk well until you have a smooth batter.
Pour the pancake batter into a sheet pan that's lined with baking paper. Use a spatula or the back of a spoon to make sure all the mixture is evenly spread throughout the tray.
Now place your toppings onto the pancake batter. We went for a fruity combo of slices of strawberries and blueberries, but you can get creative with whatever your favourite ingredients are.
Bake for 15 minutes, or until golden brown.
Cut into squares and enjoy immediately with plenty of syrup. You can also store any extra portions in the fridge for up to 5 days (as if there'll be left overs…).
Valentine's Day Desserts
1. High-Protein Peanut Butter Cheesecake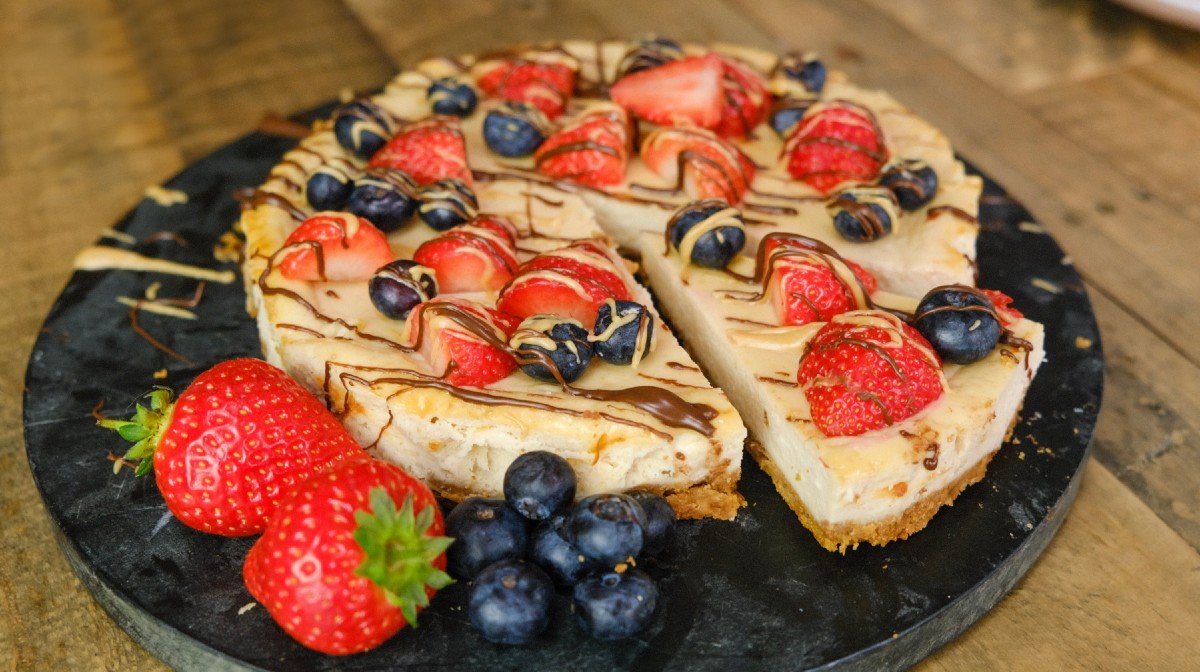 Ingredients
For the base:
8 digestive biscuits (crumbled)
2 tbsp. low-fat spread (melted)
1 tbsp. honey
For the filling:
For the toppings:
Method
Preheat your oven to 175°C/350°F.
Firstly, break your biscuits up into fine crumbs. You can do this using a sealed bag sandwich bag and a rolling pin to bash them, or use a food processor.
Mix the crumbs in with the melted spread and honey.
Next, transfer the biscuit mixture to a lined 8×8 cheesecake tin. Gently flatten and press your biscuit base down with a spatula or your hands, then press the base down firmly with a flat object such as a glass or ramekin.
Bake your biscuit base for 10 minutes and remove from the oven.
Meanwhile, add your cream cheese, egg whites, Greek yoghurt, protein powder, peanut butter and honey to large mixing bowl and stir well until combined.
Next, add the cheesecake filling to your baked biscuit base, spreading the filling so it sits evenly. Smooth over the top and place in the oven.
Bake for 20 minutes at 175°C, then lower the temperature of the oven to 150°C and bake for another 10 minutes.
Remove the cheesecake and leave to cool, before placing it in the fridge for at least three hours.
After it's fully cooled, you can decorate with whatever toppings you fancy. We've drizzled ours with plenty of melted peanut butter and chocolate hazelnut Protein Spread, and then topped with slices of strawberries and blueberries. This is a perfect healthy date night recipe to have on standby for special occasions.
2. High-Protein Cookie Dough Bites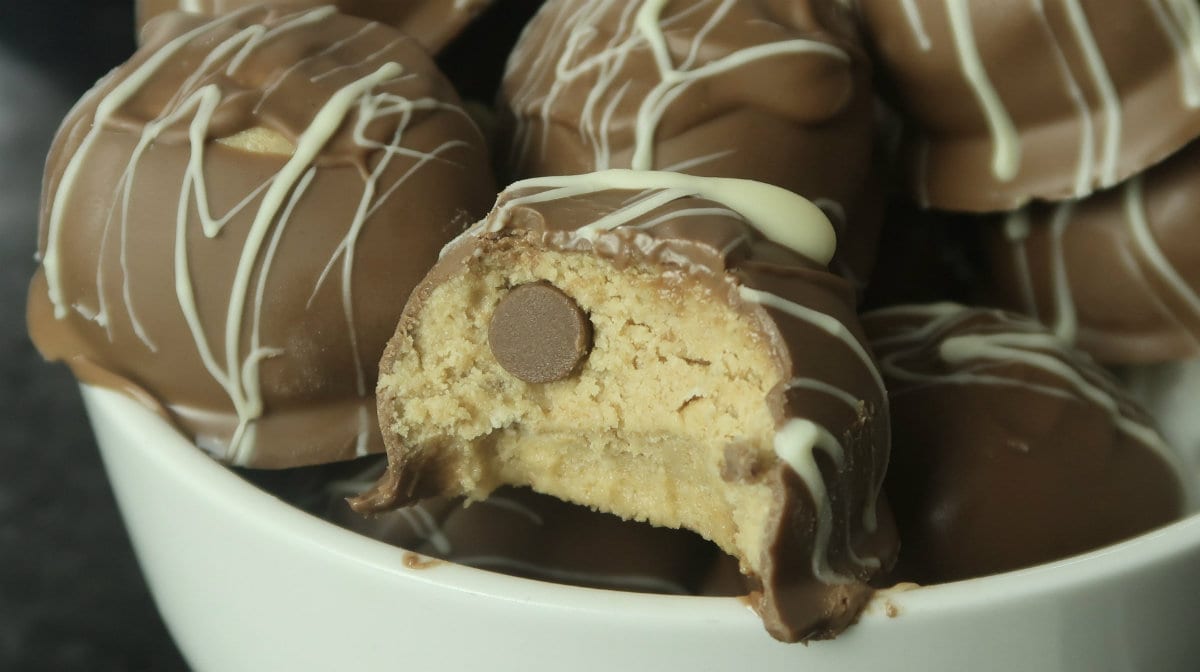 Ingredients
For the bites:
For the coating:
150g milk chocolate chips
1 tbsp. 100% Coconut Oil
50g white chocolate (optional) 
Method
In a large mixing bowl combine the oat flour, ground almonds and vanilla protein powder.
Then add the peanut butter, coconut oil and vanilla extract, mixing together until your mixture resembles cookie dough.
Next, fold the chocolate chips into the mixture.
Split and form the mixture into 15 evenly sized balls. Place each ball onto a lined baking tray and freeze for 1-hour minimum.
When the hour is up, prepare the coating by melting together the chocolate chips and coconut oil in a large microwaveable bowl. Start by microwaving for 1 minute, then take out and stir, and microwave for 30 second intervals after that.
Now, spike each cookie dough ball with a toothpick and dip them into the melted chocolate.
Place them all back onto the lined baking tray again, and for extra indulgence drizzle melted white chocolate on top of them for decoration.
Allow to chill for ten minutes in the fridge, then enjoy!