Looking for new healthy pasta recipes? This lean and creamy sausage pasta will liven up your meal prep routine – and then some.
Fed up of your daily chicken, rice and broccoli meal prep? Yup, us too. Try this super-lean, high-protein creamy sausage pasta for your next batch meal prep session.
Made with quark in place of cream cheese and reduced-fat sausages, we've kept this pasta lean without skimping on flavour — each delicious serving offers up an impressive 34g of protein, with less than 6g of fat.
Click to jump straight to the nutritionals.
Makes 4 
Ingredients
1 tsp. 100% Coconut Oil
1 leek (finely sliced)
2 cloves garlic (chopped)
8 reduced-fat pork sausages (sliced)
200g quark
1 tin chopped tomatoes
240g wholemeal penne pasta
1 tsp. dried chilli flakes
Salt & pepper to taste
Handful fresh basil leaves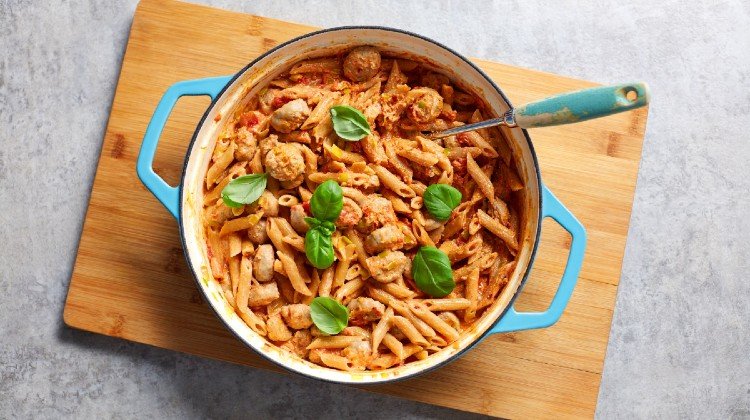 Method
Add the coconut oil to a large, non-stick pan on a medium to high heat. Add the sliced leek into the pan and fry for 3-4 minutes, stirring occasionally.
Add the garlic and pan fry for a further 2 minutes, then add the sliced sausages and fry for 6-10 minutes, stirring occasionally, until they are brown on all sides. Add the chilli flakes and season with salt and pepper to taste.
Next, the tin of tomatoes and stir to combine. Let bubble for a few minutes and then add the quark, mixing through thoroughly to get a rich, creamy sauce.
Add the cooked pasta to the pan and mix in with the sauce so that it's all combined.
After a few minutes, take the pasta off the heat and portion up into containers, garnishing with fresh basil leaves.
---