Everyone needs a little help getting through January, which is why this month we've got your back with a series of super-tasty macro-balanced meals to keep you going.
These one-tray roasted halloumi wraps are quick & easy to prepare the night before, and make for the perfect take-to-work lunch. Made with plenty of everyone's favourite squeaky cheese and a generous dollop of hummus — they're an instant win.
Plus, they're a delicious way to get in those all-important veggies, providing a much-needed boost of vitamins and minerals at this time of year.
Makes 4
Ingredients
3 peppers (sliced)
1 courgette (thinly sliced)
1 red onion (sliced)
1 tsp. oregano
1 tsp. salt
4 wholegrain tortilla wraps
1 pot hummus
1 block halloumi
Splash of water
Baby spinach or salad leaves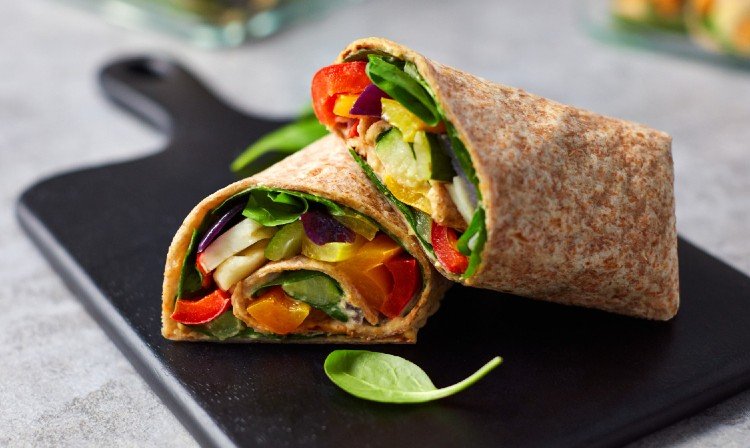 Method
1) Preheat the oven to 200°C.
2) Place the slices of pepper, courgette and red onion on a baking tray and sprinkle with oil, salt and oregano. Use your fingers or a spatula to make sure they are evenly coated, then put the tray in the oven for 10 minutes.
3) Meanwhile, slice the halloumi in rectangular pieces about a centimetre thick and set aside.
4) Then, place all of the hummus into a small bowl and slightly water down with a splash of water — this will make it easier to spread evenly.
5) Once the vegetables have been in for 10 minutes, remove from the oven and add the halloumi to the tray. Return back to the oven to roast for a further 10 minutes.
6) Warm up the tortillas (using either a pan with a touch of olive oil over a low heat, or by microwaving for 20 seconds).
7) Start to build your wraps — spread around 1-2 tablespoons of hummus over the wrap first, then add a quarter of the roasted veg, halloumi and a handful of spinach or salad leaves.
8) Make a tight wrap by folding over two opposite sides of the tortilla first, and then rolling up from the bottom. Slice diagonally and either wrap up in foil or place straight into your lunch box.