Put some beetroot or avocado or applesauce in your brownie for a change. Don't worry: they'll still taste amazing.
You can substitute eggs or butter with loads of unusual ingredients to make them taste unique, gooey, and delicious.
Eggs are usually added to brownies to join all the ingredients together, moisten them, and help them rise. You can still get some of these effects using different (and more unusual) ingredients though, keeping the taste and even adding a little more.
So throw out the eggs and throw in some of these instead.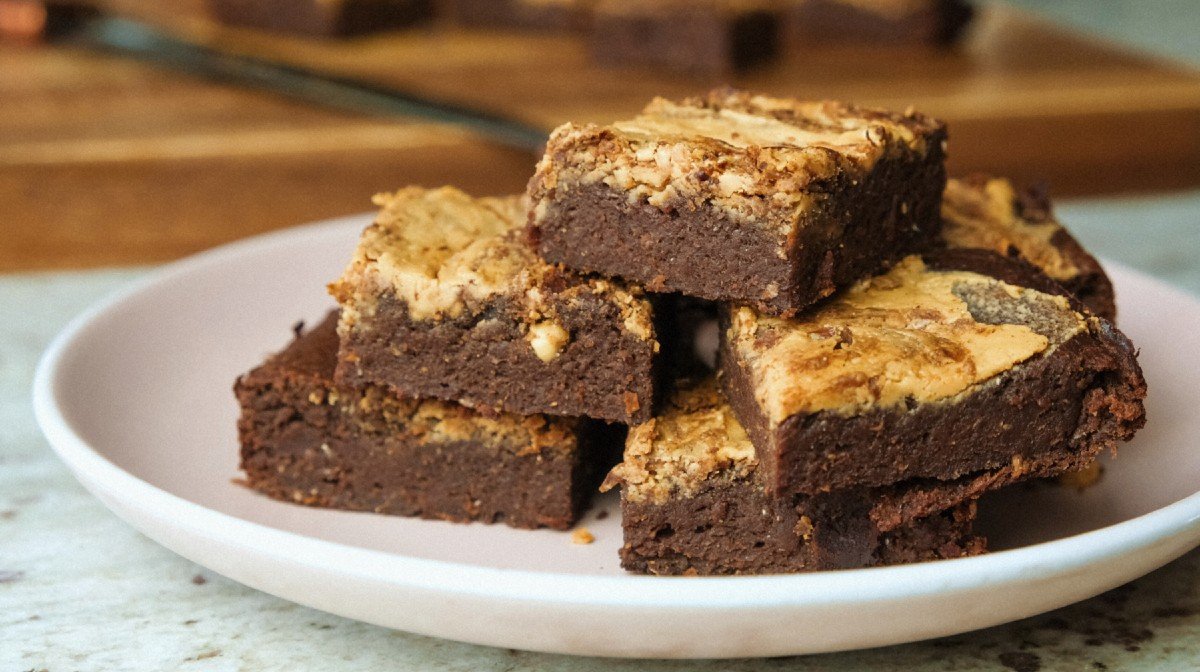 1. Sweet potato
Sweet potatoes alone are gooey, thick and tasty, so putting them in a brownie is a no-brainer. Try our 5-ingredient sweet potato brownie recipe for something gooey and delicious with 0 eggs used.
2. Applesauce
Applesauce is great for so many recipes — its naturally sweet taste and gloopy texture make it perfect for binding together that brownie mixture. Throw in 60ml in your recipe for every egg and there you have an amazing egg substitute for brownies.
3. Beetroot
Cut and blend the beetroot for an intense, vibrant brownie. If you're a fan of that red-velvet cake look, then this is a great option for you. Or if you just want to use powder, check out our classic recipe for beetroot and cacao brownies.
Beetroot is a great source of fibre and plenty of micronutrients, making it a great option for boosting the nutritional value of your brownies too.
4. Avocado
Avocado is a mild, healthy, and creamy addition to a brownie that will enhance the flavour. It can be used to substitute egg or butter in your brownie recipe. High in vitamin A and healthy fats, adding avocado to anything is never a bad idea.
5. Black beans
Our girl Ellie Hoad @ellena_fit has these amazing 0 egg black bean brownie recipes to dig into. High in protein with a deep, dark brownie flavour, what's not to love?
6. Banana
In Ellie's recipe, she also uses bananas. High in potassium and antioxidants, adding banana to your brownie will add a subtle creaminess that is a firm favourite among brownie lovers. As well as being delicious and easy to mash, it's great for swapping out refined sugar and keeping it vegan.
7. Pumpkin
You can make pumpkin pancakes but you can also make pumpkin brownies too, so give these a try if you want a more mild taste. Pick a recipe and for every egg you would use, try using ¼ US cup of pumpkin instead.
If you're looking for an autumnal treat, then this is a tasty option to use up your pumpkin once you've finished carving.
8. Chickpeas
Chickpeas are high in fibre and protein and a great health choice to make for brownies. They'll up the fibre while not affecting the taste too much. If you're sick of your average brownies though, try some chickpea blondies instead.
Blondies are the sweet and light sister of the brownie and are sure to go down a storm with family and friends, especially when they find out how healthy they can be too.
9. Tofu
Into soy and keeping vegan? This can serve as another great egg replacement. Again: 1 egg is roughly ¼ US cup of blended tofu. The creamy softness of certain tofu makes them quite similar to eggs, so this is one to try.
Tofu also equals a complete protein, making it a great option for some muscle-building brownies. As it's pretty flavourless too, you can mix it with whatever you like to make creamy brownies with a plant-based protein punch.
10. Flaxseeds
Another great substitute for egg. Use 1 tablespoon of flaxseeds with 4 tablespoons of water. Grind up the flaxseed and use in the brownie and there you have another amazingly healthy variation to enjoy.
Flaxseeds are another great source of omega-3 fatty acids and work really well for binding together a thick and gooey brownie mixture.
Take home message
Experiment with brownies and try substituting egg or butter with some of these unusual (but delicious) additions. See which ones you like best.
Make any of these brownies yourself? Tag us in your creations @MyproteinUK on Instagram. We want to see (and eat) them all.