Looking for a quick & filling lunch while you're working from home? We got you.
---
Niall Kirkland is back and this time he's serving up a super-delicious go-to for your weekday lunches — all three of his stuffed sweet potatoes look incredible, and they're all made using everyday ingredients we're sure you've got in your cupboards.
Because now definitely isn't the time to be searching for something obscure in the supermarket aisles, right?
Whether you're in the mood for Mexican or just want the comforting classic that is tuna mayo, there's something here for everyone to look forward to in their next lunch break.
Each recipe serves 1                
Ingredients
Guacamole:
1 sweet potato (washed)
½ avocado
¼ onion (finely chopped)
1 garlic clove (crushed)
½ red chilli (deseeded and finely chopped)
2 tbsp. tomatoes (chopped)
Handful coriander (chopped)
Tuna mayo: 
1 sweet potato (washed)
1 tin tuna
1 heaped tbsp. mayonnaise
A squeeze of lemon juice
1 tsp. chilli flakes
¼ onion (finely chopped)
1 garlic clove (crushed)
¼ cucumber (finely chopped)
Fajita chicken:
1 sweet potato (washed)
1 tsp. coconut oil
100g chicken breast (thinly sliced)
½ onion (thinly sliced)
½ pepper (thinly sliced)
1 heaped tbsp. fajita seasoning
Additional extras:
Grated cheddar
Chopped coriander
Spring onions (chopped)
Soured cream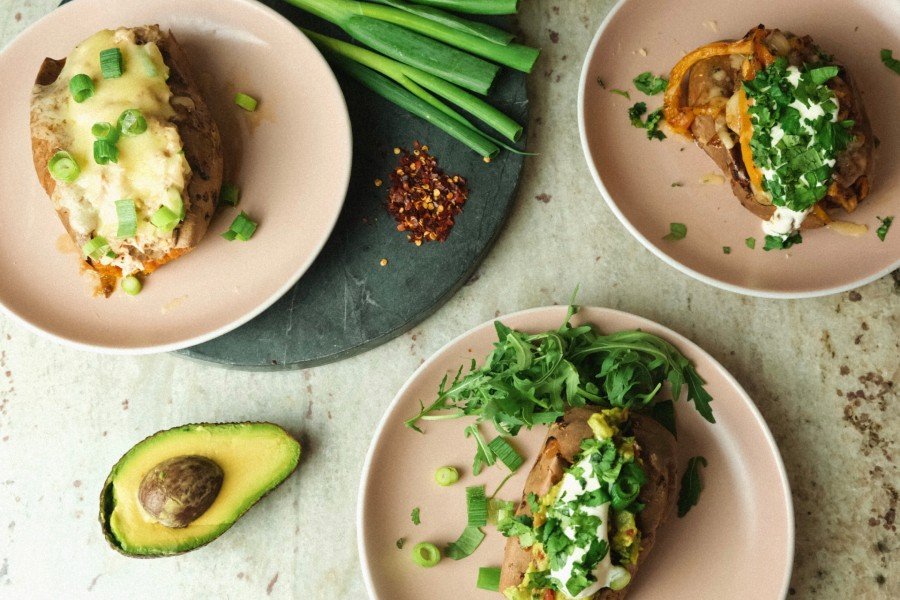 Method
1. Preheat your oven to 200°C/400°F.
2. Prick your sweet potato with a fork all over and then bake in the oven for 45-50 minutes.
3. Meanwhile, create one of the three fillings:
4. For the guacamole: place the avocado, onion, garlic, chilli, tomatoes, and coriander in a bowl and use a fork to mash it together into a smooth guac.
5. For the tuna mayo: add the tuna, mayonnaise, lemon juice, chilli flakes, onion, garlic, and cucumber to a bowl and mix together well.
6. For the fajita chicken: heat the coconut oil in a frying pan, add the chicken breast strips and cook for 5-10 minutes. Then add the onion, pepper, and fajita seasoning and cook for another few minutes, making sure the chicken is completely cooked through with no pink in the middle.
7. Once the sweet potato is baked, remove from oven, allow to cool and then slice the end off and down the centre to open up.
8. Now, stuff it with your filling of choice! Add any extra toppings – Niall's gone for a generous amount of grated cheese on the tuna, and an extra dollop of sour cream on the other two.