Try a healthier twist on a fast food favourite.
With this simple recipe from Niall Kirkland, you can make your own fried chicken in no time at all. It's a dinner that you'll be looking forward to all day, and the perfect excuse to dip into plenty of our Sugar-Free Sauces.
At only 5 calories per serving, they're a sugar-free, low-fat alternative to your favourite sauces — meaning you can enjoy the flavours you love, without worrying about derailing your diet.
Serves 4                                 
https://youtu.be/K8QNg-xxyBE
Ingredients
For the chicken goujons:
400g chicken breast (cut into thick strips)
50g breadcrumbs
1 tsp. paprika
1 tsp. cumin
1 tsp. garlic granules
1 tsp. cayenne pepper
1 tsp. mixed herbs
Salt & pepper to season
50g plain flour
2 eggs (beaten)
For the sweet potato wedges:
1kg sweet potatoes (cut into wedges)
2 tbsp. 100% Coconut Oil
1 tbsp. mixed herbs
Salt & pepper to season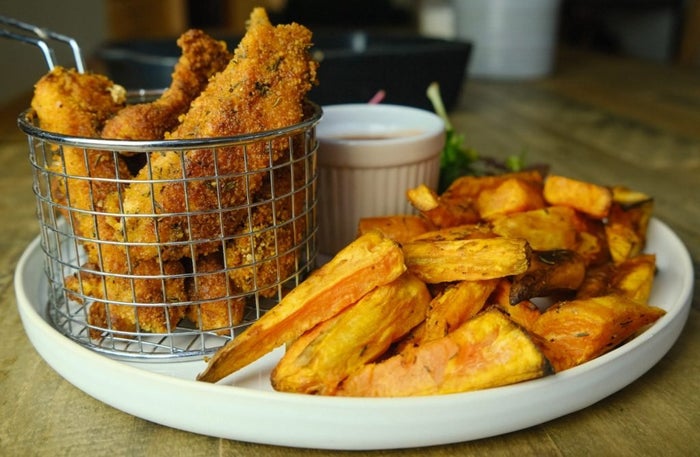 Method
Preheat your oven to 200°C/400°F.
Firstly, add the sweet potato wedges to a large baking tray (you may need to use two), then add the coconut oil, mixed herbs and salt & pepper seasoning.
Bake the wedges for 45 minutes to 1 hour, unsticking once or twice during that period of time with a spatula.
Meanwhile, in a large bowl, mix together the breadcrumbs, paprika, cumin, garlic granules, cayenne pepper, mixed herbs, salt and pepper.
Then coat each piece of chicken in flour, then the egg wash and then the breadcrumb mixture.
Once all your strips of chicken are coated, heat a tablespoon of coconut oil in a large frying pan and add your goujons (you may need to do this in two goes).
Fry on each side for 4-5 minutes, making sure the chicken is cooked through before removing from heat.
Serve with a mixed salad as a side and plenty of Sugar-Free Sauces for dipping. We've got BBQ, Peri Peri, Sweet Chilli and Tomato Ketchup to choose from — so every base is covered.
Enjoyed this recipe? Try these next: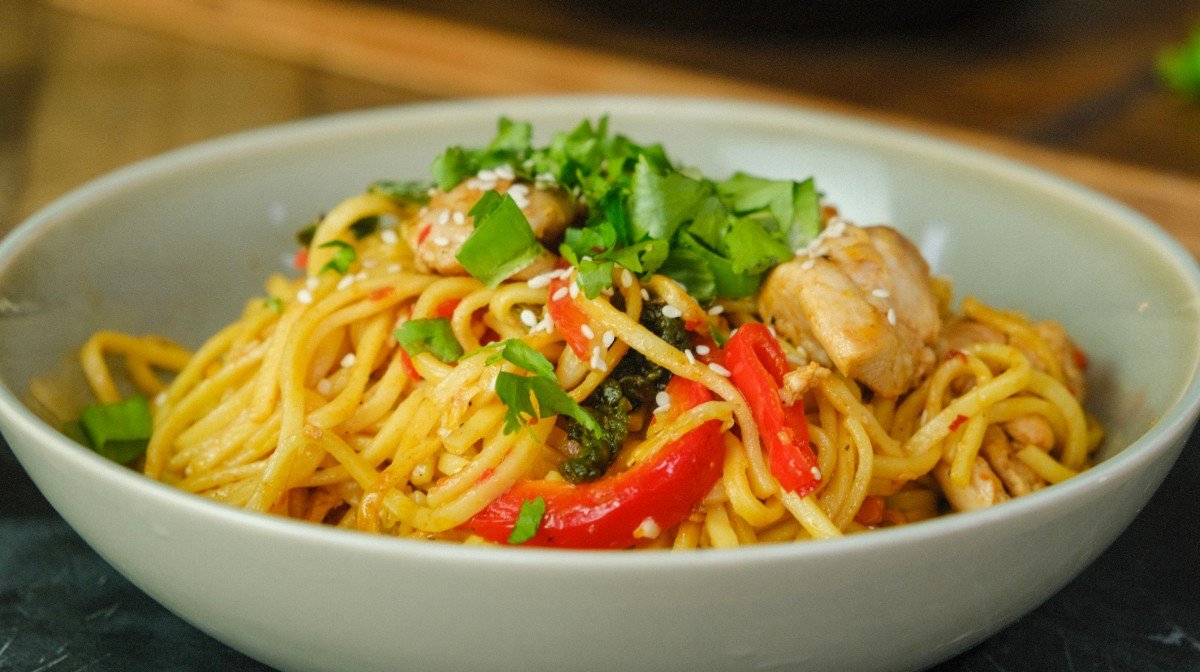 Nutritional info per serving:
| | |
| --- | --- |
| Calories | 544 |
| Total Fat | 11g |
| Total Carbohydrates | 73g |
| Protein | 33g |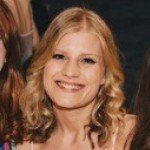 Lauren is an English Literature graduate originally from the South. She's always loved swimming, has discovered the power of weight training over the past few years, and has lots of room for improvement in her weekly hot yoga class.
On the weekends she's usually cooking or eating some kind of brunch, and she enjoys trying out new recipes with her housemates – especially since shaking off student habits, like mainly surviving off pasta. Above all, she's a firm believer in keeping a balance between the gym and gin.
Find out more about Lauren's experience here.