In need of a little spice to warm your winter evenings?
---
This deliciously simple recipe from Niall Kirkland is a quick win for weekday dinners that comes with a welcome kick of heat. Featuring our incredible Sugar-Free Sauce, it's a great healthy twist on a takeaway classic.
Serves 3
Ingredients
400g chicken thighs (cut into strips)
5 tbsp. Sugar-Free Sauce (Sweet Chilli)
1 tsp. crushed garlic
1 tsp. chilli paste
1 tbsp. extra virgin olive oil
Salt & pepper to season
Handful cabbage (chopped)
1 carrot (thinly sliced)
1 pepper (thinly sliced)
1 red chilli (sliced)
2 spring onions (chopped)
600g easy cook noodles
2 tbsp. soy sauce
Optional garnishes:
Sesame seeds
1 spring onion (chopped)
Handful coriander (chopped)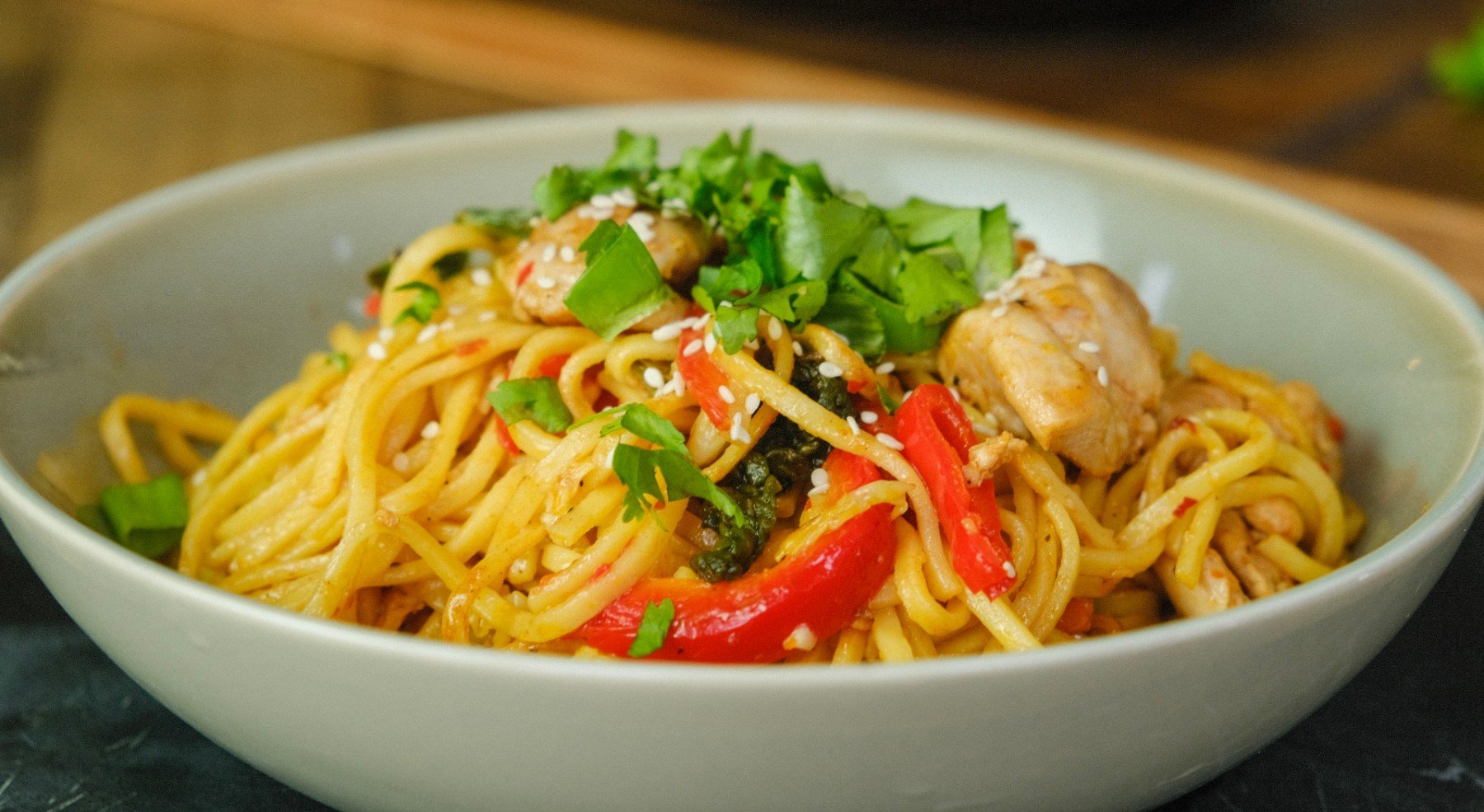 Method
Firstly, add the chicken thigh strips, 3 tablespoons of Sugar-Free Sauce (Sweet Chilli), garlic and chilli paste to a small bowl and mix well.
Next, heat the olive oil in a wok and add the marinated chicken. Fry for 5-7 minutes, turning regularly until the chicken is completely cooked through and no longer pink on the inside.
Then, add the cabbage, pepper and carrot, and continue frying for 2-3 minutes.
Whilst frying, season to taste with salt and pepper (I like to add a lot of pepper to my stir fries).
Add the spring onions and chilli and fry for a further 2 minutes.
Now, add your noodles, soy sauce and the remaining 2 tablespoons of Sugar-Free Sauce (Sweet Chilli) to your wok. Mix them into the chicken and veg and fry for 3 minutes.
Once the noodles are cooked remove from heat.
Garnish with sesame seeds, spring onions and chopped coriander.
Enjoy!