Macro-friendly recipe to prove that pizza should always be on the menu.
Thanks to @jalalsamfit, you can enjoy a delicious, sweet and sticky BBQ chicken pizza recipe any day of the week, whatever your training regime.
Using a thin, flatbread base and our Sugar-Free BBQ Sauce, it's a super-light alternative to oily takeaways or doughy supermarket options that can often leave you feeling like you've splurged. Plus, it comes with an impressive 56g of protein per serving.
The key to a tasty pizza is the toppings — of course! — and Jalal doesn't mess about with the unbeatable combo of well-seasoned, shredded chicken, crunchy red onion, and gooey melted mozzarella. It's a classic we know you're drooling just thinking about.
Once prepared, it takes less than 10 minutes to cook in the oven, making this a rapid weekday dinner to sort you out on busy evenings. We can't get enough of it.
Makes 1
Ingredients
1 white Lebanese flatbread (other brands can be used but calories may differ)
20 g hot sauce (Jalal uses Frank's Red Hot Sauce)
1 chicken breast (approx. 140g raw weight)
Season to taste (Jalal recommends salt, pepper, paprika & garlic powder)
30 g low-fat mozzarella (grated)
1/2 red onion (sliced)
1 spring onion (chopped)
Instructions
1.
Preheat the oven to 180C. 
2.
Prepare your sauce by mixing the BBQ Sugar-Free Sauce and hot sauce until smooth and combined, and set aside.
3.
Next, cook your chicken breast on a medium heat for around 5 minutes on each side. Always check the chicken is cooked through on the inside too, with no pink bits.
4.
Shred the chicken breast once cooked — one of the easiest ways to do this is by using two forks.
5.
Add half the BBQ sauce mix and stir thoroughly to cover all the chicken. Use the remaining half of the BBQ sauce mix to top the base of your flatbread in a smooth, even layer.
6.
Next, cover the flatbread with plenty of grated low-fat mozzarella, then add the shredded chicken and sliced red onion.
7.
Bake for 7 minutes at 180C.
8.
Once cooked, garnish with chopped spring onion and, if you feel like it, another drizzle of Sugar-Free BBQ Sauce. Then tuck in!
Nutritional info per serving:
| | |
| --- | --- |
| Calories | 418 |
| Total Fat | 9g |
| Total Carbohydrates | 31g |
| Protein | 56g |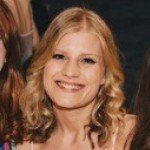 Lauren is an English Literature graduate originally from the South. She's always loved swimming, has discovered the power of weight training over the past few years, and has lots of room for improvement in her weekly hot yoga class.
On the weekends she's usually cooking or eating some kind of brunch, and she enjoys trying out new recipes with her housemates – especially since shaking off student habits, like mainly surviving off pasta. Above all, she's a firm believer in keeping a balance between the gym and gin.
Find out more about Lauren's experience here.