Every day we come across yet another air-fryer recipe that stops us in our tracks.
This delicious "cheat" pizza idea from @healthy_floflo is one of those recipes. Who would have thought you could whip up your very own healthy pizza base using just 3 simple ingredients and then have it ready to top in literally a matter of 5 minutes?
Using just flour, salt and 0% Greek yoghurt for the dough, Flo proves that it's completely possible to keep pizza in your weekly meal plan without having to worry about a hit to your macros. Not to mention it comes out at an impressive 24g of protein per base too, which is pretty good going for a classic 'cheat' meal, right?
Making a dough from scratch isn't as scary as it sounds – Flo's way means no waiting around, and no yeast or even oven required! All in all, minimal fuss with maximum reward.
The toppings are where you can really go to town and make it your own too. Start with the simple (but unbeatable) combo of a rich tomato sauce base with melted mozzarella and go from there. Flo uses sweetcorn, pepperoni slices, and some shredded chicken pizzas, but really the possibilities are endless. Except pineapple, of course. We draw the line at that.
Makes 1
Ingredients
100 g self-raising flour
1/4 tsp. salt
100 g 0% Greek yoghurt
2 tbsp. tomato purée
Crack salt
1 tsp. oil
25 g mozzarella cheese
1 tbsp. sweetcorn
6 slices pepperoni
Shredded cooked chicken
Instructions
1.
First, add the flour, salt, and Greek yoghurt to a bowl and knead with your hands until you get a smooth, combined pizza dough.
2.
Form a ball with the dough and then roll out on a surface that's been sprinkled with flour beforehand to prevent sticking. If you don't have a rolling pin, you can try carefully rolling with a mug or glass, or just flatten with your hands.
3.
Once you have a circular pizza dough base, transfer to your air fryer and cook for 5 minutes at 200C.
4.
Next, flip the pizza and place back in the air fryer to cook for a further 3 minutes on the other side.
5.
In the meantime, prepare your tomato sauce. Add the tomato purée, a crack of salt, and a drizzle of oil to a small bowl and mix. Flo says using tomato concentrate works better than a tomato sauce or passata as these can make the pizza soggy, and the purée has a richer flavour.
6.
Once the pizza dough base is ready, add the tomato sauce to the top and spread evenly.
7.
Add a sprinkle of shredded mozzarella cheese on top of the tomato, then place carefully back into the air fryer and cook for a final 2 minutes. The result? A perfectly crispy pizza with deliciously melted cheese.
8.
Want to make it your own? Simple. Just add whatever toppings you fancy to the last step with the cheese. Flo's gone for some sweetcorn, pepperoni slices and shredded cooked chicken on hers.
Nutritional info per serving:
| | |
| --- | --- |
| Calories | 404 |
| Total Fat | 2g |
| Total Carbohydrates | 70g |
| Protein | 24g |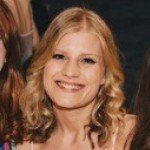 Lauren is an English Literature graduate originally from the South. She's always loved swimming, has discovered the power of weight training over the past few years, and has lots of room for improvement in her weekly hot yoga class.
On the weekends she's usually cooking or eating some kind of brunch, and she enjoys trying out new recipes with her housemates – especially since shaking off student habits, like mainly surviving off pasta. Above all, she's a firm believer in keeping a balance between the gym and gin.
Find out more about Lauren's experience here.