Recreate a takeaway classic — but with a healthier twist.
---
There's no reason you shouldn't be able to enjoy the flavours and food you love, without straying too far from whatever goals you're working towards — or handing over yet more of your hard-earned cash to Deliveroo.
With this simple recipe, you can enjoy a delicious batch of fresh spring rolls with the most incredible satay dipping sauce you have ever tasted (sorry to be dramatic, but it's the truth).
We've shown two different filling options, one completely vegan and the other one with prawns, so you should be able to please all your friends and family with these totally moreish spring rolls.
There's nothing to stop you from experimenting with your own fillings either — swap in your favourite veggies or even try adding some shredded cooked meat!
Get rollin' like this.
Makes 8
Ingredients
For the spring rolls:
100g vermicelli noodles
10g fresh coriander (finely chopped)
10g fresh mint (finely chopped)
1 tbsp. light soy sauce
8 sheets round rice paper
Water
12 cooked prawns (optional)
1 carrot (peeled & julienned)
½ cucumber (julienned)
1 yellow pepper (julienned)
1 red pepper (julienned)
¼ red cabbage (julienned)
Handful lettuce leaves
For the satay sauce:
125g All-Natural Peanut Butter (if you have a nut allergy, try switching this for tahini!)
1-piece fresh ginger (peeled & minced)
2 tbsp. lime juice
2 garlic cloves (minced)
1 tbsp. sweet soy sauce
1 tbsp. sesame oil
4 tbsp. hoisin sauce
1 red chili (finely chopped)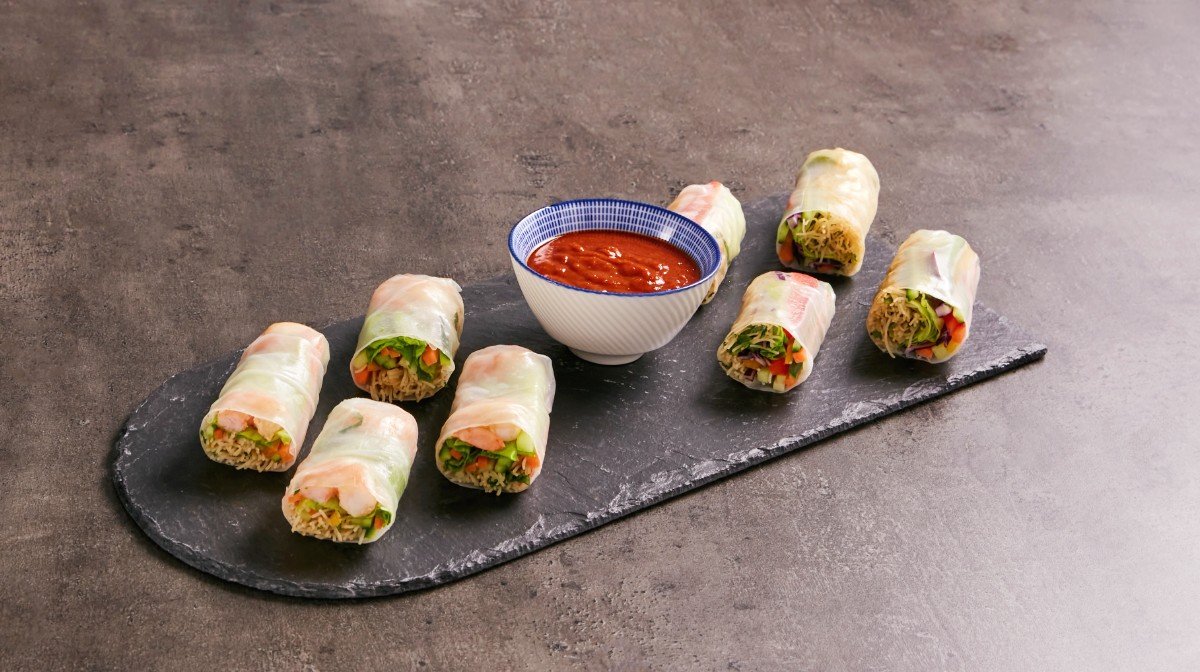 Method
First, prepare your noodles by adding them to a large bowl and mixing through the chopped coriander, mint, and light sauce soy sauce. Set aside.
Set up all of your filling ingredients so that you have all the veg chopped up into fine slices, the round rice paper ready on a plate, and the prepared noodle mix close by. You'll also need a shallow bowl or dish of water prepared too.
Then, place a sheet of rice paper into the water and allow to soak for 30 seconds.
Remove the paper gently, being careful not to tear it, then place it on top of a damp, clean tea towel. We find this is the best surface to build your spring rolls on, as it helps to prevent sticking and tearing.
Now assemble your fillings in a line across the rice paper, slightly below the centre. Make sure to leave about a 2cm gap at either end of the fillings to give yourself enough room to fold the paper over. Start with the strips of veg, then a few lettuce leaves and finally the noodles.
Carefully fold over the paper so that the ends of the filling are covered up first, then fold from the bottom to wrap over the filling. You should have a tight parcel.
Repeat for the remaining ingredients, until you have 8 evenly filled spring rolls. Cut each one in half and then set aside while you make your satay sauce.
In a small bowl, add the peanut butter, ginger, garlic, lime juice, soy sauce, hoisin sauce, sesame oil and chili and mix thoroughly with a fork. You should get a smooth, thick consistency.
Serve the fresh spring rolls with plenty of the dipping sauce in a side bowl and enjoy immediately!