Friday night cravings got you thinking of those three little letters? Well, forget that Colonel from Kentucky, we're on hand with an incredible fakeaway alternative.
@healthy_floflo is back with another air fryer masterpiece to get stuck into. It's a delicious, healthy spin on a fast food fave that we just can't get enough of. Not only is it surprisingly simple to pull off, but the result will have your cravings in check with no need for deep-fat frying. Oh, and you won't have to splurge on delivery fees either. Win, win.
Once you try these hot little pops of spicy, succulent chicken with their irresistibly crispy coating, you'll never look back.
Ingredients
2 slices of bread
300 g chicken mince
2 tsp. garlic powder
2 tsp. paprika
1 tsp. salt
1/2 tsp. black pepper
1/2 tsp. mustard powder
1/2 tsp. ginger powder
2 lightly salted rice cakes
Sugar-Free Sauce - Sweet Chilli or BBQ for dipping
Instructions
1.
First, in a small bowl or ramekin, make a spice mix by adding all the powdered seasonings and stirring together. 
2.
Next, take the slices of bread and place in a bowl or jug. Then, using a hand blender, blitz them into dust.
3.
Combine the breadcrumb dust with the chicken mince. Add half of your seasoning mix and stir well to combine everything evenly. Set aside.
4.
In a new bowl or jug, blitz up the rice crackers in the same way as the sliced bread to make a fine powder. Add the remaining half of your spice mix and stir well to combine.
5.
Now you're ready to assemble your popcorn chicken. Use a spoon to gather a teaspoon-sized amount of the chicken mixture and then use your fingers to roll into a small ball.
6.
Roll this chicken mince ball into the rice cracker dusting, making sure to coat fully.
7.
Repeat for all the remaining chicken mixture and then place all your coated chicken balls into the air fryer.
8.
Cook at 180C for 18 minutes.
9.
Serve immediately with plenty of Sweet Chilli or Barbecue Sugar-Free Sauce. Delicious.
Nutritional info per serving:
| | |
| --- | --- |
| Calories | 347 |
| Total Fat | 9g |
| Total Carbohydrates | 21g |
| Protein | 43g |
Want more recipe inspo?
TRY THESE NEXT: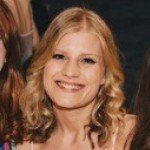 Lauren is an English Literature graduate originally from the South. She's always loved swimming, has discovered the power of weight training over the past few years, and has lots of room for improvement in her weekly hot yoga class.
On the weekends she's usually cooking or eating some kind of brunch, and she enjoys trying out new recipes with her housemates – especially since shaking off student habits, like mainly surviving off pasta. Above all, she's a firm believer in keeping a balance between the gym and gin.
Find out more about Lauren's experience here.