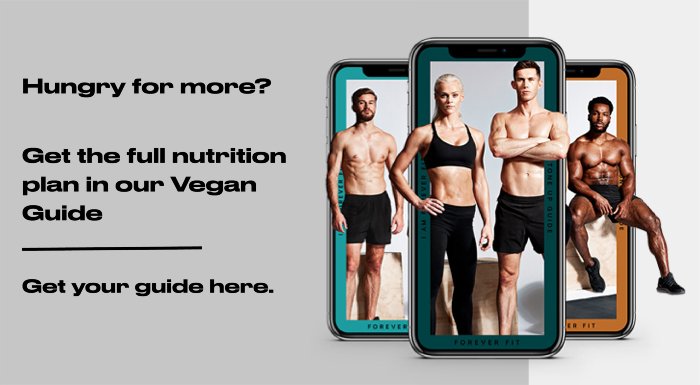 Make this BBQ beetroot burger recipe in just 15 minutes.
Looking for quick vegan meal ideas? This beetroot burger recipe can be whizzed up and cooked in 15 minutes flat. Topped with a quick DIY vegan burger sauce, these make the ultimate weeknight dinner in a hurry.
Check out the nutritionals at the bottom of the recipe, and don't forget to try out more of our 15-Minute Vegan Dinners.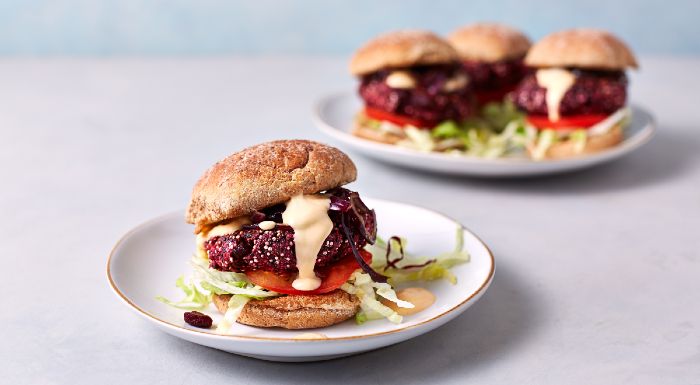 Ingredients
Makes: 4
For the burger:
1 small white onion
2 cloves garlic
150g cooked beetroot
150g cooked quinoa
150g wholemeal breadcrumbs (you can simply blend toast to make breadcrumbs)
2-3 tbsp. barbecue sauce
Pinch salt and pepper
For the rest:
4 burger buns
1 small white onion (thinly sliced into rings)
1 tsp. Coconut Oil
8 tbsp. vegan mayonnaise
1 tsp. Sriracha or your favourite hot sauce
½ tsp. mustard
Method
1. First, make the caramelised onions. Pan fry onion slices from 1 white onion on a low to medium heat with a splash of oil for 10-15 minutes, stirring occasionally. Add 1 tbsp. unrefined sugar halfway through to aid the caramelisation process.
2. While waiting, place onion and garlic into a blender and pulse until coarsely chopped. Add beetroot, cooked quinoa, breadcrumbs*, barbecue sauce, salt and pepper and process until fully combined.
*To make your own quick and easy breadcrumbs, simply toast bread until deep golden-brown, but not burnt, then blend the toast up in a food processor until you get breadcrumbs.
3. Place a pan on a medium to high heat with the coconut oil, then pan fry the burgers for 10-12 minutes, flipping halfway.
4. To make your vegan burger sauce, mix vegan mayonnaise, Sriricha and mustard in a bowl. Pop the patties into buns, top with caramelised onions, and smother with vegan burger sauce. Bliss.
Enjoy this beetroot burger recipe? Check out the rest of our 15-Minute Vegan Dinners for more vegan meal ideas, or why not check out our Avocado-Toast Pizza!