With summer just around the corner and the days getting longer and sunnier, you might want to swap out a sweaty gym for a few runs here and there. But starting running can be daunting, especially with people bragging about hitting 5k in 20 minutes or 10k in 45... We thought we'd give you a helping hand with these 8 tips for running newbies to help you get into the swing of things.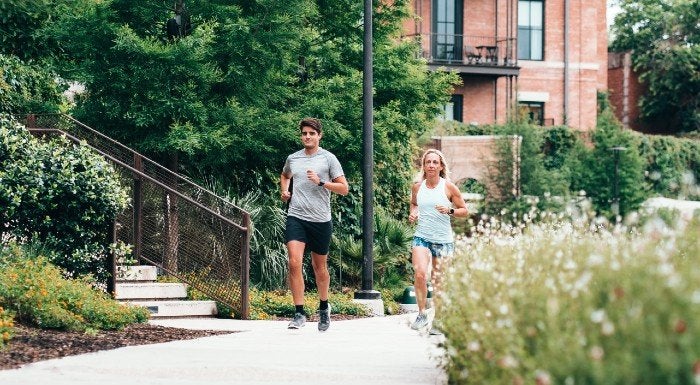 1. Be realistic
It can be easy to be over ambitious or expect more from yourself on your first run than what's realistic. Go into your first one with no expectations other than to enjoy it. 
If you force yourself to go further or faster than your body can handle, you'll risk injury and may end up hating it, and enjoyment is essential to keep you coming back for more! 
2. Get your right kit 
We're not saying you have to spend a fortune on your first pair of running trainers, especially if you're not sure that running is going to become a habit just yet. But getting a decent pair with enough support is super important to make sure you're comfortable, and to prevent injury. 
Sweat-wicking, breathable clothing is also essential, you don't want to start to feel a chill as a result of sweaty clothing on a windy day, that can completely put you off your run. For women, a good sports bra is another must-have. Check out our Velocity collection to stock your running wardrobe. 
3. Stretch, stretch, stretch
This should be a given for any new sport you're taking up, stretching is incredibly valuable. Especially as running puts so much stress on your hips and legs, giving them a proper warm up is essential.
We've got a great cool-down stretching routine here if you're stuck!
4. Timing
If the weather forecast says it's going to be upwards of 30 degrees this afternoon, go for your run earlier that morning. Or if a torrential downpour is scheduled for 10am, maybe leave your run till after dinner (although sometimes a run in the rain can be therapeutic). 
It's all about running in the conditions that you like best to set you up for a great run, and avoiding any conditions that could be detrimental. 
5. Set mini goals
It's all well and good aiming to run a marathon, but how are you going to get there? Setting mini goals is a great way to measure your progress and give yourself regular boosts of confidence with every mini goal you smash. 
For example, if you're a total newbie, start with just 2k. Then, once you've managed that, kick it up to 5k and so on. You can also set yourself time-based goals if you prefer, for example maybe your mini goal for the next few weeks is to hit 5k in 30 mins. 
6. Don't skip leg day
Running puts a lot of strain on your knees, hips and other joints, so it's important to keep the muscles around these strong. Regular resistance and mobility training will help strengthen the muscles in your legs and put you in a much better place for a good run. 
If you're new to resistance training, start light and build your way up gradually. Try this 20-minute workout to get started.
7. Choose the right place
You don't have to run in the great outdoors, a treadmill is just as good. But they aren't your only options either, try your local park, in your city, just around your block, or drive out to the nearest beach for a complete change of scenery! 
Switching up your running environment will keep things interesting and give you a little more motivation to explore something new. 
8. Eat right
Protein powder isn't just for heavy lifters, runners need adequate protein to recover and rebuild as well. New runners can also stock their cupboards with an energy superpower: pre-workout, to give yourself that extra push to get up and go. 
Because running takes up a lot of energy, it's important to make sure you're getting enough carbs in. Something like porridge or peanut butter on toast is a great carby breakfast to set you up for a good run. 
Take Home Message
Running comes with so many benefits both mental and physical, but it can feel a bit intimidating at first. Starting slow, eating right, being realistic and just focussing on enjoying it will get you well on the path to becoming a running pro.
Enjoyed this?
READ THESE NEXT: