If you're a runner, you might remember the first iteration of Velocity. Made to help push your runs to the next level. Well, in Velocity 2.0, we've taken it up a notch. We wanted the whole collection to be truly fit for purpose. With new fabrics, shapes, and ideas, we've made sure every piece is made considering the needs of every runner.
So, let's run through some of the key features that are present throughout Velocity 2.0, and which pieces showcase them best. Whether you're running late at night, in snow, rain or shine, or if you're just on a treadmill, Velocity 2.0 has got something to help you out.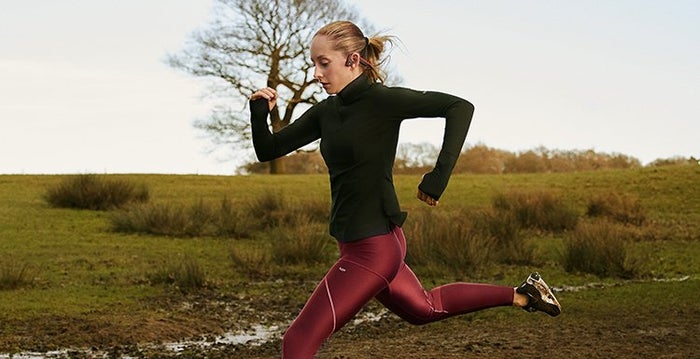 Breathable
It's not just the fabrics themselves of Velocity 2.0 that makes it breathable, there are other key features throughout the collection that allow for breathability. In our women's leggings, there's a mesh insert behind the knee to allow for this high heat area to be properly ventilated. 
You'll also feel the benefit of ventilation in our Quarter Zip Top. Mesh inserts have been placed under the arms and on the back panel, where you're likely to sweat the most. 
The side seams have been removed on the men's tops, creating our first seamless and woven hybrid track top for increased breathability and mobility. 
Even on the basic essentials, like the short-sleeved t-shirt from Velocity 2.0, we've implemented laser perforations to keep things airy. 
Lightweight
Velocity 2.0 took on board how runners want to be streamlined, to make their records that bit easier to break. The collection is made with lightweight jersey fabrics, that are sweat wicking, breathable, and quick drying. This means you'll never have that chilled feeling when you're sweating on a cold morning run.
Even in our warmer pieces like the Gilet, we've kept it lightweight as we know the importance of temperature regulation for a good run. So, the Gilet is made with a lightweight polyester filling, for insulation. 
The Double Layered Shorts also showcase the importance of lightweight fabrics in running gear. They feature a water repellent outer-layer, and a soft jersey fabric inside to keep you dry and comfortable.
Community-Based
Anyone who's been in the running game for a while knows the kind of community that is fostered. Whether it's in an actual running group, like the Myprotein Run Club, or just amongst your friends. Encouraging each other to do better with each run, as well as a bit of healthy competition is integral to the running community. 
Our designers definitely took this on board with their designs, so much so that the design team's own running routes were used to make the pattern on the Running Jacket. This pattern not only encompasses the kind of community that is forged with running, but it's also practical with its reflectivity. 
Practical
This collection is fit for purpose and so, it has to be fit for all different kinds of situations a runner might come across. That's where the practicality comes in.
We've got pieces like the packable running jacket, that features a water-repellent fabric and the fully adjustable hood to make sure you don't miss a session on account of rain. And as the name would suggest, the jacket packs away into its own pocket so you can easily take it off when rain turns to sunshine. 
The packable running jacket isn't the only tool you have to protect yourself from the elements. We've also got a water repellent Gillet for those inevitable cold and wet winter runs. 
Velocity 2.0's sports bra also demonstrates the fit for purpose message. With adjustable straps at the back to ensure the perfect level of support for each runner.
Mobility
When you're on a run the last thing you want is to feel constrained, and like you don't have full range of movement. Velocity 2.0 ensures that this will never be the case. Our leggings are made with a supportive waistband complete with draw-cords to ensure that your leggings fit like a second skin, allowing you to move freely. 
Our Running Joggers also showcase the mobility of Velocity 2.0. They're made from a stretch-woven fabric and feature a mesh gusset, improving range of movement.
The 2 in 1 Running Shorts have also got your back when it comes to mobility, with the side split seam. So, have no fears about feeling restrained when you do that final sprint back home. 
Take Home Message
So, they're the stand-out features of Velocity 2.0. No matter the conditions, whatever you need to get out of your run, we'll make it that bit easier with this collection in your wardrobe. 
Whether you're a beginner needing to stock up on the basics, or if you're looking to level up your runs with some fit for purpose outerwear, it's all here. Just make sure to thank us when you hit your next PB.
Want some running advice?
READ THESE NEXT: