By now you've likely seen collagen protein sold on our site, so you might be wondering what is it and should I be trying it? While it's found in our bodies, mostly in hair, skin, nails, and joints, our collagen levels decline with age. As our collagen levels decline, signs of aging appear – our skin loses elasticity and our nails and hair can become dull and weak. 
Marine collagen is a powerful option to incorporate into your supplement regimen to boost collagen production and slow the signs of the aging process. 
Jump to: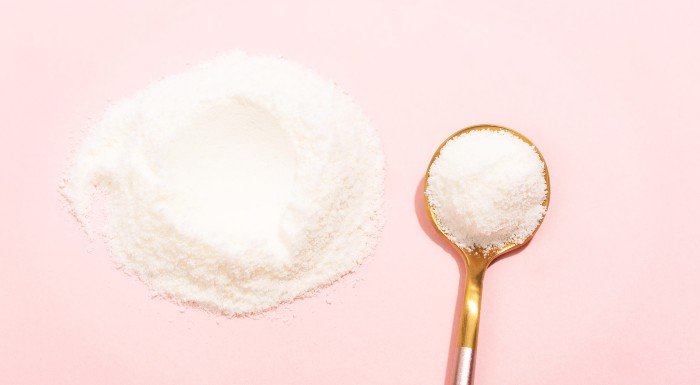 What is Marine Collagen Powder?
Collagen is a structural protein that plays many roles in the body. Marine collagen powder comes from fish sources – including scales, bones and skin. The level of processing varies, but sometimes it's also hydrolysed (partially broken down) before being made into its powdered form. 
It's also more environmentally and cost friendly than mammalian collagen production.1
What are the Benefits of Marine Collagen Powder?
While collagen is a protein, it works differently than whey or other protein powders that primarily boost muscle tissue. 
Taking marine collagen powder is thought to boost your natural collagen production by triggering your body to increase collagen production. So when your body senses the collagen you ingest, the theory is that it produces additional collagen on its own as a reaction (your body "thinks" it is sensing collagen breakdown, not collagen ingestion).2
Can Reduce Signs of Aging
Our bodies start to lose collagen at as young as 20 years old.3 Marine collagen has the potential to trigger skin cells to repair themselves.3
Collagen has been shown to improve skin elasticity, thickness, and hydration.3 Your skin is your largest organ, and although you can spend lots of money on collagen skin care products – using a collagen supplement has the power to boost skin health from the inside out. 
Can Help to Relieve Joint Discomfort
While we often think about collagen in beauty applications, one of its most promising benefits is related to our joints. Studies have proven that collagen can promote healthy cartilage in joints and even reduce pain in patients with osteoarthritis.1
Can Help Preserve Muscle Mass
Collagen protein, like all other proteins, is made up of amino acids. When our body digests proteins into the smaller amino acid components, they can then be used to repair and grow muscle tissues after a workout, including skeletal muscle. Heart muscle tissue has also been shown to benefit from collagen synthesis.3
Dosage
10 grams of Myprotein marine collagen is all you need each day. It dissolves easily into any drink and the time of day you take it doesn't make much difference. You can mix it easily into your coffee in the morning or a post workout smoothie later in the day – or simply with water. 
Foods 
With
 Marine Collagen
While marine collagen can be naturally found in skin, bones, and scales of fish, it is likely more pleasant to take it in supplement form instead. 
There are some food sources like canned salmon and fish filets with skin. On days when fish isn't in your meal plan, you can still get the benefits of powerful marine collagen protein with a convenient supplement.  
Side Effects
While there are no known side effects or negatives of taking marine collagen, you may want to avoid it if you have a shellfish, fish, or egg allergy. There are other collagen options (mammalian and vegan versions) that don't contain these potential allergens. 
Take Home Message
Whether you are concerned about your skin, nail, or hair health, want to prevent joint pain, or just add more protein to your daily plan, collagen is a winning choice. 
For those who want to avoid mammalian collagen sources but still want a powerful collagen source, marine collagen is a great alternative. It's also easy on the environment and constantly being researched for additional scientific and medical applications.1