100 push-ups for 30 days. Sounds simple right?
There's nothing quite as levelling as a good old fashioned push-up. It doesn't seem to matter whether you smash out 7 workouts a week or pride yourself on being able to lift the heaviest pair of dumbbells in the gym — a few sets of push-ups are a challenge even for the fittest among us.
We decided to test out the 30-day push-up challenge — and we knew exactly who to call upon. Reece Williamson is our go-to man for trying a fitness or nutrition challenge (check out his attempt at The Rock's infamous 10,000 calorie cheat day).
For 30 days he committed to smashing out 100 push-ups and filmed his progress to see whether there were any measurable changes to his physique and form by the end of it all.
This is what happened.
Enjoyed this challenge? Watch these next: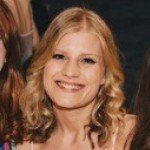 Lauren is an English Literature graduate originally from the South. She's always loved swimming, has discovered the power of weight training over the past few years, and has lots of room for improvement in her weekly hot yoga class.
On the weekends she's usually cooking or eating some kind of brunch, and she enjoys trying out new recipes with her housemates – especially since shaking off student habits, like mainly surviving off pasta. Above all, she's a firm believer in keeping a balance between the gym and gin.
Find out more about Lauren's experience here.