Picture it: you've just blasted through a final superset, your muscles are shaking and your lungs are burning... what do you reach for? 
Well, we can tell you that as of right now, there's only one answer to this question. And it's both incredibly tasty and refreshing. 
We're bringing back our delicious partnership with Swizzels — the creators of your childhood favourites, Refreshers and Drumsticks — but this time, our Clear Vegan Protein we're taking up a notch.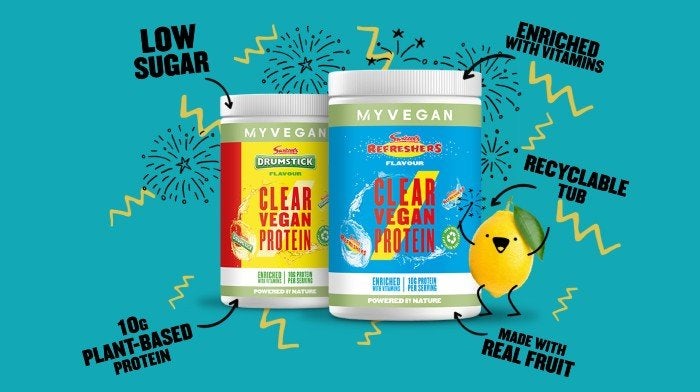 Your favourite Swizzels flavours and so much more
While tucking into a Refreshers or Drumstick may not help your post-workout recovery, you can now enjoy the same tasty flavours with nutritional benefits of our cutting-edge Clear Vegan Protein. 
Now, you can enjoy these two iconic flavours knowing it's packed with 10g of high-quality pea protein, 50% of your recommended daily amount of B vitamins, and only 50 calories per serving. That's pretty impressive. 
Bring on the B vitamins
As if a tasty, refreshing protein drink wasn't enough, we've also thrown in not 1, but all 8 B vitamins. It can be tough to keep up with your busy workout routine, so some added B vitamins will help you stay on top of your game so you can smash your goals.  
This includes B12 to support a healthy immune system and B6 to help you combat tiredness and fatigue, as well as B5 to support your mental performance. 
How to enjoy
What's more refreshing than an ice-cold drink after a workout, that's why we recommend shaking up a couple of scoops with cold water to enjoy. @naturallystefanie's giving us serious summer vibes sipping on Refreshers flavour:
Want to make it extra special? Try blending it with ice for the ultimate protein slushie — you won't regret it. 
Take home message
Combining our cutting-edge Clear Vegan Protein with classic Swizzels flavours is sure to excite your taste buds and set you up for great post-workout recovery. 
Our articles should be used for informational and educational purposes only and are not intended to be taken as medical advice. If you're concerned, consult a health professional before taking dietary supplements or introducing any major changes to your diet.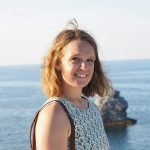 Evangeline has taken part in competitive sports since a young age. As a qualified RYA Dinghy Instructor, she understands the importance of proper nutrition for fuelling extreme and endurance sports, especially due to her experience in Team GBR Squads and captaining and coaching her University first team.
In her spare time, Evangeline loves running – especially marathons. On the weekends, you'll find her taking on water sports or hiking up a hill. Her favourite evenings are spent taking on a HIIT session or squats in the gym before digging into some spicy food and a ton of vegetables – yum!
Find out more about Evie's experience here.