We're not sure if you've heard the news yet, but our Minus The Meat Meal Kits are here and they're ready to make your life a lot easier. Good food that's tasty, nutritious and quick and easy to make. And we mean quick and easy, with both meals able to be on your plate in just 20 minutes, all whilst being high in protein, with 30g per serving, and low in saturated fat. And what's even better, they're Vegan Society Approved, so you know they're completely plant-based. 
We took on two classics and turned them into Chilli Non Carne and Super Spag Bol. Each box will give you 2 hefty servings so we guarantee you'll feel satisfied.
Whether you're a seasoned vegan looking for some new meals to spice up your life, or you're a flexitarian looking for a bit of plant-based guidance, our Meal Kits will make your life 10x easier, here's how…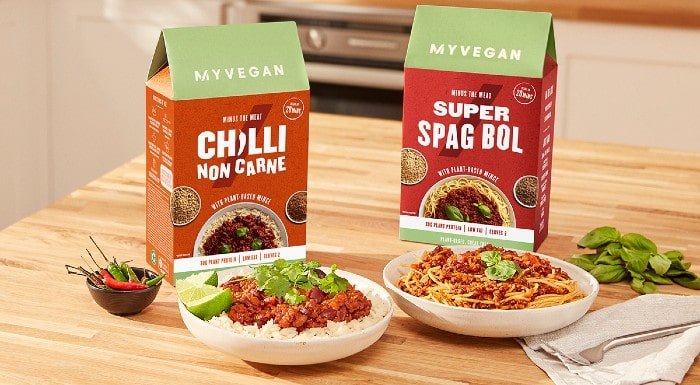 1. Makes cooking tea, simple.
No more dreading the hour-long slog of cooking dinner on a weeknight, having a Meal Kit in the cupboard makes those nights where you just can't be bothered, a bit easier. 
Follow the simple step-by-step instructions provided and watch your dinner come to life. We've also included all the spices you need included in the box, you won't have to rummage through the back of your cupboards to find the paprika. 
2. "Fast" food that's healthy
Our Meal Kits might be literally "fast food" but their content is far more nutrient dense than your usual takeaway. We've made sure to include 30g of protein in per serving of each meal, as well as keeping saturated fat low with just 0.6g per serving, and making sure you're getting enough fibre. But without the hassle of cooking from scratch. 
Perfect for weeknights when you're struggling to peel yourself away from the sofa. 
3. Helps you avoid too many trips to the takeaway
If you're trying to stay on track with a new fitness regime, or even just trying to commit yourself to a healthier diet, sometimes laziness can be your downfall. Lazy evenings when you've not meal prepped at all, and have nothing quick to rustle up in the cupboards, can lead to ringing up your local Chinese takeaway. This is all good occasionally, but to avoid it happening a little too often and throwing your plans of a healthier lifestyle out the window, get prepared with a Meal Kit. 
We guarantee that throwing together the ingredients and eating within 20 minutes is way easier and quicker than ordering a takeaway, and your body will thank you for it too.
4. Makes plant-based cooking easy
Increasingly we're seeing people make the leap to a plant-powered life. Even if it's just part time, many of us are choosing to go green and eat veggie or vegan meals a couple of times a week. We think this is great, so wanted to make it a bit easier for you to get into the vegan groove. 
Our Meal Kits are a great intro into the plant-based world, and if you're looking to introduce a vegan/veggie meal into your weekly meal plans, these are a great starting point. No fussing with any complicated recipes, no having to go out and buy any special ingredients, we'll do all the hard work for you.
5. Saves you some precious time
We've mentioned this one already but it's worth re-iterating. No one wants to spend hours cooking after work. But we also want to make sure we're putting good food into our body. So, our Meal Kits give you just that; healthy food, in 20 minutes. 
Think of all you could do with your extra time! Squeeze in a workout, have an extra-long bath, maybe even do that bit of housework you've been putting off for weeks. 
Whatever you need your time back for, stocking your cupboard with some Meal Kits will make sure you get it.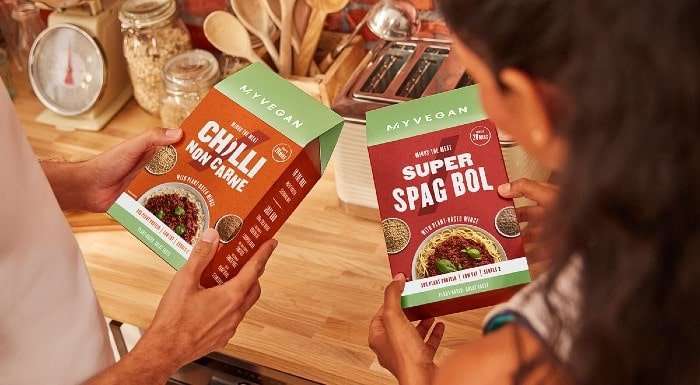 Take Home Message
Our Meal Kits are ready to stock your kitchens now, so pick your favourite flavour (or go for both!) and get cooking. We promise it'll be one of the simplest yet tasty meals you'll make! 
Save on time, stay on top of macros, and dip your toes into the plant-based lifestyle. So… what are you waiting for?