This healthy sweet potato hash recipe is the perfect muscle-building breakfast.
Looking for something new to make with your sweet potatoes? We think you'll love this flavoursome and lean sweet potato hash for your next breakfast. Make a batch ahead of time for a few days' worth of healthy breakfasts.
Click to jump straight to the nutritionals.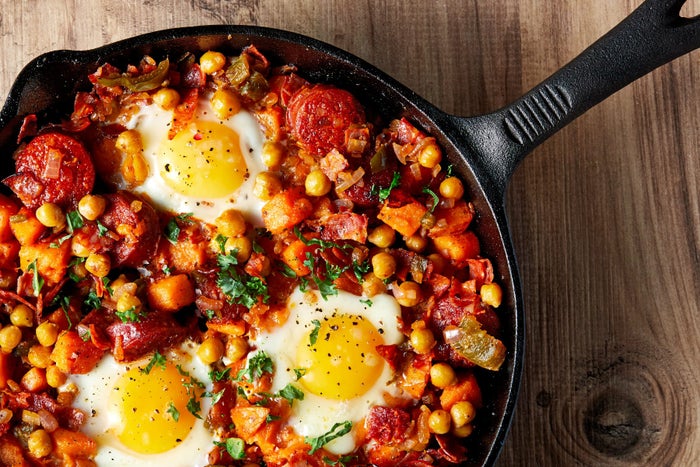 The humble sweet potato has become a long-standing staple of the fitness enthusiast's meal prep box – famed for its high fibre, starchy carb and vitamin A content. Usually nuked and eaten alongside a plain chicken breast and a pile of greens, this deliciously different recipe gives a new lease of life to the sweet potato.
By adding chorizo, eggs, and chickpeas you're not only ramping up the flavour of this dish, but also the all-important protein content – a vital dietary component to complement all of your hard work in the gym. And it isn't only bags of protein that this bangin' breakfast has to offer...
Chorizo has been given a bad rep for it's higher fat content, but did you know this spicy sausage is brimming with vitamins and minerals that actually help with muscle building and fat loss?
Chorizo is actually a rich source of vitamin B12 (necessary for both fatty acid and amino acid metabolism), selenium (helps produce thyroid hormones), and thiamine (essential for carbohydrate metabolism).
And don't forget the mighty chickpea. These nutrient-dense, high-fibre legumes are rich in starchy carbohydrates for slow-releasing energy – the perfect fuel to power your day.
Try these delicious fitness recipes next.
Spicy Sweet Potato Chorizo Hash
Servings: 4
Ingredients
500g sweet potatoes
1 tbsp. Coconut Oil
½ red onion (finely chopped)
200g tinned chickpeas (drained)
150g chorizo or pancetta (chopped into 1cm cubes)
½ tsp. sea salt
½ tsp. black pepper
4 medium free-range eggs
Handful pickled and sliced jalapeños
Method
1. Peel the sweet potatoes and chop into 2cm cubes. Put the cubes into a pan and cover with water, then bring to the boil. Once boiling, drain and allow the steam to run off for 2-3 minutes.
2. While waiting, add the coconut oil to a pan on a medium to high heat. Once melted, add the chopped onions and chorizo/pancetta, and fry for 3-4 minutes, stirring occasionally.
3. Next, turn the heat down to medium and add the sweet potatoes, chickpeas, jalapenos, sea salt and black pepper. Squash them down a little and fry for 8-10 minutes without moving them, until the bottom becomes crispy.
4. Once crispy, make 4 small wells in the hash and break in the eggs. Cover the pan with a lid and cook for 2-3 minutes until the eggs are cooked but the yolk is still runny (you can cook for longer if you like your yolks well-done).
5. Top with a few extra jalapeños and serve.
Enjoy this sweet potato hash recipe?Check out more delicious fitness recipes.
Nutritional info per serving:
| | |
| --- | --- |
| Calories | 437 |
| Total Fat | 23g |
| Total Carbohydrates | 38g |
| Protein | 24g |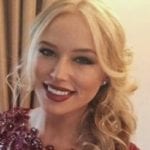 Jennifer Blow has a Bachelor's of Science in Nutritional Science and a Master's of Science by Research in Nutrition, and now specialises in the use of sports supplements for health and fitness, underpinned by evidence-based research.
Jennifer has been quoted or mentioned as a nutritionist in major online publications including Vogue, Elle, and Grazia, for her expertise in nutritional science for exercise and healthy living.
Her experience spans from working with the NHS on dietary intervention trials, to specific scientific research into omega-3 fatty acid supplementation and also the effect of fast foods on health, which she has presented at the annual Nutrition Society Conference. Jennifer is involved in many continuing professional development events to ensure her practise remains at the highest level. Find out more about Jennifer's experience here.
In her spare time, Jennifer loves hill walking and cycling, and in her posts you'll see that she loves proving healthy eating doesn't mean a lifetime of hunger.