This has to be one of the simplest, tastiest meal prep recipes going.
---
Good food doesn't have to take you hours to prepare or a long list of obscure ingredients. It can be the simple stuff that hits the spot and has you coming back time and time again. Just like this fool-proof pesto chicken & veg recipe.
We honestly think you could do this blindfolded and get incredible results (for legal reasons though, please don't try this).  
It's ideal for late on a Sunday when you realise your weekend fun has to come to an end and you have a week's worth of lunches to think about. Just chop up a load of chicken – which, as you probably know, is one of the best sources of lean protein out there – and all your favourite veggies and you're away. Enjoy as it is for a low-carb, keto option or if you fancy some slow-release carbs to keep you going through the afternoon, serve with a portion of quinoa too.
Top tip: be careful not to overcook the veggies to keep them crunchy, especially if reheating later in the week. 
Serves 4 
Ingredients
1 tbsp. olive oil
4 chicken breast (cubed)
½ tsp. salt
½ tsp. pepper
1 red onion (chopped)
1 courgette (sliced)
400 g green beans
100 g reduced fat pesto
Optional: cooked quinoa to serve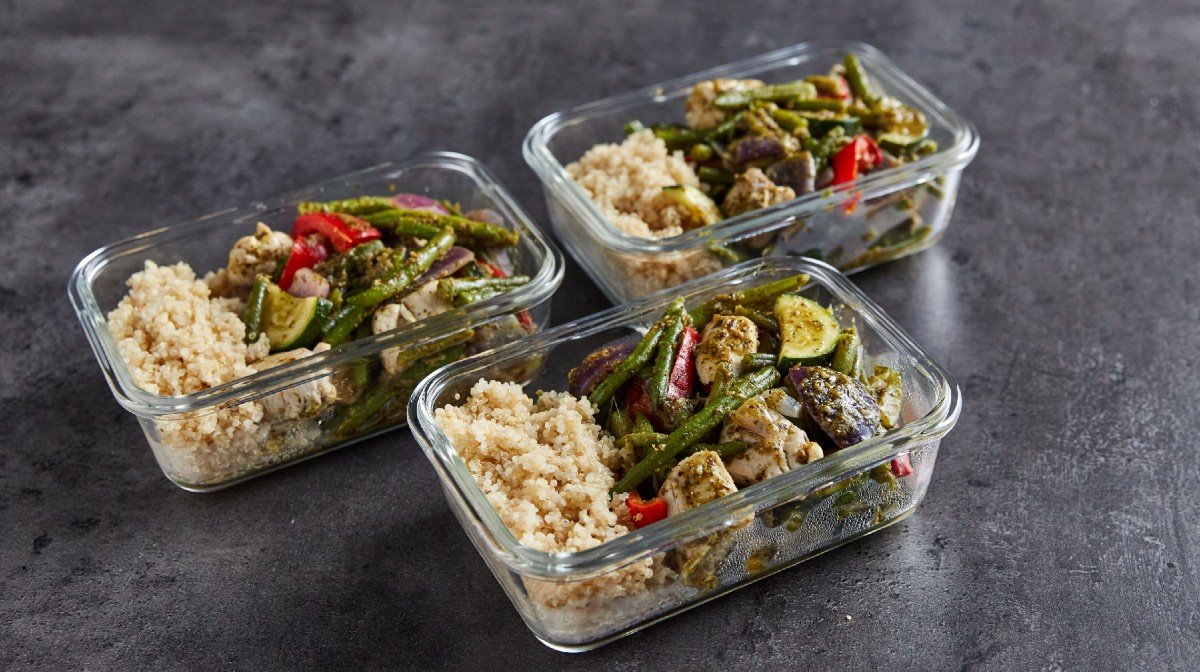 Method
Heat the olive oil in a large frying pan and then add the cubed chicken. Season with salt & pepper, then cook for 5-7 minutes until the chicken is completely cooked through and turned from pink to white.  

Add the chopped veg, mix to combine, and then cook for a few minutes until the veg begins to soften. Be careful not to overcook the veg here though – especially if reheating portions later in the week.  

Stir through the reduced fat pesto so that everything is coated, heat for another minute or so, and then you're ready to serve. 

Portion up into meal prep containers with cooked wholegrain quinoa if you want a serving of slow-releasing carbs too.