Whether you're fully committed to a plant-based lifestyle, giving Veganuary a go, or just want to try something new and delicious — this teriyaki tofu recipe from Niall Kirkland is an instant win.
He shows just how easy it is to make satisfyingly crispy tofu pieces with a simple cornflour coating and your own tangy teriyaki sauce, ideal for creating your own 'fakeaway' lunch instead of splashing the cash or caving in to unhealthier options.
Serves 3
Ingredients
For the crispy tofu:
300g tofu (cubed)
50g cornflour (+ 1 tbsp. for sauce)
1.5 tbsp. 100% Coconut Oil
1 garlic clove (finely chopped)
Small cube of ginger (finely chopped)
1 onion (thinly sliced)
2 tbsp. soy sauce
1 tbsp. sesame seed oil
1 tbsp. brown sugar
75ml water
To serve:
125g basmati rice
Chopped carrot
Chopped cucumber
Sesame seeds to garnish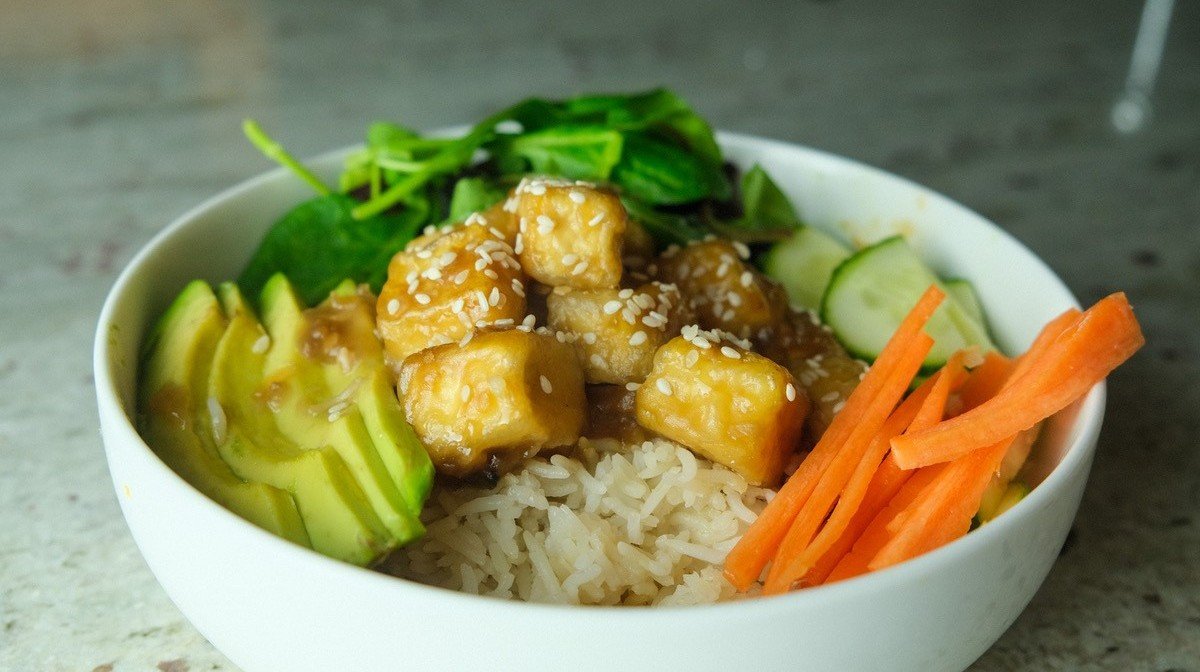 Method
First, fill a shallow bowl with 50g of cornflour and coat all of the tofu pieces by rolling about.
Then, heat a tablespoon of coconut oil in a frying pan and add the tofu pieces.
Fry the tofu over a medium heat, turning the pieces regularly until crispy and golden on the outside, then set aside.
Next, add another small amount of coconut oil to the pan, add the garlic and ginger and fry for 1 minute.
Then, add the onion and continue frying for another few minutes until the onion softens.
Add the soy sauce, sesame seed oil and brown sugar, stir in well and then add your cornflour mixed with roughly 75ml of warm water.
Leave your sauce to simmer — it will thicken due to the cornflour — and once it has reached your desired consistency, add the tofu back to the pan and coat thoroughly with teriyaki sauce before removing from heat.
Pack your Klick Box with rice and salad, then tofu, followed by carrots, cucumber and garnish with sesame seeds.