Chocolate. Banana Bread. Muffins. We've got your attention, right?
We've basically taken everyone's favourite bake and made it more transportable. Thanks to this incredibly simple recipe you've got the perfect grab & go breakfast, quick coffee break treat, and healthy dessert solution all rolled up in one. Come to think of it, we actually don't think there's a time of day where a banana bread muffin wouldn't be appropriate…
Made with a handful of stock cupboard essentials and boosted with vanilla Impact Whey Protein, this recipe is great for when you're after something sweet without splurging on a load of refined sugar. And that oozing chocolate Protein Spread centre just speaks for itself really.
We should probably warn you that 1 batch doesn't last half as long as you want it to though, especially if you're sharing a space with other humans. Double up.
Makes 6
Ingredients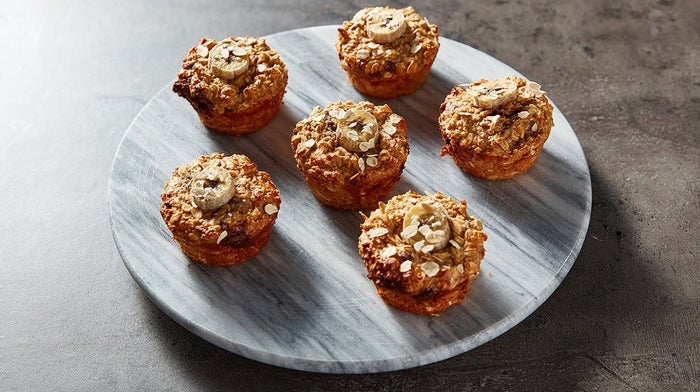 Method
1) Preheat the oven to 180°C and prepare a muffin tray by greasing with low-calorie cooking spray.
2) First add the bananas to a large bowl and mash until relatively smooth. Add the eggs, milk, and vanilla Flavdrops, mixing together until fully combined.
3)  Next add the oats, cinnamon, baking powder and whey protein to the wet ingredients and mix through.
4) Spoon the mixture into your prepared muffin tray, filling each space until roughly ¾ full. Then add a teaspoon of chocolate hazelnut Protein Spread to the top and cover with another spoon of oat mixture.
5) Add a banana slice to the top of each muffin, sprinkle with a few oats, and then bake for 20 minutes. Remove from the oven and allow to cool for at least 5 minutes before eating — be careful biting into that hot, melty chocolate centre!
Nutritional info per serving:
| | |
| --- | --- |
| Calories | 223 |
| Total Fat | 7g |
| Total Carbohydrates | 28g |
| Protein | 11g |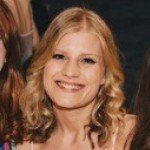 Lauren is an English Literature graduate originally from the South. She's always loved swimming, has discovered the power of weight training over the past few years, and has lots of room for improvement in her weekly hot yoga class.
On the weekends she's usually cooking or eating some kind of brunch, and she enjoys trying out new recipes with her housemates – especially since shaking off student habits, like mainly surviving off pasta. Above all, she's a firm believer in keeping a balance between the gym and gin.
Find out more about Lauren's experience here.