Liven up your lunches with this simple Malaysian chicken meal prep recipe.
This super-simple, Malaysian chicken meal prep recipe is a serious upgrade from your plain, old chicken and broccoli.
Watching your macros? Swap in Powdered Peanut Butter for 70% less fat than regular peanut butter to keep on track!
Makes: 4 meals
Ingredients
2 tbsp. sesame, peanut, or olive oil
2 stalks lemongrass
1 white onion
2 cloves garlic
1 thumb ginger
2 red chillies
1 tsp. turmeric
1 tsp. cumin seeds
8 tbsp. Powdered Peanut Butter or 4-6 tbsp. regular Peanut Butter
3 chicken breasts (diced)
300g wholegrain rice (cooked)
1 red onion (chopped)
1 cucumber (chopped)
Method
1. First, place the sesame oil, lemongrass, onion, garlic, ginger, chillies, turmeric and cumin into a blender. Process until you get a smooth paste.
2. Next, in a separate bowl, mix 8 tbsp. Powdered Peanut Butter with 8 tbsp. water until it looks like peanut butter. Add a little more powder or water to get your desired consistency.
3. Combine half of the spice paste with the peanut butter to make a peanut sauce, and pour the remaining spice paste over your diced chicken. Thread the chicken onto 6 small skewers (soak your skewers in water for at least an hour so that the wood doesn't burn). Allow the chicken to marinate for a couple of hours if you have time.
4. Fry the chicken skewers on a medium to high heat for 8-10 minutes or until completely cooked through. Once cooked, remove from the pan and set aside.
5. Add the peanut sauce to the same pan and bring to the boil, stirring occasionally until piping hot. Remove from the heat.
6. Prepare three Tupperware boxes with cooked rice, chopped cucumber and chopped red onion. Add two chicken skewers to each box. Divide the peanut sauce into three smaller Tupperware boxes or pour the sauce straight over the chicken.
Refrigerate for up to 3 days. Microwave on full power for 3 minutes or until piping hot. And there you go – 3 days' worth of meals to liven up your office lunches!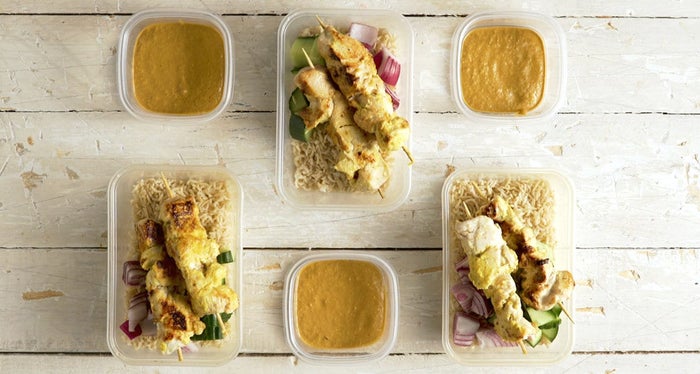 Nutritional info per serving:
| | |
| --- | --- |
| Calories | 453 |
| Total Fat | 15g |
| Total Carbohydrates | 46g |
| Protein | 33g |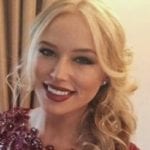 Jennifer Blow has a Bachelor's of Science in Nutritional Science and a Master's of Science by Research in Nutrition, and now specialises in the use of sports supplements for health and fitness, underpinned by evidence-based research.
Jennifer has been quoted or mentioned as a nutritionist in major online publications including Vogue, Elle, and Grazia, for her expertise in nutritional science for exercise and healthy living.
Her experience spans from working with the NHS on dietary intervention trials, to specific scientific research into omega-3 fatty acid supplementation and also the effect of fast foods on health, which she has presented at the annual Nutrition Society Conference. Jennifer is involved in many continuing professional development events to ensure her practise remains at the highest level. Find out more about Jennifer's experience here.
In her spare time, Jennifer loves hill walking and cycling, and in her posts you'll see that she loves proving healthy eating doesn't mean a lifetime of hunger.