Whoever first founded the idea of a nut butter is a genius in our eyes. Peanut butter, cashew butter, almond butter, pecan butter — you name the nut and it's probably been produced in a tub, if not made on a kitchen counter at home.  
But as much as we love peanut butter on toast, sometimes we like to spice our routine up a little. We certainly don't want to get bored of this nutritious staple in our diets either!  
This is why we like to branch out from our usual post-gym snack of peanut butter on toast or a bagel, and exchange it for something just as tasty and nutritious.  
We've gathered together some of our top go-to snacks that don't involve nut butters.  
Whether it's because you're not a fan of nuts, you're keen to expand your post-gym snack repertoire, or you're just looking for a different tasty snack that will fit into your daily macros, give one of these snack ideas a go and you might just find a snack that takes first place over the beloved peanut butter on toast.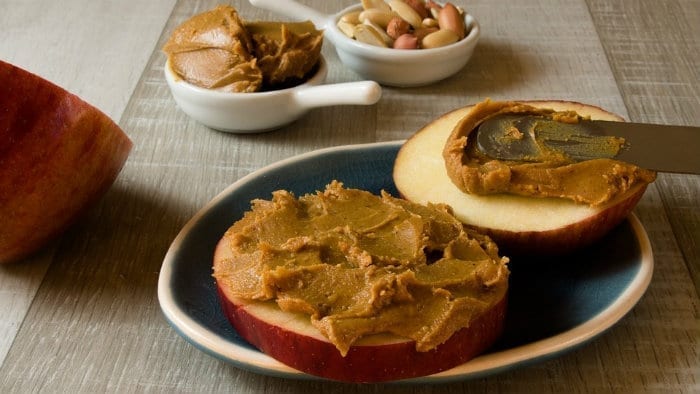 1. Frozen yoghurt
Sure, froyo is generally associated with summer and heatwaves, but if you're looking for something more than just a bowl of yoghurt, why not transform your bowl into a frozen delight? 
Come rain or shine, Greek yoghurt provides a generous serving of protein and is easily flavoured with berries to suit your taste. The natural fat content in the yoghurt varies from brand to brand so you're bound to find a Greek yoghurt that fits into your macro goals.  
Berries are lower in carbohydrate than some other fruits, such as apples, bananas and pears, so depending on your preference, there are plenty of options to flavour your frozen yoghurt. 
If you're after something a little sweeter, add a dash of maple syrup or try some FlavDrops — we use these in everything from coffee to overnight oats and dessert. 
2. Potato salad
Your initial thought might be 'woah, my protein consumption will be washed out by the carbohydrate in the potato', but have no fear. We've got a trick up our sleeves.  
We like to mix up our potato salad with the addition of boiled eggs. Use reduced fat mayonnaise or salad cream if you're watching your intake of fats, and garnish with sliced spring onions for some aesthetic greenery.  
If you're looking for even more of a post-workout protein hit, slice up some lean sausages and add these to the potato salad. We promise that you won't regret this seemingly odd combination. 
3. Mug cake
A protein mug cake is not only quick to make, but it can also be adjusted to suit your macro goals and work around your nutritional aims. Whether you're a chocolate cake fan, apple infused muffin enthusiast or a cookie lover, mug cakes are versatile in both flavour and nutrition. 
If you're keen to boost your 5-a-day, mug cakes pair perfectly with servings of fruit. The fruit can be added straight into your batter or served on top of the mug cake.  
Mug cakes are also portable, making great on the go post-gym snacks if you prepare the mug cake in advance.  
4. Tuna and avocado crackers
Tuna might not be the most aesthetic food, but it sure is tasty and nutritious! Although tinned tuna doesn't count towards your weekly portion of oily fish, tuna is still packed with protein and makes for a delicious snack. 
The healthy fats in avocado complements the flavours of tuna perfectly, and when combined with crackers, you've got yourself a creamy, crunchy snack that ticks your post-gym recovery boxes. 
Bear in mind that when choosing your crackers, aim for wholegrain crackers to enhance your fibre intake. This will also keep you feeling full for longer, as well as keeping your gut extra healthy.  
5. Roasted veg egg muffins
Just like the mug cake, egg muffins make for the perfectly portable snack that's suitable for travel after your gym session. Egg muffins stay intact fairly well and can be altered to suit your personal taste and preferences.  
We think these muffins work wonderfully when mixed with roasted veg, but you could even add a source of meat to boost your protein intake and use egg whites to reduce the fat content.  
Take home message
While we've only listed just 5 examples of snacks that will help with your refuel post-gym session, there are countless others that don't call for peanut butter.  
Of course, there's nothing wrong with eating peanut butter after every workout, but we know that it's nice to mix up your diet and try new things every now and then.  
If you're keen to add a nut butter to your post-workout snack, these ideas can be easily altered to include your favourite nut butter.