Upgrade your chicken meal prep recipes with this batch prep harissa chicken.
Looking for something new for lunch? Liven up your chicken meal prep recipes with this quick harissa chicken and tabbouleh – packed with protein, healthy carbohydrates and essential vitamins and minerals.
If you enjoy this recipe, why not check out more delicious fitness and meal prep recipes?
Makes: 3 meals
Ingredients
50g harissa paste
1 tsp. extra-virgin olive oil
Pinch sea salt
3 chicken breasts (try skin on for extra flavour)
180g (dry weight) bulgar wheat or couscous
40g parsley (stems and leaves)
20g mint leaves
6-8 spring onions
½ cucumber
4 tomatoes
For the dressing:
6 tbsp. Greek yoghurt
½ lemon (juice and zest)
1 clove garlic (minced)
Pinch sea salt
Handful pomegranate seeds (optional)
Method
For the chicken:
1. Preheat oven to 190°C. In a small bowl, mix the harissa paste, olive oil, and a pinch of salt. Score the tops of the chicken breasts with a sharp knife, then rub the harissa mixture over the chicken breasts and into the score lines.
2. Place a sheet of greaseproof paper on to the bottom of a deep baking tray and place the chicken breasts on top. Cover with another sheet of greaseproof paper. Bake for approximately 30 minutes or until the chicken is no longer pink in the centre.
For the tabbouleh:
3. Whilst waiting, make the tabbouleh. Cook bulgar wheat or couscous according to the directions on the back of the pack. Once cooked, drain, pour into a large mixing bowl and separate the grains with a fork. Allow to cool.
4. Finely chop the parsley, mint leaves, spring onions, cucumber and tomatoes, then add them to the cooled bulgar wheat or couscous.
For the dressing:
5. Simply combine Greek yoghurt, lemon juice and zest, minced garlic, and sea salt in a bowl.
Once all components are ready, divide amongst three Tupperware containers. Allow to cool, then refrigerate and store for up to 3 days.
Enjoy this recipe?check out more delicious fitness and meal prep recipes.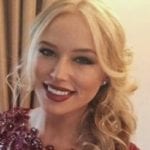 Jennifer Blow has a Bachelor's of Science in Nutritional Science and a Master's of Science by Research in Nutrition, and now specialises in the use of sports supplements for health and fitness, underpinned by evidence-based research.
Jennifer has been quoted or mentioned as a nutritionist in major online publications including Vogue, Elle, and Grazia, for her expertise in nutritional science for exercise and healthy living.
Her experience spans from working with the NHS on dietary intervention trials, to specific scientific research into omega-3 fatty acid supplementation and also the effect of fast foods on health, which she has presented at the annual Nutrition Society Conference. Jennifer is involved in many continuing professional development events to ensure her practise remains at the highest level. Find out more about Jennifer's experience here.
In her spare time, Jennifer loves hill walking and cycling, and in her posts you'll see that she loves proving healthy eating doesn't mean a lifetime of hunger.