It's one of the nation's favourite takeaway dishes for a good reason.
Chicken chow mein is probably a regular on your takeaway order, right? It's a delicious noodle dish that's packed with flavour, as well as plenty of veggies and protein, too. Thanks to this incredible fakeaway recipe from Niall Kirkland, now you can create your own version from the comfort of home — making it much easier to personalise with your favourite extras.
Don't have anyone to share it with? Keep a few portions for your lunches in the week, we guarantee it'll brighten your Monday.
Fancy making a full on fakeaway feast? Check out our recipes for fresh spring rolls and salt & pepper chips too.
Serves 3
Ingredients
For the chow mein sauce:
1 tbsp. toasted sesame seed oil
2 tbsp. soy sauce
1 tbsp. Shaoxing rice wine (can be swapped for rice vinegar or white wine vinegar)
1 tbsp. sugar
For the stir fry:
300g chicken breast (butterflied then cut into thin strips)
2-3 carrots (thinly sliced)
1 bell pepper (thinly sliced)
1 small onion (thinly sliced)
A handful of mange tout (thinly sliced)
3-4 garlic cloves (finely sliced)
3-4 big leaves of pak choi (thinly sliced)
2 tsp. coconut oil for stir frying
4 egg noodle nests (cooked according to packet instructions)
1 tsp. ground white pepper
2 tbsp. Shaoxing rice wine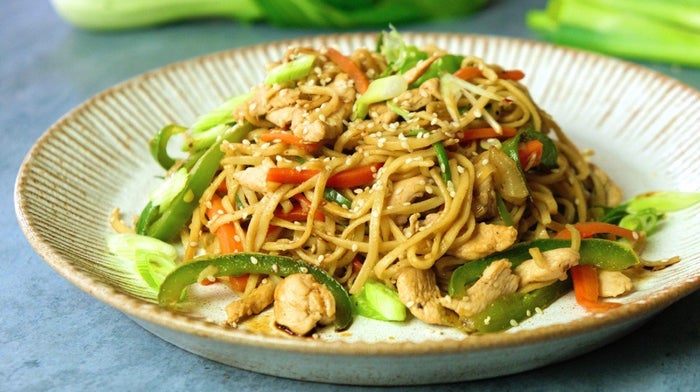 Method
In a small bowl, mix together the sauce ingredients until fully combined. Butterfly your chicken breast, cut into very thin strips, then transfer to a bowl and add half the chow mein sauce. Massage the sauce into chicken breast, then leave to marinate for at least 10 minutes.
Meanwhile, make sure all your stir fry ingredients are chopped very thin and heat a large wok on a high heat. Add a teaspoon of coconut oil to the wok, once melted and smoking, add your chicken.
Cook the chicken for 5 minutes, stirring constantly. Once chicken is cooked, remove from the wok and set aside.
Clean your wok using a paper towel, then heat the remaining teaspoon of coconut oil and add the carrots and season lightly. Cook for roughly 1-2 minutes before adding pepper and onion. Continue to cook for 2 minutes on high heat, stirring constantly.
Add the garlic, pak choi and mange tout. Continue to stir fry for 2-3 minutes until all veg is soft but not overcooked.
Add noodles and chicken to the wok, mixing together until noodles are fully combined with the chicken and veg. Then add the remaining ½ of chow mein sauce, white pepper, Shaoxing rice wine and soy sauce to taste.
Plate up and garnish with sesame seeds. Chopsticks at the ready.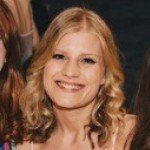 Lauren is an English Literature graduate originally from the South. She's always loved swimming, has discovered the power of weight training over the past few years, and has lots of room for improvement in her weekly hot yoga class.
On the weekends she's usually cooking or eating some kind of brunch, and she enjoys trying out new recipes with her housemates – especially since shaking off student habits, like mainly surviving off pasta. Above all, she's a firm believer in keeping a balance between the gym and gin.
Find out more about Lauren's experience here.