Anything that tastes like having cake for breakfast gets our vote. 
---
It's almost hard to believe that something this delicious can be so macro-friendly, but trust us, these baked oat squares are the perfect healthy treat to get your day off to a strong start. Made without any added sugar and very minimal fat, each square is only 135 calories and provides almost 7g of protein.  
They're ideal for making up in a batch and storing in the fridge for a few days, so you have a quick grab & go breakfast on hand for days when you're rushing out the door. If you have the luxury of time to make a bit more of an event of it though, we strongly recommend going all out with the extra toppings. Our winning combination has to be a drizzle of peanut butter, slices of bananas and a sprinkle of chia seeds — and thanks to our Powdered Peanut Butter, you can enjoy all the flavour of your favourite nutty spread, just with 70% less fat. What a win.  
Makes 9 squares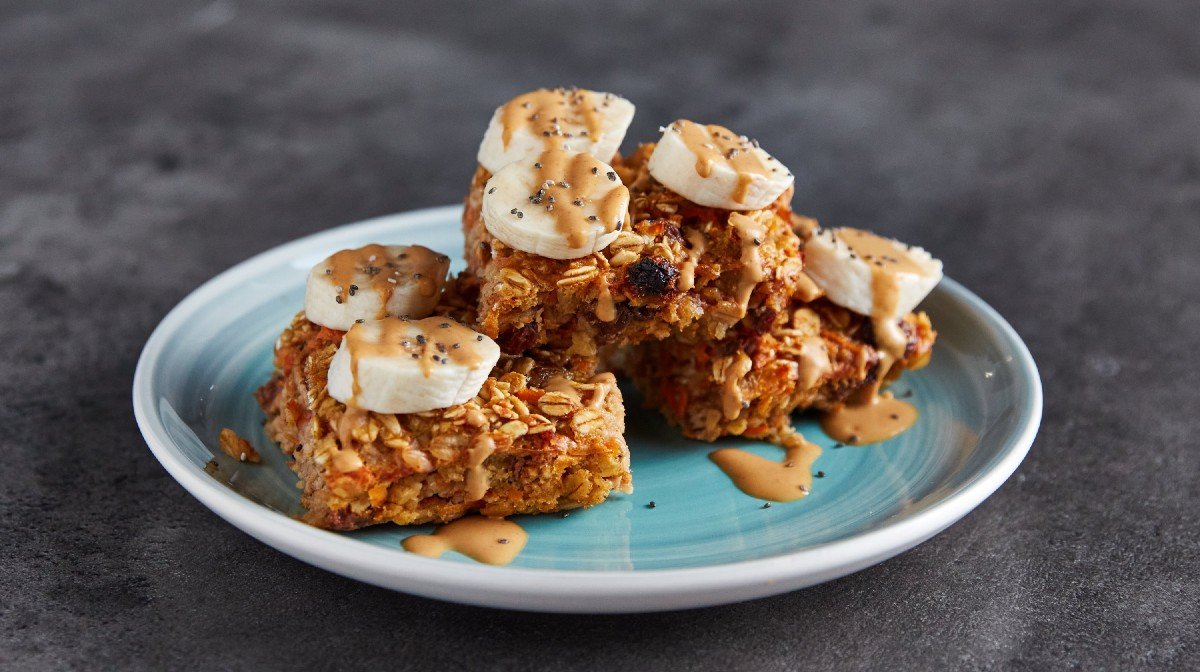 Method
First add the rolled oats, protein powder, and raisins to a large bowl and mix together to evenly combine.  

Next add the ground ginger, baking powder, milk, grated carrot and Sugar-Free Maple Syrup. Stir everything well to get a combined mixture and then carefully pour into a lined baking tray. Leave to chill in the fridge for 1 hour to allow the oats to soak up some of the moisture. 

Once chilled, then bake the oats at 180°C for 25 minutes.  

Once cooked, carefully remove from the baking tin and allow to cool for a few minutes before slicing up into 9 even squares. Place into zip-lock reusable storage bags and store in the fridge for an easy grab & go breakfast later in the week.  

If serving immediately, top with a drizzle of our low-fat Powdered Peanut Butter by mixing a tablespoon of the powder with a few tablespoons of water. Finish with sliced banana and a sprinkle of chia seeds. Delicious.