Coated in chocolate and filled with a deliciously creamy yoghurt centre, these high-protein clusters are the perfect frozen treat for summer afternoons.
In the mood for a sweet snack that sorts your midday munchies but keeps you on track with your macro plan? @healthy_floflo has got you with yet another incredibly simple healthy treat idea.
All you need is your favourite flavour of Impact Whey Protein, Greek yoghurt, blueberries, and a little dark chocolate. Of course, if you're as obsessed with peanut butter as I am, then you won't want to miss out on adding a generous spoon of that to the centre, too. The results are so, so worth it.
You'll want a batch of these in your freezer at all times, trust me on that.
Ingredients
200 g 0% fat Greek yoghurt
1 scoop

Impact Whey Protein (Vanilla)

120 g blueberries
100 g 70% dark chocolate
Desiccated coconut for topping (optional)
Instructions
1.
In a bowl, combine the yoghurt and vanilla protein powder until you have a smooth mixture.
2.
Add the blueberries and gently mix them through.
3.
Prepare a tray with a sheet of baking paper. Spoon clusters of the yoghurt blueberry mixture on to the baking paper.
4.
Freeze for 2-3 hours or until solid.
5.
Once set, remove from the freezer and gently add a teaspoon of peanut butter to the top of each yoghurt cluster. Place back in the freezer for 5-10 minutes to allow the peanut butter to harden into a disc.
6.
Meanwhile, melt the dark chocolate in the microwave. Heat in 30 second intervals, stirring in between, until fully melted (this should take about 2 minutes).
7.
Dip the frozen clusters in the melted chocolates — quickly, so they don't melt. Use a fork to help flip and remove them from the chocolate easily.
8.
Place each coated cluster back on to the lined tray and add a few extra toppings. Flo's used desiccated coconut for extra crunch and flavour.
9.
Once the toppings have been added, place the clusters back in the freezer for a few minutes to allow the chocolate to harden.
10.
Enjoy immediately or keep in the freezer for when you need a cool and creamy pick-me-up.
Nutritional info per serving:
| | |
| --- | --- |
| Calories | 130 |
| Total Fat | 7g |
| Total Carbohydrates | 10g |
| Protein | 9g |
Want more recipe inspo?
READ THESE NEXT: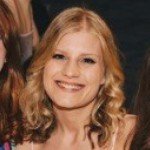 Lauren is an English Literature graduate originally from the South. She's always loved swimming, has discovered the power of weight training over the past few years, and has lots of room for improvement in her weekly hot yoga class.
On the weekends she's usually cooking or eating some kind of brunch, and she enjoys trying out new recipes with her housemates – especially since shaking off student habits, like mainly surviving off pasta. Above all, she's a firm believer in keeping a balance between the gym and gin.
Find out more about Lauren's experience here.