Tasty meal prep doesn't have to take all night to prepare.
---
This deliciously fresh & flavour-packed chickpea salad will literally take you 10 minutes to put together and requires absolutely no cooking at all. Talk about simple.  
It's full of incredible Mediterranean flavours including crunchy red onion, tangy feta, and rich Kalamata olives, coated in a light, zingy dressing. Forget sad, limp leaves, this is a salad that will have you looking forward to lunch, trust us. Each serving provides an impressive 19g of plant-based protein too.  
Serves 4  
Ingredients
75 ml olive oil
35 ml white wine vinegar
1 tbsp. lemon juice
1 pinch salt
1 pinch black pepper
1 handful parsley (chopped)
2 cans chickpeas (drained & rinsed)
1 cucumber (cubed)
1 red onion (thinly sliced)
1 red pepper (cubed)
200 g Kalamata olives (chopped)
150 g feta (crumbled)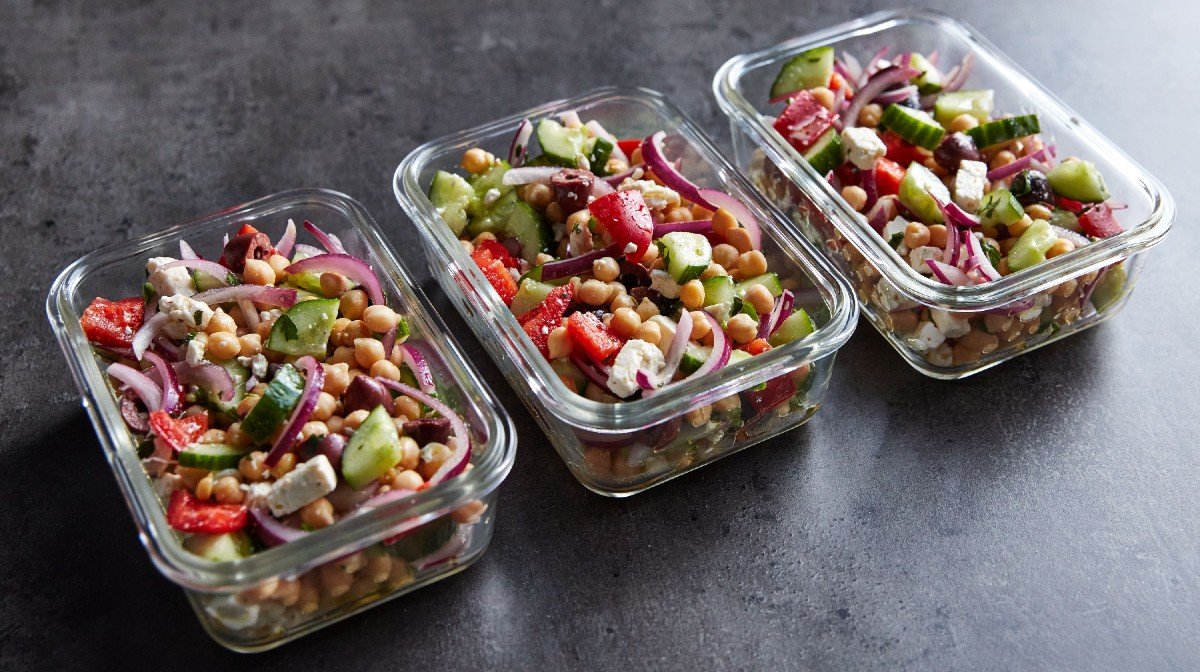 Method
First make the dressing by adding the oil, white wine vinegar, lemon juice, salt, pepper, and chopped parsley to a small bowl and mixing well. Set aside.  

In a large bowl, add the drained chickpeas, chopped cucumber, red pepper, red onion, halved olives, and crumbled feta. Pour the dressing over all the ingredients and then stir thoroughly to combine evenly. That's it! Serve up immediately or portion into meal prep containers.  
Nutritional Facts
Amount per serving
| | |
| --- | --- |
| Calories | 401 |
| Total Fat | 23g |
| Total Carbohydrates | 25.5g |
| Protein | 19g |