While there are so many diets to choose from, one that is generally accepted as one of the healthiest by experts of all kinds is a whole-food plant-based diet. This diet is exactly what is sounds like – choosing whole, minimally processed foods, and focused mostly on plants to boost our health and wellness. This article will explain what the whole-food plant-based diet is, what its benefits are, and provide an example meal plan to follow the whole-food plant-based diet.
Jump to: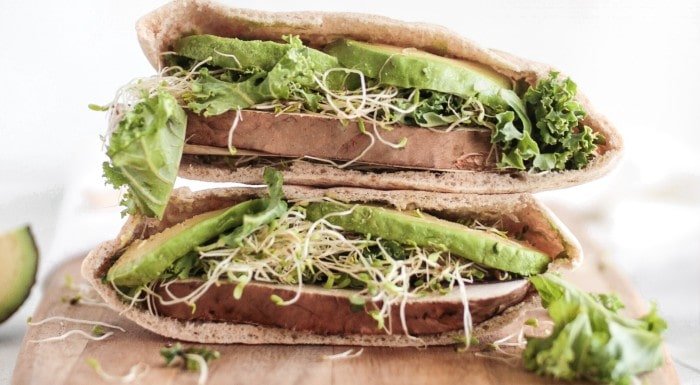 What is the w
hole-food plant-based diet?
Unlike many other diets, the whole-food plant-based diet is not overly complicated and doesn't require tons of planning or calculating macros or calories – it just focuses on the quality of the foods you're choosing, making it more of a lifestyle. While not incredibly restrictive, there are still some basic rules to follow when adhering to this style of eating plan: 
Mostly whole and minimally processed foods

 

Primarily made up of plant-based choices – whole grains, fruits, vegetables, beans, nuts and seeds

 

Usually avoids all animal-based products – no dairy, fish, eggs, meat, etc.

 

Avoids white sugars, processed/refined flour and other grains

 

Focuses on high quality, locally sourced, or organic choices when possible

 
Because the whole-food plant-based diet is more of a lifestyle, it's not necessarily vegan or vegetarian in nature; however, a plant-based diet usually comes primarily from plant sources with limited animal products (or none at all). 
Summary: The whole-food plant-based diet is an eating pattern focused on minimally processed, plant foods.
Whole-food plant-based diet benefits
Can be effective for weight loss
A research study from 2020 in the American Journal for Lifestyle Medicine found that following a whole-food plant-based diet made participants lose an average of 19lbs (8.6kgs) over three months without measuring portion size.1
Can be effective for maintaining weight loss
Participants in the same study either lost more weight or kept their weight down at the 6- and 12-month marks, which isn't very common in weight loss studies that follow a specific diet for a short period of time.1
Can support heart health
Researchers have repeatedly shown that whole-food plant-based diets can help to improve cholesterol numbers and heart health overall.2
May slow the aging process
Newer research is investigating the way that the high antioxidant content of whole-food plant-based diets can help to support skin and brain health as we age.4
More environmentally friendly
Choosing to follow a whole-food plant based-diet, especially if you can focus on local and organic foods, can help to reduce waste and the impact of food processing on the environment.5
Summary: Whole-food plant-based diets are high in fibre and nutrients, which have health benefits and protective effects.
Foods for the whole-food plant-based diet
Following a whole-food plant-based diet does not need to feel restrictive. Check out the example options from each food group below (this list is NOT inclusive of all of the foods included in the whole-food plant-based diet) 
Whole grains
Whole wheat, brown rice, quinoa, farro, oats, barley 
Fruits
Berries, citrus, apples, pears, bananas, peaches, pineapple, kiwi, melon, etc. 
Vegetables
Leafy greens (kale, spinach), cruciferous veggies (Brussels sprouts, broccoli, cauliflower), peppers, onions, carrots, etc. 
Starches
Potatoes (white, red, yellow, sweet), squash 
Fats
Avocado, olive oil, coconut, sunflower seed oil, etc. 
Legumes
Black beans, chickpeas, lentils, kidney beans, navy beans, soy beans 
Nuts, seeds, nut butters
Almonds and almond butter, chia seeds, sunflower seeds and sunflower seed butter, peanut butter, tahini (sesame seed butter), etc. 
Beverages
Coffee, tea, water, juice, plant-based milks

 

Animal products (if choosing)

 

Organic / local eggs, free range meats, poultry, dairy; wild caught or sustainably farmed fish
Need some plant-based inspo?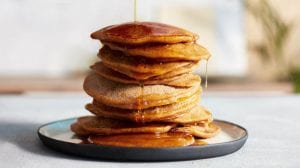 Get your day off to the best start with these plant-powered recipes.
Foods to avoid for the whole-food plant-based diet
White (refined) grains: bread, pasta, rice, baked goods

 

Packaged and convenience foods: frozen meals, fast food, processed snack foods

 

Processed meats and chicken products

 

Sweetened drinks (and artificial sweeteners)

 
Whole-food plant-based diet meal plan
Here are three days of ideas for meals following the whole-food plant-based diet:
Breakfast

 

Avocado toast (sprouted whole grain) with sliced tomato, salt & pepper, fresh juice

 

Brown rice bowl with beans, roasted vegetables, kale, tahini dressing, apple slices

 

Lentil chili

 

Lunch 

 

Oatmeal with berries and almond butter

 

Salad greens with edamame, dried berries, avocado, chickpeas, olive oil & vinegar 

 

Spaghetti squash with marinara sauce and roasted vegetables

 

Dinner

 

Smoothie with frozen banana, spinach, peanut butter, plant-based milk

 

Vegetable soup with brown rice and oranges

 

Roasted chickpea stuffed sweet potato, kale sauteed in garlic, lemon juice and olive oil

 
Did you know you can bulk on a vegan diet? Let us explain…
Going plant-based has never been simpler.
Take home message
A whole-food plant-based diet focuses on nutritious foods with no limit on portion sizes. It can be effective for weight loss as well as preventing health issues, and is more environmentally friendly that a diet high in processed and animal foods.