Always wanted to give meditation a go, but have no idea where to start?
Luckily for you, we've got the incredible Claudia Mirallegro on hand to guide us through a super-simple meditation session for beginners. It's an amazing introduction to meditation and perfect for anyone to take on. Plus, it won't even take up 10 minutes of your time!
All you have to do is press play and allow yourself a few moments to just stop and disconnect from everything else going on in your life right now.
What is meditation?
Meditation is a great way to refocus yourself on the present and look after your mind by using different techniques to train your attention and awareness. Many people believe that it helps them to improve their mental clarity and emotional stability.
Read more about it in this article.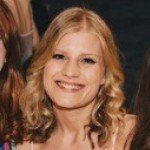 Lauren is an English Literature graduate originally from the South. She's always loved swimming, has discovered the power of weight training over the past few years, and has lots of room for improvement in her weekly hot yoga class.
On the weekends she's usually cooking or eating some kind of brunch, and she enjoys trying out new recipes with her housemates – especially since shaking off student habits, like mainly surviving off pasta. Above all, she's a firm believer in keeping a balance between the gym and gin.
Find out more about Lauren's experience here.